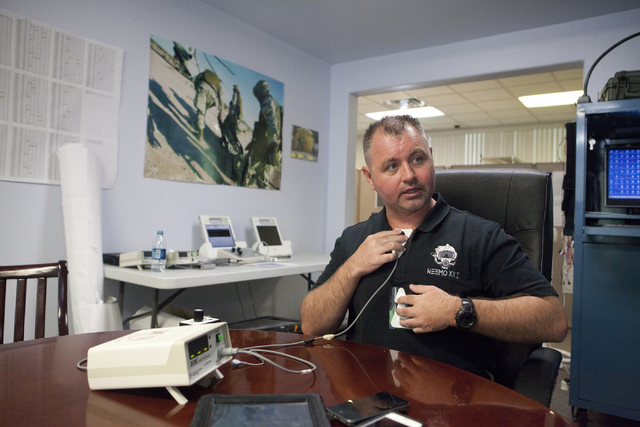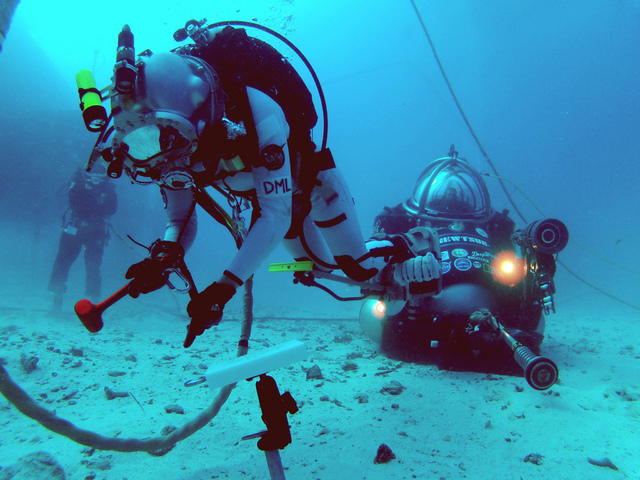 Nestled next to coral reefs more than 60 feet underwater a few miles off the coastline of Key Largo, Florida, lies a habitat known as the only undersea research lab in the world.
About once a year, NASA deploys a team of astronauts, researchers and technicians to live aboard the habitat, operated by Florida International University, for up to three weeks.
This month, a Las Vegas-based researcher will be among the crew, and a local medical development company will see one of its creations tested in the habitat.
"All of the preparation that I've done over the last couple of years, the training, all of my experience is now being brought to bear for this mission," said Marc Ó Gríofa, the chief medical and technology officer for Noninvasive Medical Technologies Inc. "This experience is literally one of the most exciting things that I'll ever get to do."
Ó Gríofa, a former triage doctor for the shuttle program at the Kennedy Space Center, has worked for years with the NASA Extreme Environment Mission Operations, referred to as NEEMO.
Noninvasive Medical Technologies also has deployed technology to the habitat, called Aquarius, in the past. But this excursion as part of NEEMO will be the first time Ó Gríofa will reside in the habitat. He goes underwater for eight days beginning July 18.
While there, Ó Gríofa will be expected to contribute to at least some of the 15 to 20 research projects that are part of the mission and also will venture out on treks akin to spacewalks.
At any one time, six crew members will live aboard the station.
Though the mission will last two weeks, Ó Gríofa will swap places with an above-ground researcher about halfway through.
"Our days are scheduled literally from morning to night. Every five-minute block of time is scheduled," he said.
NEEMO crew members, known as aquanauts, "simulate living on a spacecraft and test spacewalk techniques for future space missions," according to NASA.
Primarily, however, Ó Gríofa will oversee use of his company's ZOE Fluid Status Monitor aboard the habitat.
ZOE, a Food and Drug Administration-approved product, can aid patients suffering from a range of health issues including heart failure and severe kidney disease in monitoring their bodies' fluid status and dehydration at the cellular level, which can allow for early medical intervention.
The device's electrodes are attached to the body and a small current is applied. A signal is then returned, and the machine indicates a person's hydration status numerically.
The device, which costs about $1,500 a unit and is available by physician recommendation, was created in 2004. It has since been used to monitor patient conditions in the United States and around the world. Centers for Disease Control and Prevention staff used it in Liberia to help predict when Ebola patients would become contagious.
The equipment can also be used for general fluid management and dehydration analysis. That's where the NEEMO mission comes into play. ZOE will be used twice daily to monitor the fluid and hydration levels of astronauts working aboard the stations.
That information, along with additional health measurements, will be sent to mission control, which can then monitor each person's health.
"If somebody gets dehydrated, they have a falloff in performance," Ó Gríofa said. "It can affect mood, it can affect concentration, it can affect cognitive function."
Ensuring individuals are properly hydrated allows for better work performance and lifestyle, he said.
"The whole concept is being able to optimize human performance," Ó Gríofa said.
Ó Gríofa added that Noninvasive Medical Technologies will use the opportunity to explore its own technology and test its limits. Any flaws or deficiencies then can be remedied to improve the consumer product.
"Medicine is one of the key areas that really derives great benefit from this type of operational environment," he said.
Contact Pashtana Usufzy at pusufzy@reviewjournal.com or 702-380-4563. Follow @pashtana_u on Twitter.