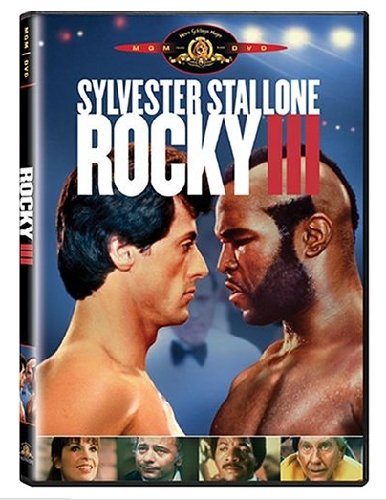 Pain.
In one word, that's freshman Sen. Ben Kieckhefer's prediction about how the Nevada legislative session of 2011 will end.
He borrowed it from the 1982 movie, "Rocky III." That's the one where Sylvester Stallone's aging heavyweight boxing champ goes up against a brash young fighter played by the mohawked "Mr. T."
"What's your prediction for the fight?" an interviewer asks Mr. T.
"Pain," he replies, speaking as his character, Clubber Lang.
And that's what Mr. T delivered when he got into the ring with Rocky, who lost when he was knocked down in the second round.
Of course, this being Hollywood, Rocky made a comeback. He challenged Mr. T to a rematch and won, knocking his opponent out in the third round.
The question for the Nevada Legislature is when will the pain stop?
Will the 120-day session finish by the 1 a.m. June 7 deadline?
If not, how many rounds — or special sessions — might it take to pass a balanced state budget and redistricting plan the governor will sign?
And what about Mr. T — taxes? Will Democratic leaders get all or part of their $1.2 billion package past Republicans, who have so far stood behind GOP Gov. Brian Sandoval's pledge not to raise taxes?
The Las Vegas Review-Journal last week asked lawmakers, lobbyists and Sandoval's top adviser for predictions of the endgame. Several scenarios emerged, although the most frequent prediction was it's anybody's guess and there are dozens of possible outcomes.
"My crystal ball is not working," said Carole Vilardo of the Nevada Taxpayers Association. "My prayer is we're out of here June 6."
Here's a look at possible scenarios:
■ THE GOVERNOR'S BUDGET: Lawmakers pass Sandoval's proposed $6.1 billion spending plan, which includes cuts to education and social services, but no new taxes.
State Senate Republicans are solidly behind Sandoval, and Assembly Republicans back the governor, too, although the GOP Assembly caucus is still holding talks with Democrats about raising more revenue.
The governor needs a majority vote in both the Democratic-controlled state Senate and Assembly to pass his budget. That means he needs to woo at least one Senate Democrat and six Assembly Democrats his way. (The Democratic-Republican party breakdown is 11-10 in the state Senate and 26-16 in the Assembly.)
Dale Erquiaga, the governor's top aide, said he is working on gathering enough Democratic support, although he's not there yet.
"I think it's a real possibility to get the governor's budget by June 6," Erquiaga said, sounding more hopeful than sure last week.
Sandoval doesn't plan to automatically call a special session if lawmakers don't complete their work by 1 a.m. June 7, the technical deadline because of daylight saving time. Instead, he plans to send legislators home and call them back before the fiscal year ends on June 30 to pass a budget to keep government running.
Could there be a government shutdown? Not total, according to Erquiaga, who said the governor's staff is researching the matter. Essential services, which could be broadly defined to include everything from law enforcement to health care, would likely continue. A couple decades ago, former Gov. Bob Miller put together a government shutdown plan but reached a deal in time to set it aside.
Most lobbyists and many lawmakers predicted that the only way to finish by the deadline is if Democrats determine they can't overcome GOP resistance to new revenues and taxes and enough Democrats in the "go-home caucus" decide to vote out Sandoval's plan.
Billy Vassiliadis, a longtime lobbyist for Nevada's gaming industry, was among skeptics who think a special session is inevitable.
"My one prediction is they're not going to finish by June 6 and the governor is going to tell them to go home," Vassiliadis said. "Other than that, who knows what's going to happen."
■ THE GOVERNOR'S BUDGET PLUS LIFTING SUNSETS ON TAXES: Most behind-the-scenes discussions last week involved a move to lift the June 30 sunsets on $626 million in existing taxes, which were approved by the Legislature in 2009 to fill a budget gap.
Democrats were holding talks with the GOP Assembly caucus, which dangled the possibility of extending the taxes in exchange for passing half a dozen reforms that Democrats have resisted. Most of the reforms would anger unions — the Democrats' base of support — including weakening collective bargaining, making it tougher for teachers to get tenure and getting rid of the prevailing wage law.
"We'd like to make a deal," said Assemblyman Ira Hansen, R-Sparks, but he also doubted Democrats would agree to the reforms. "My prediction is we're going to approve the governor's budget and the Democrats will say it's a catastrophe and the impact on the state will be so bad that Republicans will eat it in the next election."
Still, many lobbyists and lawmakers said the governor's budget plan plus lifting the sunsets seems possible, although it would almost certainly take a special session and overcoming a sure Sandoval veto.
It takes a two-thirds vote to pass taxes and overcome a veto. And so Democrats would need to get the support of three Republican state senators and two Republican members of the Assembly to extend the taxes.
The state Senate is the main roadblock, unmovable for the moment.
"We're not trading," taxes for reforms, said state Senate Minority Leader Mike McGinness, R-Fallon.
Rural Nevada GOP state Sen. Dean Rhoads, who like McGinness is termed out and won't be back next session, also said Republicans are solidly behind the governor and are taking their signals from him.
"I'm going to stick with the governor," Rhodes said. "No taxes — solid as a rock — unless the governor makes a deal."
Will lawmakers finish in time?
"We won't make it. There are too many differences," Rhodes said. "I think there will be several special sessions, so stick around."
One of those special sessions may have to deal with redistricting, the once-a-decade redrawing of legislative and congressional district maps. The Democrats and Republicans are so far apart that nearly everybody is predicting the matter will be decided by the courts.
■ THE DEMOCRATS' BUDGET WITH $1.2 BILLION IN TAXES: There's no chance the full Democratic tax package will be approved. It includes the $626 million in tax extensions and $571 million in new taxes, including a sales tax on services and a margin tax on businesses. The two new levies would result in a major restructuring of Nevada's tax system, something outside experts have said is long overdue. But Democrats introduced the plan late in the session, leaving little time to sell the idea and fully debate it, according to critics.
Even state Sen. Sheila Leslie, the Democratic chairwoman of the Senate Revenue Committee, said she doesn't see any chance for the full package this session. She predicted lawmakers would approve a budget that is somewhere between what the governor wants and Democrats desire, which is spending of $7 billion over the next two years.
"I don't think anybody wants a special session," she said. "This is crush time. My prediction is we go home June 6 and pass some budget that might be part of the Democratic budget and part of the governor's. The compromise will probably include the extensions."
■ ■ ■
For now, time is the enemy — perhaps the real Mr. T in the ring.
Kieckhefer, one of the many freshmen working their first session, said he can't picture how the two sides might come together in the end.
"I just get the feeling we're going to run out of time," said Kieckhefer, who has been seen as a possible swing vote on taxes. "If there is a compromise budget — and that's a big 'if' — people have to come so far off their current positions that I cannot envision that right now."
Asked if he thinks lawmakers will lift the sunsets on the expiring taxes, Kieckhefer shook his head.
"Pain," he said. "Like I said, my prediction is pain."
Contact reporter Laura Myers at lmyers @reviewjournal.com or 702-387-2919.