Leading in his sons' footsteps, dad heads for Afghanistan with National Guard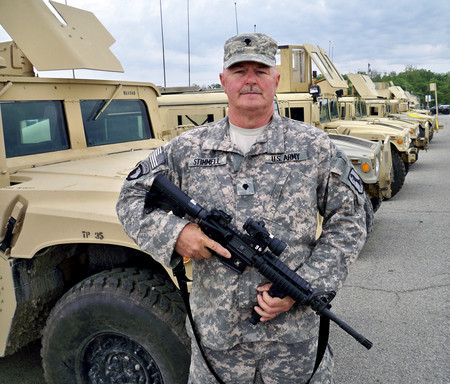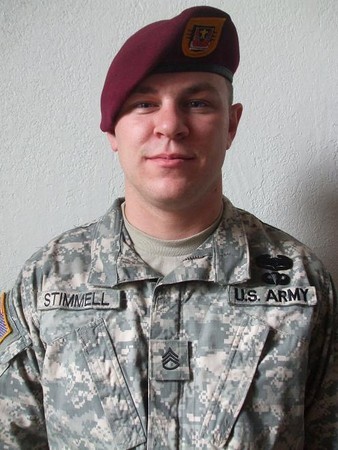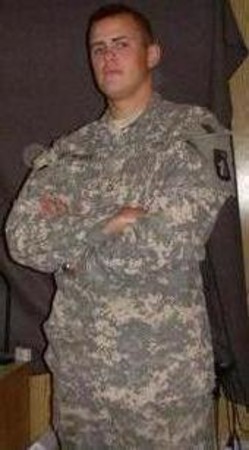 Spc. Dave Stimmell joined the fight against terrorism in Afghanistan to be a good father as well as a good soldier.
"I've got to lead by example," the 57-year-old Las Vegas combat veteran said while training last week at Camp Atterbury, Ind.
"I've got three sons in the Army who are willing to do something about it. I can't expect them to do something that I'm not willing to do," he said.
Just a few days before Father's Day, Stimmell's mind was more focused on preparing to leave for the battlefield.
"I really never thought of it being Father's Day. I just thought of it as another day of something I have to do."
As a mortar platoon specialist with Nevada's 1st Squadron, 221st Cavalry, he is being deployed with nearly 700 soldiers from the unit to counter Taliban forces in some of the most volatile parts of Afghanistan.
The squadron is among 21,000 troops being sent in this summer's surge meant to stabilize and reconstruct provinces in the country's interior and along the border with Pakistan, the stomping grounds of insurgents and militants who are bent on disrupting the reconstruction effort.
Stimmell's sons urged him to join the National Guard in 2006 because, with three tours in the Vietnam War and a stint later in the Army Reserve in Illinois, he needed only a few more years to reach the 20-year retirement mark before turning 60.
"At the time I said, 'I'm too damn old to be changing now, and I don't know how I could put up with the Army' " again, Stimmell said in one of several phone interviews last week.
"They said, 'What are the chances of you being deployed in the Guard? Slim to none.' … So here I am being deployed."
A solid man at 5-foot-11 who weighs 198 pounds in combat boots, Stimmell works as a heavy equipment service technician in civilian life. He sports a neatly trimmed mustache and speaks with a Southern drawl characteristic of his childhood in Alabama.
Although not as speedy as he used to be, Stimmell passed the physical training test a couple of weeks ago, completing the two-mile run in 16 minutes, 47 seconds.
"I'm slower than everybody out here," he said Wednesday. "It's tough to compete with guys between 19 and 30 years old. But everything they've asked me to do, I've done."
Stimmell hopes his battlefield experience will be an asset to the squadron's missions overseas. That, coupled with his desire to serve at the same time as his sons, has made him determined to meet his unit's deployment standards.
"I stress about it and I worry about it," he said.
Stimmell's middle son, 26-year-old Joshua, has no doubt his father has what it takes.
He is confident his dad "knows what he's doing. He made it through one of the toughest eras to fight in."
Staff Sgt. Joshua Stimmell is a company fire support sergeant with the 4th Brigade, 25th Infantry Division Airborne. He has three tours in Iraq under his belt and is supposed to deploy sometime this summer to Afghanistan.
Dave Stimmell's oldest son, 28-year-old Pvt. Lawrence "Larry Lee" Stimmell, is in the Army's parachute rigging school at Fort Jackson, S.C.
His youngest son, Spc. Shawn David Stimmell, 21, is an Army helicopter mechanic in Germany who served one tour in Iraq and is going back in December.
Although there's a good chance that Joshua and his dad will be in Afghanistan at the same time, the elder Stimmell has mixed feelings about being in the same war zone with his son.
"I don't like the idea, but at the same time I'm so proud of my boys right now I can hardly stand it," he said.
Joshua Stimmell, who is Dave's son from a previous marriage, said he's happy he'll be serving in the same theater with his father.
"Honestly, I'm thrilled in a way about it," he said, recalling how he was in Iraq at the same time as his brother, Shawn.
"It's kind of a treat to say I've done it with my younger brother, and now I'll be able to do it with my dad and probably my older brother at some time," Joshua Stimmell said.
Dave Stimmell said his wife, Tina "Marie" Stimmell, "ain't happy. She shed a lot of tears over this."
Reached at their Las Vegas home Wednesday, Tina Stimmell confirmed her discontent.
"I hate it," she said. "I've got a 13-year-old daughter at home. I didn't sign up to be a single parent.
"When the boys were little, that was different. But she's 13 and she needs her daddy," Tina Stimmell said about their daughter, Sara.
Joshua Stimmell said he's confident that his dad "knows what he's doing. He made it through one of the toughest eras to fight in."
Recalling his service in Vietnam, Dave Stimmell says he still has "a mixed bag of feelings" about the Vietnam War.
After his last tour, he didn't want anybody to know he had been there and even destroyed photographs of himself in Vietnam.
"There was no happy homecoming. Nobody would even want to admit they had been in the Army at that point in time," he said.
Among Dave Stimmell's fondest decorations are his Combat Infantryman Badge and the Republic of Vietnam Cross of Gallantry for serving in the 101st Airborne Division.
He joined the Army as a teenager from Denbo, Pa., where he had dropped out of high school.
His dad, Joseph Stimmell, who stood 6-feet-11, had raised him and his half brothers and half sisters in New Hope, Ala. His father died from a ruptured heart artery before Dave turned 13.
So, he moved to Pennsylvania and was adopted by his grandfather, who also died a short time later, leaving him in the custody of his grandmother.
Dave Stimmell said he joined the Army because "my grandmother thought it was best for me. … I was pretty uncontrollable and I wasn't doing what I was supposed to be doing."
At first, he didn't like the Army. "I liked the idea of shooting stuff and blowing stuff up, but I wasn't into people telling me what to do," he said.
After basic training at Fort Jackson, S.C., and infantry training at Fort Polk, La., he was sent to Germany "only to find out there was no place for me there. So I turned around and got orders back to the states and then to Vietnam."
That was 1969.
"I was a scared young man on my first tour," he recalled. "There was some good times; but when I first went there, I didn't know what to expect."
He found himself conducting patrols and taking up defensive positions at night.
"We set up ambushes. We lived on a fire base. It was constantly changing," he said. "Everything we relied on then were helicopters, and today we rely on trucks."
His second tour was from 1970 to 1971.
"We had quite a few encounters," he said, referring to firefights and combat situations.
In the spring of 1971, he was sent to Fort Knox, Ky., and volunteered to go back to Vietnam again.
"When I got there, it was sort of like 'Welcome home,' to me because I had been there before," Stimmell said.
"It was pretty much the same stuff with a different unit in a different piece of the jungle.
"As I grew, I began to wonder why somebody would send their kids to do this sort of thing."
With the rank of sergeant, he was honorably discharged in the late-1970s.
For Dave Stimmell, the Army has changed in many ways since the Vietnam War. Back then, more than 2.2 million young men were drafted. Soldiers wore black jump boots, olive-drab duty uniforms and steel pot helmets.
Today's Army is an all-volunteer force with soldiers who wear tan boots and camouflage uniforms with Kevlar helmets.
In his mind, though, one thing hasn't changed: Soldiers must lead by example and be willing to make sacrifices.
"In order to get something, you've got to give up something," he said.
Contact reporter Keith Rogers at krogers @reviewjournal.com or 702-383-0308.