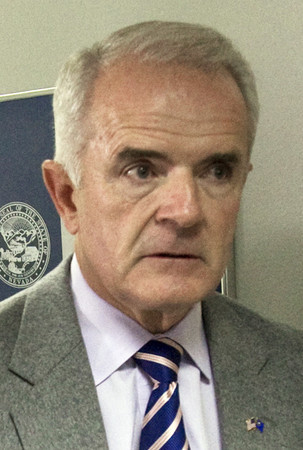 CARSON CITY — Gov. Jim Gibbons threatened Friday to sue the Legislature over the refusal of the Legislative Counsel Bureau to draft bills overhauling the state's education system.
The Republican governor who is facing re-election unveiled a plan this week to overhaul education and reduce spending by eliminating class-size reduction and full-day kindergarten mandates, as well as collective bargaining.
No special session has yet been called.
Legislative leaders directed the Legislative Council Bureau not to draft the governor's request, prompting a terse letter from Gibbons.
In a letter to Assembly Speaker Barbara Buckley, D-Las Vegas, and Senate Majority Leader Steven Horsford, D-Las Vegas, Gibbons said he doesn't believe it's "legally permissible" for legislative counsel to decline.
"A prompt reply to this quandary is appreciated, as the necessity for a definitive answer vis-a-vis the court system is imminently ripe," Gibbons wrote.
Buckley said there's no statutory provision for drafting bills from the governor for a special session. In the past, because special sessions are expensive, the executive branch and legislative leaders met in advance to work out a compromise before a bill is drafted for consideration.
There's little appetite in the Democratic controlled Legislature to pass the governor's education proposals so drafting bills is premature, she added.
"We have a lot of important issues in Nevada," Buckley said. "We don't really need to be wasting taxpayer dollars because the governor's trying to shore up his ratings now that he's facing re-election."
Gibbons has asked state agencies to prepare plans to cut up to 10 percent of their budgets.
Robin Reedy, Gibbons' chief of staff, disputed the criticism.
"And so the leadership has decided that it's not worthwhile, even though we've gotten a tremendous response from the taxpayers saying they want these things looked at?" Reedy said.
"We are bringing up legitimate ideas, legitimate arguments, and they are using politics to hold it up