Let there be light: Ethel M opens cactus garden for the holidays
November 13, 2013 - 1:09 am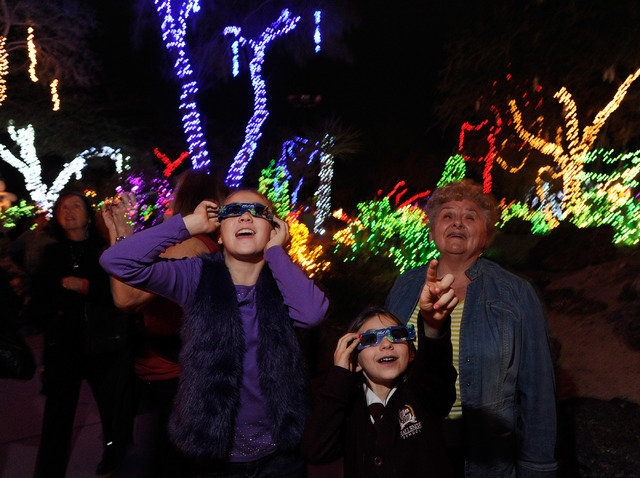 "Three, two, one!" comedian George Wallace counted down with an a capella band singing behind him as a half-million holiday lights strung over three acres of cactus simultaneously illuminated at the Ethel M Chocolate Factory on Tuesday night.
Hundreds of people attended the 20th annual holiday cactus lighting in Henderson, an event Ethel M spends more than a month preparing for each year. This year, the event featured Wallace as host, several musical performances and of course, the glowing botanical garden.
Students from the choirs at Coronado High School and Schofield Middle School sang as people began arriving about 5 p.m. The overcast afternoon gave way to a 75-degree evening and an orange-red sunset— the perfect setting for the opening night of the garden, Ethel M spokeswoman Jessica Ruttman said.
About 600,000 lights were strung up, she said, starting in September. More than 700 hours of work goes into the careful setup each year. After all, it's a prickly garden.
"They go through a lot of gloves," Ruttman said, because of the cactus spines.
Employees dressed as giant M&Ms in Santa hats drew the attention of dozens of children in the crowd.
Bethany was one of those children. Almost 2 years old with a Christmas tree painted on one cheek, she widened her eyes as the red M&M walked by.
"Santa!" she squealed and made a run for it. Mom Yvette was quick to grab her and said jokingly, "I tried to put my hands over her eyes when he came by because I knew she'd freak out."
This is Yvette's second year bringing Bethany to the cactus lighting.
"We're trying to do all of the community stuff this year," said Yvette, who declined to give her last name. When the weather cooled down, she and Bethany started exploring the city. Santa is an obsession for Bethany right now, Yvette said, so she brought her to Ethel M, where Santa was slated to make an appearance.
Former Las Vegas Mayor Oscar Goodman didn't make his scheduled appearance at the event, however, because of what an Ethel M representative said was a family emergency.
Performers included a capella band MO5AIC and Michael Grimm. Mothers sat on the ground and in bleachers rocking children, couples held hands and families walked around together as they were serenaded.
MO5AIC has performed at Ethel M twice.
"It's always fun to see the kids running around smiling," band member Corwyn Hodge said.
"They must be hyped up on chocolate from here until 2 a.m.," member Jake Moulton added.
Wallace provided energy and laughs between song sets. He was excited about the holidays, he said to the crowd, and everybody else should be too.
"Something good is going to happen to you whether you like it or not," he said after encouraging the crowd to do good things for others this holiday season.
Wallace counted down from 10 to the 6:10 p.m. garden light-up after announcing the impressive light statistics.
"I don't know who counted, but that's what they told me," he said with an exaggerated shrug about the half-million lights.
The opening night of the illuminated cactus garden doubled as a toy drive for HELP of Southern Nevada, a nonprofit that assists families and individuals.
Attendees were invited to bring a toy with them to Ethel M for HELP in exchange for four entry tickets and 3-D glasses for the lights. There were raffles during the evening, and coupons to the gift shop were given to those who donated toys.
The cactus garden will be open nightly from 5 to 10 p.m. through Jan. 1.
Contact reporter Annalise Porter at aporter@reviewjournal.com.