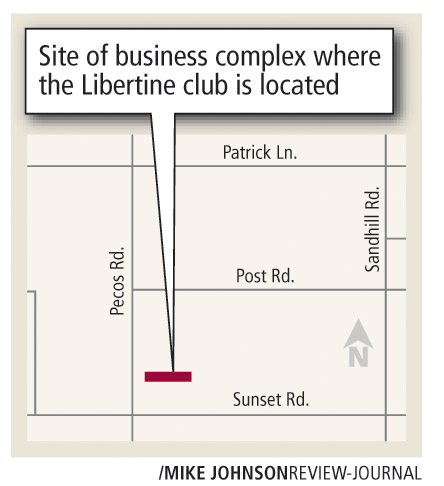 A judge ordered a club that caters to Las Vegas' fetish community to close its doors Monday because it doesn't have the proper licenses to operate.
District Judge Valorie Vega ordered the Libertine club to shut down over objections from the club's attorneys, who claimed the club has a First Amendment right to operate and that it didn't have a license because Clark County officials weren't following procedure.
Vega said Monday that the Libertine can't use First Amendment arguments to get around county statutes.
She also said the club claimed to be one thing, in this case a movie production studio, but in reality the club was used for a different purpose.
Authorities said the club allows customers to rent rooms and engage in sexual activity there.
Allen Lichtenstein, who represents the club with Conrad Claus, criticized Vega's ruling and said he would appeal to the Nevada Supreme Court.
"This judge ruled, rather cavalierly, that the county didn't have to follow the rules," he said. "This is far from over."
The Libertine, on Pecos Road near Sunset Road, has been open since early February. It advertises a dungeon and bondage studio, various fetish nights and classes in alternative lifestyles. The club also has a boutique that sells condoms, lingerie and adult toys.
The district attorney's office filed a lawsuit against the club in April claiming that it lacked a business license and was operating as an illegal sex club. County attorneys also argued in court documents that the club's patrons "are encouraged to engage in dangerous sexual practices."
The Libertine has also drawn fire from a dance studio next door.
The dance studio's owner, Amber Sorgato, complained to authorities that the Libertine's patrons prance in front of her studio in revealing clothing when young students and their parents are present.
Robert Warhola, the deputy district attorney prosecuting the club, said the Libertine is an "adult business" and should be on Industrial Road or in another area zoned for adult businesses. That will keep it away from schools and churches, he said.
"That is not First Amendment protected activity," he said.
Warhola also accused the club of "playing a corporate shell game." He said the club was formally called IBC but changed its name. The current owner, Edward Hurt, claimed in court papers that he had nothing to do with IBC. But Warhola said Libertine's Web site is run by a company called the Internationalbondageclub.com, or IBC.
Lichtenstein denied that the club was involved in any shell game. He said the sign above the Libertine is for a company called IBC, but the sign has been there for years.
Lichtenstein said the club didn't have a license because the county was playing unfairly. He said the Libertine received notice that the county had denied it a business license on June 3, even though the deadline for denying the license came and went in mid-April.
Lichtenstein said that it appeared that the county was targeting the Libertine because of the type of business it is. He said it was unfair for the county to categorize the Libertine as a sex novelty shop and force it into an area zoned for adult business because it sells condoms, lubricants and vibrators when those items can be bought at many neighborhood stores.
"If those are things that have to be sold in the adult overlay district, then we better move every Wal-Mart, Kmart and most Smith's and Vons (stores) in town to that area," he said.
As for the First Amendment, Lichtenstein said the county can't shut a club down merely because it doesn't like what the club teaches. The Libertine provides customers with classes on the bondage and discipline lifestyle, among other things.
"They talk about the horrors of what the Libertine is advocating. Advocating is pure First Amendment activity," he said.
Contact reporter David Kihara at dkihara@reviewjournal.com or 702-380-1039.