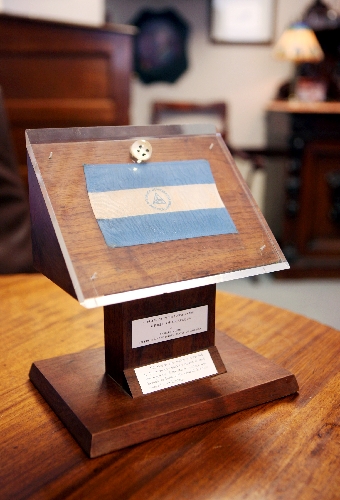 The four pebbles are smaller than peppercorns, but make no mistake: They are troublesome stones.
The quartet of specks the size of mouse droppings were once part of a 47½-pound harvest of moon rocks gathered in July 1969 by Apollo 11 astronauts Neil Armstrong and Edwin "Buzz" Aldrin Jr. following the first lunar landing.
The rocks traveled 238,857 miles from the surface of the moon to Earth, but who knew the most intriguing leg of their journey had only begun, and would eventually lead to Las Vegas?
On Friday morning, attorney Richard Wright seemed relieved to be sending the rocks back to their rightful owners, albeit by a circuitous route. Wright represents the estate of the late casino man Bob Stupak, who bought the moon rocks from Harry Coates in November 1987 for $10,000 and 200,000 shares of gravity-defying stock.
Then owner of the space-themed Vegas World casino, Stupak would go on to create the Stratosphere Tower during a tumultuous career in which he established himself as the consummate Las Vegas huckster. He departed this world on Sept. 25, 2009, at age 67 from complications of leukemia and very hard living.
You've heard of the Man in the Moon. Bob Stupak was the man who would sell you the moon, or at least stock in it. But in a never-ending effort to promote himself and his casino, he bought a tiny piece of the lunar surface, perhaps without fully comprehending the consequences of such a purchase.
Once those moon rocks broke through the Earth's upper atmosphere back on July 24, 1969, they became the most precious stones on the planet. It was illegal to possess them, much less acquire them from Coates' Midway Development Inc. for $10,000 and a briefcase full of shares in a nonfunctioning company called "Las Vegan's Vegas World Corporation."
Back during what the Fifth Dimension called the dawning of the Age of Aquarius, the rocks were stars in their own right. Although they were considered priceless, over the years collectors have offered millions for moon grit that could get lost in a thimble.
In the case of Stupak's stones, they were part of presentations encased in acrylic, mounted on small wooden displays, and given as good will gestures by President Richard Nixon to the heads of nations around the world in celebration of mankind's greatest achievement. The pebbles Stupak possessed were part of the display presented to the country of Nicaragua.
As Stupak hailed from Pittsburgh, Pa., and not Managua, there came a time in 2000 when it occurred to him that owning them might be more trouble than their considerable worth. It might have been a call from the local office of the FBI that motivated him.
Authorities were starting to ask questions. Stupak was skilled at cards and dice, but he was all thumbs when it came to following the letter of the law. So he wisely enlisted the respected Wright to ensure he didn't end up baying at the moon through iron bars. In keeping with his character, Stupak offered to cut in Wright for 10 percent of the stones' eventual sale.
By 2004, Stupak increased Wright's stake to 25 percent. The lawyer just shakes his head at the precarious prospect of ever attempting to collect on such a thing.
Wright recalls, "Bob came in about 12 years ago and said, 'I've got a moon rock. I want to sell it.' "
Stupak was thinking Sotheby's.
Wright was smelling trouble.
If the display was fake, it was worthless. If it was genuine, it belonged to the people of Nicaragua. There wasn't any wiggle room – not even for an angle-shooter of Stupak's caliber.
"Generally speaking, if you're selling it you're either committing a fraud," Wright says, "… or you have a problem because it's contraband that's illegal to possess."
Stupak assured all skeptics he purchased the moon rocks legally and had a detailed and notarized bill of sale to prove it. (Indeed, he did.) Wright reminded him that such a fact didn't mean he was allowed to keep contraband.
The irrepressible casino character, nicknamed "The Polish Maverick," tossed out a compromise.
"You mean I can't sell it publicly," he told Wright.
"You can't sell it at all, Bob," the lawyer replied.
And so he didn't. But just when it appeared the federal authorities might at last come looking for the traveling Nicaraguan moon rocks, only silence was heard. The FBI, it seemed, had moved onto other cases.
Wright sent a letter to the Nicaraguan embassy informing officials that his client possessed the moon rock gift. The letter was ignored.
Then Wright contacted NASA officials to tell them that the pebbles had alighted in Las Vegas. He received a curious response. It turns out the Nicaraguan display wasn't the only instance of moon rocks floating away from their rightful owners. Of the 270 moon rocks gifted to other countries, 160 are unaccounted for, stolen or lost, former NASA investigator Joe Gutheinz recently told The Associated Press. In one case, an undercover sting operation recovered the display Nixon presented to the government of Honduras.
By the time Wright contacted the appropriate Office of the Inspector General, NASA officials had heard their share of stolen moon rock stories. In July 2011, government attorney Cedric Campbell wrote Wright, "We have encountered cases like this one in previous years, and we tend to handle them according to procedure. In this case, we would eventually return the moon rock to the Nicaraguan government."
But how best to give back the moon rocks to their rightful owner?
The first stop on their return flight home, Wright says, will be NASA headquarters. Although the attorney appears to hold little doubt about the display's authenticity, government officials will first check that off their list. Then they will send the package to Nicaragua, where in theory officials there will keep a closer eye on it.
"I would like to express our sincere gratitude for the efforts of the Office of Inspector General of National Aeronautics and Space Administration (NASA) in working to recover the Nicaraguan Goodwill Moon Rock which was presented as a gift in 1973, subject to prior determination of authenticity for possible return to Nicaragua," the nation's Ambassador to the United States Francisco Campbell wrote in February.
For his part, Wright is satisfied to protect the family estate for the late casino man's three grown children. But he can't help smiling at the legal lunacy that orbits his late client's playful caper.
"It's vintage Stupak," the attorney says.
Somewhere beyond the bath of all the Western stars where gamblers have a free roll and the Man in the Moon lights the way, Bob Stupak is laughing himself silly.
John L. Smith's column appears Sunday, Tuesday, Wednesday and Friday. Email him at Smith@reviewjournal.com or call 702-383-0295. He also blogs at lvrj.com/blogs/smith.