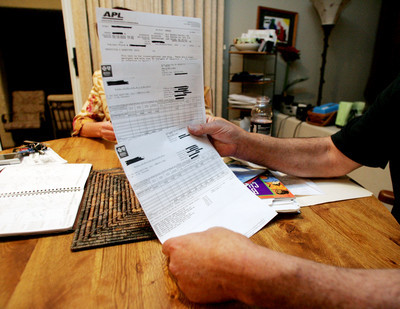 Sitting at his dining room table, a patient of the Endoscopy Center of Southern Nevada tried to comprehend how on Sept. 21, 2007, some of his blood might have made its way into the bloodstream of five other patients, infecting them with hepatitis C.
"I know it wasn't my fault rationally, but you can't help but feel guilty," said the 58-year-old, who underwent a colonoscopy on that key date, one that health officials have definitively linked to a cluster of local hepatitis C cases.
"I was there that day. I was one of the first patients treated. I have hepatitis C. … Common sense would tell you, it was me."
The patient and his wife spoke to the Review-Journal this week on condition of anonymity, saying they feared for their safety. The man, a sales representative for a national company, was diagnosed with hepatitis C in 2000 by a Las Vegas physician who does not work at the clinic.
He said he was a patient for the past five years at the Shadow Lane clinic that has come under fire. He had two surgical procedures there. His blood-borne disease, he said, is well-documented at the clinic.
He and his wife live in a gated community in Summerlin and have three children. They have retained an attorney.
His physician, he said, was Dr. Clifford Carrol.
"People see hepatitis like they do lepers," said the man's wife, who works at a casino. "They don't understand that it is only transmitted through blood."
Though it hasn't been determined exactly where or how her husband contracted the disease, the couple believes transmission occurred during a blood transfusion in the 1980s, when testing blood for diseases wasn't as much of a priority as it is today.
"It's conceivable that's when I contracted it," said the man, who was born and raised in Long Island, N.Y. "It's a very slow-moving disease. You can have it for years before you become symptomatic."
There is no vaccine or cure for hepatitis C, which is spread through direct contact with the blood of an infected person.
After the man was diagnosed with the disease, the couple said, their lives changed dramatically.
"Precaution," he said. "That's all we know."
The man does not share personal items with his family such as hair brushes, nail clippers or bath towels.
"I don't share shavers with my sons," he said, looking in the direction of a computer where a teenager was playing video games. "I have my own towels.
"You have to be cautious because it is easy to slip up. I get paranoid if I get a little cut."
He said he wondered how everything would have turned out if the clinic had been as careful.
Nancy Katz, a spokeswoman for R&R Partners, the public relations firm representing the Endoscopy Center, declined to comment Wednesday.
Federal and state health officials found that nurse anesthetists at the center reused syringes on infected patients and contaminated vials of medicine that were shared among patients. Six patients have tested positive for hepatitis C. Five of those were treated on Sept. 21; the other patient was treated on July 25.
Health officials have sent letters to 40,000 of the clinic's patients, urging them to get tested for hepatitis C and B and HIV, the virus that causes AIDS.
The couple learned of the massive patient notification last week.
The man's wife recalled: "When I heard that five people may have been exposed on Sept. 21 and they had not yet found the source, I thought to myself, 'He was there in the fall. He had a colonoscopy there.' I went upstairs, grabbed my 2007 calendar, and there it was — that date."
The man said he arrived at the facility between 6:30 a.m. and 7 a.m. for his colonoscopy. His wife went with him. And his medical bills from Blue Cross Blue Shield of Georgia confirm he went to the clinic that day for a colonoscopy.
Records show that the Endoscopy Center billed Blue Cross $850 for the surgical procedure and its affiliated Gastroenterology Center of Nevada $560 for anesthesia.
Officials with the Southern Nevada Health District called the couple's home on Friday, they said.
The health district representative asked the man whether he could come down to its office in late March for blood work. He was told to bring his ID. The Sept. 21 visit to the clinic was brought up during the conversation, the man said, though he couldn't be sure whether the health district representative had been the one who initially mentioned it.
Dr. Scott Holmberg, an investigator with the federal Centers for Disease Control and Prevention, wouldn't comment specifically about any particular hepatitis C case, nor would he say whether the health agency had contacted Nevadans involved in the spread of the disease. He did say, though, that health officials were contacting individuals who might be "putative index" cases, or sources of the infections, on July 25 and Sept. 21.
Brian Labus, senior epidemiologist for the Southern Nevada Health District, said the agency is trying to reach known carriers of hepatitis C who had procedures at the clinic on those dates.
He would not confirm whether the man is on the list of patients the health district was trying to reach, or whether he already had been notified. But, he said, if someone contacted the man about getting a test at the health district, the call probably came from his office, not the CDC.
"Even though we may know that they may have hepatitis C, we need to do additional genetic tests on the virus that they have to complete our investigation," Labus said. "For those particular days, we're interested in what happened, and we do want to figure out the train of transmission. Overall, there are going to be a lot of people who will have positive results. We just have to figure out if they got it from the clinic. That's going to be difficult."
As for clinic patients who knew they had hepatitis C, Labus said, they should not feel guilty because it's not their fault.
"Transmission occurred because of the behavior of people at that clinic," he said. "I don't want anyone to think they did anything wrong. When you go to a medical facility for health care, you should be protected. That did not occur here. No one should feel responsible for the actions of others."
The Shadow Lane patient called the clinic "a very active place."
Upon his arrival in September, he noticed a handful of patients in the office. Within 30 minutes, he was called into a room where the procedure was done. It took about 45 minutes, and the couple spent roughly three hours at the facility, his wife said.
The man said he had follow-up at the clinic about a week later. He was told things had gone well. He had a few polyps, which he said were clipped.
His wife has a colonoscopy scheduled this month with Dr. Dipak Desai, majority owner of the Shadow Lane clinic.
"Suffice to say, I won't be going," she said. "I have reservations about getting colonoscopies in general now."
The man said he doesn't know whether he'll ever be able to get over the fact that his diseased blood might have gotten into someone else's bloodstream.
People with HIV who knowingly infect others are subject to criminal charges, he and his wife said. Why should this case be any different, they said.
He said, "Ten words would have saved five people from this horrible disease: Make sure everything is clean and sterile. Do not reuse."
Contact reporter Annette Wells at awells @reviewjournal.com or (702) 383-0283.