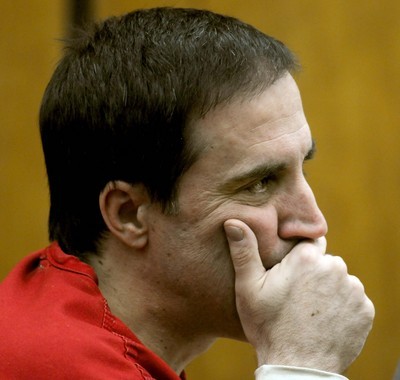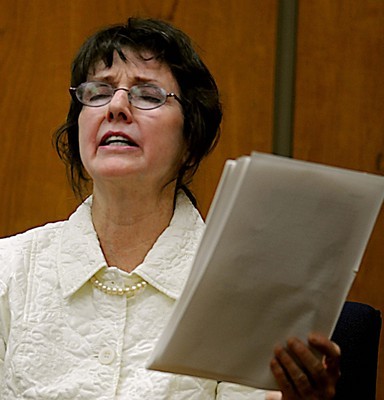 RENO — District Judge Douglas Herndon sentenced wealthy former Reno pawnshop owner Darren Mack to serve a minimum of 36 years in prison Friday for murdering his estranged wife, Charla, and shooting Family Court Judge Chuck Weller in 2006.
Before pronouncing the sentence, Herndon noted that Mack, 46, never showed any remorse for his actions Thursday when he addressed the court for three hours.
"He never said 'I am sorry,'" said Herndon, a Clark County judge assigned to the case when Washoe County judges recused themselves. "That at least would have shown some remorse. But there was nothing. That leads me to the conclusion you aren't sorry."
The judge's voice quaked as he said the biggest tragedy was that the couple's 9-year-old daughter, Erica, will be without a mother and for the most part without a father.
He asked Mack's mother, Joan, and Charla's mother, Soorya Townley, to rise above the tragedy, put their differences aside and "teach her good things about both parents."
"She needs to be raised with hugs and kisses," said Herndon, breaking into tears.
The girl spends 22 days a month with Townley and eight days with Joan Mack.
Herndon also said Darren Mack never gave a reason why he shot Weller, who had been presiding over the contested divorce case between the businessman and his wife.
"We cannot as a society condone shooting people because we are unhappy about how they are doing their jobs," he said.
After the sentencing, Mack's attorney, William Routsis, said he will appeal the sentence to the Supreme Court.
Mack's brother, Landon, said Mack was "railroaded" by his previous lawyers, David Chesnoff and Scott Freeman, into pleading guilty to Charla Mack's murder during his November trial in Las Vegas.
He also said Herndon showed bias toward Charla Mack's family during the two-day penalty phase hearing in Reno.
Townley and her son Christopher Broughton smiled and expressed relief that the ordeal was over as they left the Washoe County Courthouse.
Broughton had testified that Mack was a "brutal butcher." "Let him remain caged until the day he dies," he said.
Jan Samasel, Charla Mack's father, said Darren Mack finally was being held accountable and for once could not rely on "his money and family social status."
Mack's wealth was estimated at $9.4 million in records filed in his divorce case in 2005.
Before Mack was sentenced, Weller spoke of how he and his family still live in fear. He said he received a death threat at Christmas from someone who promised "to finish the job Mack started."
Five other judges have received similar messages since Christmas, according to Weller.
"I did everything legally possible to be fair to both Darren and Charla Mack," Weller said. "Darren Mack would not accept that."
A video recording of the May 24, 2006, hearing in which Weller made rulings in the couple's divorce case was played before the sentencing Friday.
At that hearing, Weller displayed an even-tempered manner with both Macks and made at least one ruling that favored Darren Mack.
"I wish I could come up with something that would make you both happy," said Weller, even advising them to appeal if they were displeased by his decisions.
Nonetheless, 19 days later Mack killed his wife and shot Weller.
Herndon sentenced Mack to a term of 20 years to life for killing Charla Mack on June 12, 2006, in the garage of his Reno home.
During testimony Thursday, Mack said he stabbed his wife in self-defense. He claimed she had knocked him to the ground and was pointing a gun in his face.
But Special Prosecutor Christopher Lalli expressed doubt Thursday that Charla Mack had a gun.
Herndon questioned Friday how Charla Mack could have been pointing a gun at her husband since she suffered stab wounds to the arms and legs. Those wounds would be consistent with someone trying to fend off a knife attack, he said.
After killing his wife, Mack drove to a parking structure in downtown Reno and used a rifle to shoot Weller as he stood at the window in his courthouse office 170 yards away.
Herndon noted Mack did not dispute statements by his first lawyers that he felt he had a right under the Second Amendment to shoot Weller.
"There is nothing in the Second Amendment that says you can shoot public officials," Herndon said. "It is not patriotic to shoot a family court judge because you don't like how he does his job."
He noted the U.S. judicial system provides opportunities for people to have their grievances settled peacefully.
Mack himself won a favorable state Supreme Court decision when he challenged decisions made during a previous divorce, according to Herndon.
"Four Clark County commissioners went to prison for corruption," he added. "No one had to shoot them to get them out of office."
Besides the first-degree murder sentence, Mack received a 16-year to 40-year sentence for the attempted murder of Weller with a deadly weapon.
His sentences will be served consecutively, meaning Mack must serve at least 20 years on the first-degree murder charge before being eligible for a parole hearing. Then if paroled, he would start serving the second sentence.
Since he received credit for the more than 500 days he has served in jail, Mack would be at least 81 before he receives a hearing before the Parole Board.
Contact reporter Ed Vogel at evogel@reviewjournal.com or (775) 687-3901.