Madison keeping Vegas in her future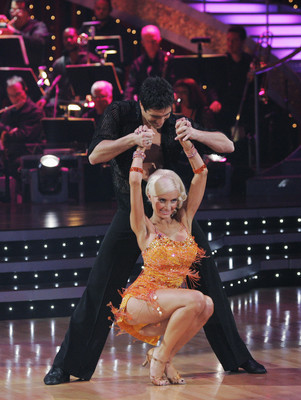 Holly Madison's next project involves returning to Las Vegas as a reality show producer. The concept would be a combination of "Girls Next Door" and "The Hills" and don't be surprised, she said, if the "Crazy Horse Paris" topless revue is involved.
Madison, who moved to Las Vegas late last year after breaking up with Playboy icon Hugh Hefner, is back in town tonight for a celebrity hosting gig at Privé nightclub at Planet Hollywood Resort.
To keep up with her "Dancing With the Stars" commitment, she's been rehearsing six hours a day at Delgado Dance Studio in Summerlin with her dance partner Dimitry Chaplin.
She became a last-minute addition when singer-songwriter Jewel dropped out because of an injury.
For having no dance background and only five days of rehearsals, the former high school cheerleader from Oregon survived round one.
Her leg conditioning came quickly, "but my feet hurt so bad every day that I could cry."
The biggest surprise, she said, is "how awesome everybody is, so supportive. It feels like cheerleading camp every day."
One of the three co-stars of the hit reality show "The Girls Next Door," Madison said she wants to stay in the reality show business but move into "the production side of things."
During her four-month live-in relationship with Luxor headliner Criss Angel, she "talked" about performing with "Crazy Horse Paris" at the MGM Grand and a discussed a couple of other possibilities, but she never had a deal anywhere, contrary to reports.
Her relationship with Angel was off-limits for the interview and she alluded to the magician just once.
She has no interest, she said, in getting back into another relationship anytime soon. "I came out of a seven-year relationship with Hef and was really happy in the last relationship."
She moved on because "I want to establish my own brand and my own career and not be mooching off something else."
Asked if she had any regrets about her breakup with Hefner, she said, "absolutely not. Everything went down the right way and I'm 100 percent happy with how things turned out."
Hefner sent "well wishes" when she joined "Dancing," but, said, "We're not like buddies where we talk. No hard feelings."
As for those reports a year ago that Madison, now 29, and Hefner were seen at a fertility clinic, she said, "we played around with the media, joking about getting married and having kids. But Hef never wanted kids. He has four.
"The whole relationship wasn't a traditional relationship for a long time and I was fine with that. But eventually I want to find the right person and have a family."
SIGHTINGS
"American Idol" finalist Ace Young, making a guest appearance during the Terry Fator show (Mirage) on Thursday. He sang "Father Figure" and "Dream On" and joined Fator afterward at a meet-and-greet session with audience members…
Former Flamingo headliner Toni Braxton, back in town Friday to celebrate her sister Tamar's birthday…
MEDIA UPDATE
ESPN basketball analyst Bobby Knight owes that painful-looking sunburn to a day on the golf course Monday at Wynn Las Vegas. He's in town teaming up with Billy Packer on the "Survive and Advance" March Madness show at the Wynn's sports and race book. Packer is a former longtime CBS college basketball analyst…
Dan Patrick's syndicated sports talk show, a recent addition to Fox Sports KBAD-AM 920, expands from one hour to three hours (6-9 a.m.) starting May 4. Patrick was on KSFN-radio, 1140 AM until earlier month when the station switched to KYDZ Radio, a kids music format. Patrick was previously on ESPN for eight years…
Syndicated talk-show host Ellen DeGeneres put in a call that made Carol Cimini's day on Thursday. DeGeneres informed Cimini, who had written a letter about her family's tough times, that she had won a new Ford Fusion hybrid and it was waiting for her outside. While an overjoyed Cimini was celebrating her lucky break, DeGeneres instructed her to look in the glove box, where she found $1,000 in cash. It was part of DeGeneres' giveaway feature titled "Ellen's Big Stimulus Package." Her show airs on KLAS-TV, Channel 8 at 3 p.m.
THE PUNCH LINE
"The NCAA college basketball tournament started today, which is perfect timing because if there's one thing Americans need right now, it's another reason not to work." – Jimmy Kimmel