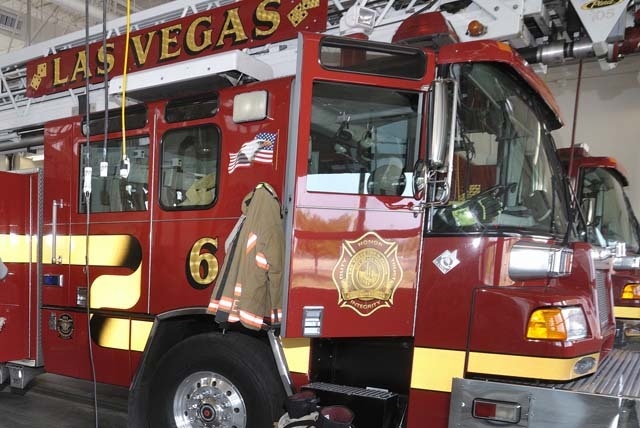 A man who died after being trapped in a burning house in West Las Vegas last week was also stabbed several times, the Review-Journal has learned.
Charles Ray Stewart, 65, was found dead Wednesday in his home at 1204 Washington Ave., near J Street, after Las Vegas police and firefighters responded to a fire.
Stewart and an unnamed woman were trapped behind metal bars, which covered every door and window of the home.
The woman was freed after rescuers used bolt cutters on the bars, but Stewart couldn't escape. He died at the scene.
The Clark County coroner's office hasn't yet determined whether Stewart died from the stabbing or the fire. Metro homicide detectives were handling the death investigation, which was still open, according to Lt. Ray Steiber.
"Can't comment on the case yet," Steiber said.
But several sources with knowledge of the investigation said medical examiners found multiple stab wounds on Stewart's burned body during their autopsy. Because of the severe burns, the stab wounds weren't obvious.
Coroner Mike Murphy declined to comment about Stewart's autopsy until their report was finished.
Arson investigators initially said the fire was an accident, but changed their ruling to "under investigation" hours later.
No one was arrested, but the prime suspect was the woman trapped in the home with Stewart, according to sources.
She was hospitalized at University Medical Center after suffering severe smoke inhalation. It's unclear if the woman regained consciousness or was interviewed by detectives.
It's also unclear what prompted the stabbing and how the fire started.
The home was engulfed in flames when firefighters arrived about 11 p.m. They quickly located the woman trapped behind the locked front door.
After she was rescued, she told authorities that a man was still inside.
Firefighters walked around the home and saw Stewart inside a room. They directed him to a room that wasn't burning and started to remove the window bars, but he left the room. The firefighters never saw him again.
Fire department spokesman Tim Szymanski didn't mention the man's injuries in his media release last week. He wasn't aware the man was stabbed, he said Monday.
"Last I heard it was under investigation," he said.
In addition to the woman, 12 Metro police officers were treated for smoke inhalation.
The metal bars were gone from the home on Monday and replaced with thick boards. A makeshift memorial of candles, flowers and cards was on the sidewalk next to Stewart's fenced-off yard.
A neighbor, who didn't give his name, said detectives interviewed him a few days after the fire.
The officers didn't give him much details, but told him foul play was likely, he said.
"They said someone might have harmed him," the neighbor said.
Contact reporter Mike Blasky at mblasky@reviewjournal.com. Follow @blasky on Twitter.