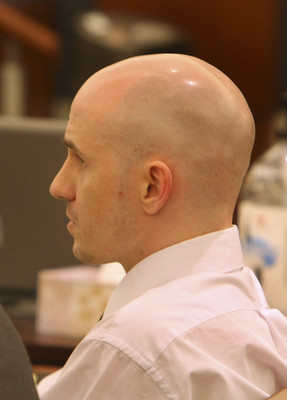 When Florida police uncovered a diary describing a brutal murder in Las Vegas, they opened the first chapter of a gruesome 2006 homicide that ensnared three people, including a mother of two.
The final chapter is unfolding in a Las Vegas courtroom.
On Monday in District Court, a 32-year-old man accused of torturing another man to death during a drug-fueled 2006 episode was put on trial.
Corey Pearce is accused of murdering 42-year-old Michael McClain. If the jury convicts Pearce of first-degree murder, he could face the death penalty.
Joey Salas, 33, and Cassandra Thomas, 26, were tried together last year in connection with McClain's slaying, and a jury convicted them both of second-degree murder.
District Judge Valerie Adair sentenced Thomas to spend 26 years to life in prison and Salas to 16 years to life.
During a police interview, Pearce told detectives that he helped kill McClain because he was afraid the victim would hurt Thomas.
According to an arrest report, the trio killed McClain because they thought he had hurt another woman.
The case gained notoriety because Thomas wrote about the slaying in a diary discovered by Florida's Jacksonville Beach police, who alerted Las Vegas police about the killing.
Florida police discovered Thomas' diary when they stopped her and Pearce in a stolen vehicle.
Chief Deputy District Attorney Pam Weckerly told the jury Monday that McClain was tortured over several days in June 2006 inside a condominium on the 2600 block of Jacyra Avenue near Sahara Avenue and Boulder Highway.
Salas initially struck McClain in the head with a wooden dowel, but Pearce did the bulk of the torture, Weckerly said. She said Pearce first tried to kill McClain by injecting him with novocaine, an anesthetic. When that didn't work, she said, Pearce used a mallet to pound a pencil into the base of McClain's skull.
Pearce finally killed McClain by hammering a screwdriver into his skull, she said.
After the slaying, Pearce and Thomas fled to Florida, where one of Thomas' two children lived.
Deputy Special Public Defender Alzora Jackson, who is defending Pearce, shifted the blame away from Pearce and toward Thomas, who Pearce loved. Jackson said Pearce hadn't done methamphetamines until he met Thomas.
"There is one common denominator: Cassandra Thomas," Jackson said.
Pearce sat in silence at the defense table during the trial. Several of McClain's relatives and supporters were in the courtroom.
On Monday, the jury listened to a July 2, 2006, recorded interview between Pearce and Las Vegas police detectives George Sherwood and Teresa Kyger. The interview was recorded at the Jacksonville County sheriff's office in Florida.
During the interview, Pearce said that he was originally from Monterey, Calif., and was sexually and physically abused as a youngster. He said he and Thomas went to Florida to pick up her child and start a new life.
Pearce danced around the details of the slaying before finally telling detectives that he injected McClain with novocaine and hammered the pencil and screwdriver into the victim's head.
He also said he would do anything to protect Thomas.
"Cassandra, I love her very much," he said on the recording. "If it meant me taking a needle in my arm by lethal injection for the girl, I would. In a second."
Contact reporter David Kihara at dkihara@reviewjournal.com or 702-380-1039.