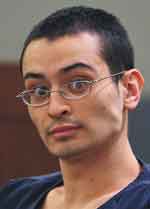 A 24-year-old man who was found not guilty by reason of insanity for the 2001 killing of another man will be released from the state's psychiatric hospital for mentally ill suspects, his defense attorney said Wednesday.
A District Court judge granted Michael Kane's petition to be released from Lakes Crossing in Sparks, said Scott Coffee, the deputy public defender representing Kane.
Kane will be released with several conditions, including that he live at a halfway house, submit to random drug testing and take weekly mental health evaluations, Coffee said. He also must stay in contact with doctors at Lakes Crossing, who will monitor any changes to his mental stability.
Kane is expected to be released next week, Coffee said.
"The court did the appropriate thing and followed the law," Coffee said. "The testimony was unequivocal that Michael Kane no longer meets the definition of a mentally ill person as defined by Nevada statute."
Under Nevada law, offenders found not guilty by reason of insanity can be held only as long as they are deemed mentally ill. They are sent to Lakes Crossing for treatment, and their case is reviewed about every six months.
Recent changes to the law allow the state to impose conditions such as counseling on patients such as Kane once they are released.
In 2001, Kane fatally stabbed 23-year-old John Trowbridge with a dagger.
Authorities said Kane was under the influence of the hallucinogen LSD at the time and had used methamphetamines in the weeks before the killing.
A jury found Kane not guilty by reason of insanity in 2004.
Doctors have come to differing conclusions about Kane's mental condition. One said Kane suffered from schizophrenia, and another diagnosed him as having a drug-induced psychotic disorder.
During several hearings in District Court in February and March, doctors from Lakes Crossing and elsewhere testified before District Judge Jennifer Togliatti about Kane's current mental state.
Dr. Howard Henson, a psychiatrist and the medical director at Lakes Crossing, said Kane was no longer mentally ill and there was no reason to keep him at the facility.
Another doctor from the facility, Elizabeth Neighbors, testified last week that Kane wasn't showing symptoms of mental illness but had been receiving treatment for drug addiction.
Doctors have warned that Kane poses a risk of violent behavior if he takes drugs such as methamphetamines.
A doctor not affiliated with Lakes Crossing, John Paglini, also testified last week. Although he hadn't interviewed Kane since 2004, he reviewed Kane's current medical records.
"It seems Kane is doing exceptionally well," Paglini said.
Trowbridge's mother, Robbin Trowbridge Benko, who attended recent court proceedings, could not be reached for comment Wednesday evening.
She had lobbied the Legislature for "John's Law," which was passed last session and allows court supervision of offenders found not guilty by reason of insanity after they are released from Lakes Crossing.
In an October interview from her home in Chesterson, Ind., she said the law "is going to make sure he (Kane) is ready for society and society is ready for him."
Contact reporter David Kihara at dkihara@reviewjournal.com or (702) 380-1039.