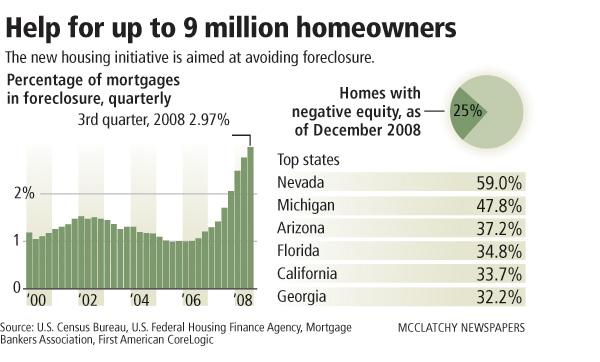 A new report released Wednesday said nearly 60 percent of Las Vegas homeowners are "upside down" on their mortgages — precisely the group of people who are least likely to benefit from the housing plan the Obama administration began detailing Wednesday.
A report from First American CoreLogic showed that 58.2 percent of home mortgages in Las Vegas have negative equity in which the loan balance exceeds the home's value.
The report said Nevada has the highest percentage of "underwater" mortgage holders in the nation with more than a quarter of Nevadans, 28 percent, owing more than 125 percent of their home's value.
Those are the people, too, who will not qualify for aid under President Barack Obama's plan, which restricts refinancing aid to borrowers whose first mortgage does not exceed 105 percent of the current market value of their homes.
The administration's Homeowner Affordability and Stability Plan, which the Treasury Department on Wednesday began briefing lenders about, throws $75 billion at a problem that some say sparked the economic downturn.
The plan aims to help as many as 9 million homeowners who are struggling to avoid foreclosure, but industry experts agreed few homeowners in Las Vegas and other hard-hit areas such as Phoenix and much of California, where home prices have tumbled more than 50 percent, are likely to qualify for the program.
"It's not going to do a whole lot for people in Vegas," said Spencer Judd, a local attorney who specializes in loan modifications.
"What happens with the second mortgage? There's nothing in there about (modifying) second mortgages. What will work? How do you get this done? This program is not a panacea, but we'll see."
Mark Baker, loan officer at Meridias Capital in Las Vegas, thinks the foreclosure crisis is going to get much worse as even people with "golden" credit walk away from homes that can't be refinanced.
Based on the 105 percent requirement, someone who owes more than $210,000 on a property that's worth $200,000, would not qualify for the program's refinancing option.
"Up to 105 percent of the value," Baker said. "I think this will help a lot of people in the Las Vegas area. In fact, it may be more than three or four people, or even up to 10. Another example of how lots of talk, lots of money spent and so few people can use a new government program. Sorry for my sarcasm … not really."
Under Obama's plan, homeowners are generally eligible for refinancing or loan modifications if they are the owner-occupant of the home; the home is their primary residence; the home is not investor-owned; and the first-lien loan has an unpaid balance of less than $729,750.
Any foreclosure action will be suspended during the loan modification trial period or while borrowers are considered for other options to prevent foreclosure. If these options fail, the foreclosure action may be resumed.
The plan helps two groups by refinancing up to 5 million homeowners into more affordable fixed-rate loans and by working with lenders to modify the loan terms for up to 4 million homeowners.
The first group consists of homeowners with "conventional" mortgages of $417,000 or less held by Freddie Mac and Fannie Mae. Such borrowers are stuck paying higher interest rates and cannot refinance because their home value has shrunk and they are upside down on their loans.
Shawna Kendall said she is upside down by $100,000 on her Las Vegas home. She lost her job as an independent contractor in the health care business, and her husband's income is down 40 percent.
"I think I qualify," Kendall said. "I had applied for a loan modification. I've never been late with a payment, but they need to work with us if they don't want another foreclosure. You don't know how long it's going to take to recover."
The refinancing program is offered only to homeowners with loans held by Fannie Mae or Freddie Mac. They have until June 2010 to apply.
Consumers should contact their loan servicer, the company that sends out their monthly bill, to find out whether their mortgages are held by Fannie or Freddie.
The two mortgage finance companies own or guarantee almost 31 million home loans, more than half of all U.S. home mortgages, and say they are lowering some fees to allow more borrowers to qualify.
The second part of the Obama plan is intended to help modify loans for borrowers who have experienced economic hardship.
For the modification program, which runs through 2012, borrowers who are eligible will have to provide their most recent tax return, two pay stubs and an "affidavit of financial hardship" to qualify. In the affidavit, applicants will have to cite the reasons behind their financial woes, such as job loss or a drop in income. The government will take steps to verify the information.
Borrowers are allowed to have their loans modified once, and the program applies for loans made on Jan. 1, 2009, or earlier. Mortgages for single-family properties that are worth more than $729,750 are excluded.
Lenders could reduce a borrower's interest rate to as low as 2 percent for five years. Rates then would rise to about 5 percent until the mortgage is repaid.
If the plan works as intended, it could be a big plus for some borrowers.
Dick and Marge Fazio of Las Vegas might fall into that category. He suffered a stroke, and she was laid off from her job in retail property management. Roughly one-third of their monthly income, mostly from temporary work and Social Security, goes toward their mortgage.
Marge Fazio said she has been wondering whether they would qualify for aid from Obama's plan and has been researching it on the Internet.
"I think the plan is good," she said. "The only thing that bothers me is I'd like to know who's actually read the 1,100 pages of information. I feel it'll work, but there's so many variables."
She said she read about CitiMortgage reducing mortgage payments to $500 a month for laid-off homeowners, but a person has to be six months in default.
"Give those of us who lost our job a break. We're trying to do the right thing," she said.
Though banks such as JPMorgan Chase and Wells Fargo & Co. issued statements Wednesday praising the plan, there was skepticism that banks would be willing to participate.
"I've just seen so many of the programs not work," said Pava Leyrer, president of Heritage National Mortgage in Grandville, Mich. "It gets borrowers' hopes up. They call and call for these programs, and we can't get anybody to do them."
Rick Simon, spokesman for Countrywide Home Loans in Calabasas, Calif., added that no should expect banks to modify loans for people who are not going to be able to sustain home ownership, he said.
"We don't know what that program will do and how other programs are affected," Simon said. "We need to see the guidelines, how the administration is going to handle the rights of investors to have a decision in how to do these workouts, whether investors are forced into this or still have a right of approval."
Simon said the industry favors the "general terms" of the plan's affordability index formula, which sets monthly home payments at 38 percent of household income. The government will share 7 percent of the cost to take mortgages down to 31 percent.
Critics of Obama's foreclosure plan say it will reward delinquent borrowers, many of whom should not have received mortgages in the first place, while responsible borrowers who continue to make their monthly home payments gain nothing.
More details on the plan can be found at www.financialstability.gov.
Contact reporter Hubble Smith at hsmith@reviewjournal.com or 702-383-0491. Review-Journal writer Jennifer Robison and The Associated Press contributed to this report.
Download PDF on borrower qualifications