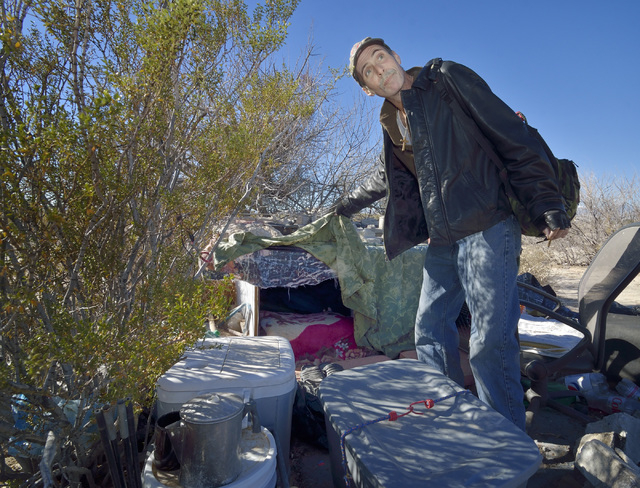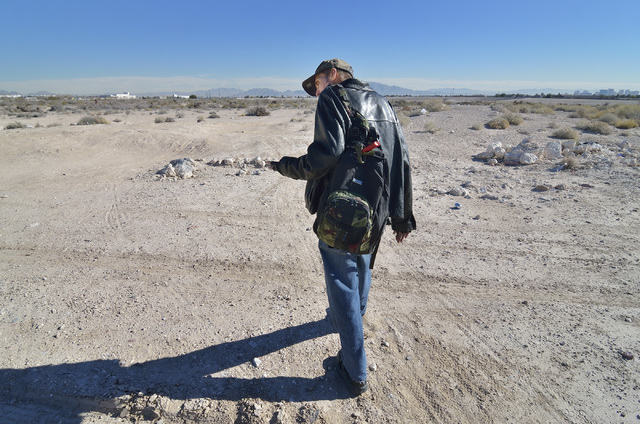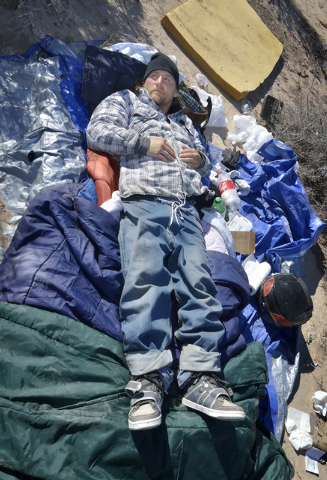 "Anybody home?" hollers Marine veteran Michael Coughlin as he strides across the chalky soil making his daily rounds through a homeless camp.
For two years, with help from the Westminster Presbyterian Church's food pantry, he has been playing the role of guardian angel for fellow homeless people living in hidden hooches on the shrub-dotted desert next to the North Las Vegas Airport.
"It's been the hardest two years of my life and the best two years of my life," Coughlin, 53, said on a mid-December tour of the camp he calls "No Man's Land."
A survival expert who was raised on his family's homestead land in Alaska, Coughlin routinely checks on his throng of homeless friends and teaches them outdoor skills for enduring harsh, chilly winters and sweltering summers.
He draws on his 10-year experience as an infantry Marine serving in such places as Nicaragua, Panama and Somalia. He was honorably discharged in 1987.
"I call it urban camping," he said. "I teach them how to hide and stay warm. The last two years have been absolute dedication to make sure they're fed and clothed. The hardest part is to get them to know they're loved by Jesus Christ and fellow man."
Coughlin, a divorced man whose parents are deceased, became homeless when he was laid off from his last job in the gaming industry after the recession hit bottom in 2009. He said he had worked in several downtown casinos, rising from dealer to pit boss.
"When my unemployment was running out, I knew I had to do something good with my life," he said, recalling the promise he made at the time. "What have you done for anybody other than yourself? I'm not going to self-medicate myself. I'm going to do the right thing."
And "the right thing" turned out to become a homeless person and help others by living with them in their own element. With that came pitfalls to overcome such as having his bicycle stolen three times in two years. He's now riding his fourth bike to reach odd jobs such as lawn work and moving assistance to earn a few bucks.
"The church is the hub of the wheel I work out of," he said.
The Rev. Adolph Kunen, pastor of Westminster Presbyterian Church, which is a 15-minute walk from the homeless camp, said it was literally for the love of God and fellow man that Coughlin is alive and well today.
Coughlin himself was once the homeless guy in the food pantry line, suffering the latent effects of a bacterial infection that had hospitalized him for a month, including six days of intensive care at University Medical Center.
"He could hardly raise his arm," Kunen said, recalling how he saw Coughlin in line and answered his request for a healing prayer.
That was two years ago. Now, the lanky Coughlin is not only a church member, but also an elected, ordained deacon who helps run the food pantry.
"He's legit. He's not a sub," Kunen said. "He's an extremely intelligent, caring guy and he deeply appreciates his faith in Christ and wants to share that."
But Coughlin's work with fellow homeless folks at one nearby camp is about to face a new challenge. They said they have been told by Clark County workers that their low-lying abodes, fire pits and makeshift shelters will be bulldozed in about a week.
Said Coughlin: "Right now I'm strapped to figure out where everybody is going to move. They'll all be displaced."
The land owned by the Clark County Department of Aviation is posted with signs that say "no trespassing" or dumping. Violators face $6,000 fines.
Aviation Department spokesman Chris Jones said the department was recently contacted by a neighboring property owner "who complained about an abundance of litter and dumping."
Jones said department staff inspected the site on Dec. 10. They found homeless encampments, which prompted a follow-up visit on Dec. 12 by an officer who handles homeless matters for the North Las Vegas Police Department.
The inspections turned up "multiple encampments, some of which had active campfires, as well as large amounts of broken glass and excess litter," Jones wrote in an email to the Review-Journal.
"Whenever a landowner becomes aware that conditions of excess litter exist, it is legally obligated to restore the property so that it meets acceptable public standards," Jones' email reads.
"These obligations stem from North Las Vegas municipal code, as well as Southern Nevada Health District requirements. Likewise, the presence of campers represents a health risk to those on site, and a liability concern to the property owner. Given this, it's the DOA's (Department of Aviation's) civic responsibility to clear the site."
Jones said the Police Department's homeless liaison, officer Scott Vaughan, along with his colleagues have told the Aviation Department they would launch an intervention effort to provide social services to those at the homeless camp.
In addition, Vaughan has indicated he will reach out to his associate with the Metropolitan Police Department, Annie Wilson, to seek expertise and additional resources which typically include assistance from the Nevada Homeless Alliance, veterans groups, the Urban League and others.
"The expressed hope was that Ms. Wilson and her colleagues would be able to persuade the camp's denizens to relocate to shelters or other housing options designed to help people to escape these circumstances," Jones said.
Among those who will be displaced is Cara Lyons, 36.
She wound up homeless after she and her husband were evicted from an apartment.
She suffered from depression while pregnant with her second son.
She later unwillingly lost him to adoption but Coughlin is trying to reunite them.
"I was basically homeless when he was 12 hours old. I knew I needed psychiatric care. We experienced one hardship after another. It snowballed and we lost our apartment," she said.
While her husband, Wesley Dardenne, looks for work at the other end of the Las Vegas Valley, she lives in a low-profile "Taj Mahal" dwelling built by her uncle complete with a shingle roof, concrete entry tiles and fireplace.
"Every day is like Groundhog Day. It's hard to get ahead. Continuity is difficult," she said. "How do you plan for the future?"
Another who will be sent elsewhere is Byron Johnson, 43. He shivers while he lies on an open bed tucked behind some creosote bushes.
"I need to get another blanket," he says when Coughlin asks if he wants anything.
When asked what they want for Christmas, none wanted anything material.
"I want approval for SSI (Supplemental Security Income). I lost my medication in a house I was squatting in," Johnson said.
Lyons said, "I want my son back. I want my kids to know they're loved and wanted."
And, what does Coughlin want for Christmas?
"I don't even think about it," he said.
Contact reporter Keith Rogers at krogers@reviewjournal.com or 702-383-0308. Follow him on Twitter @KeithRogers2.