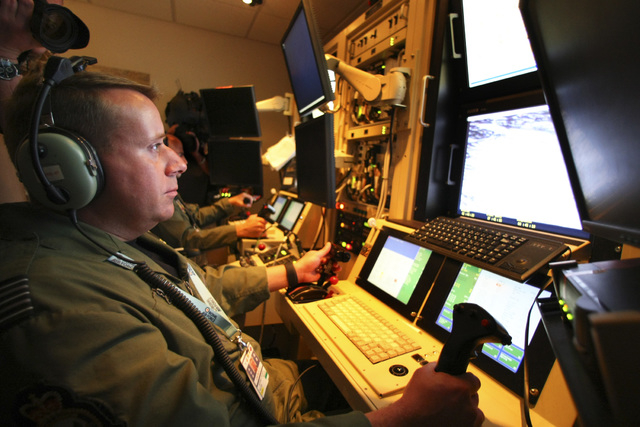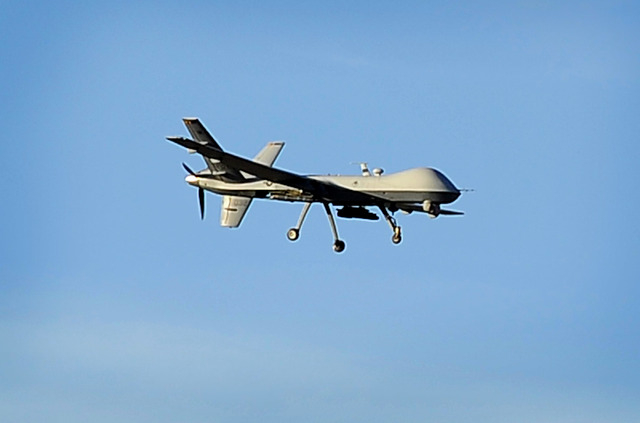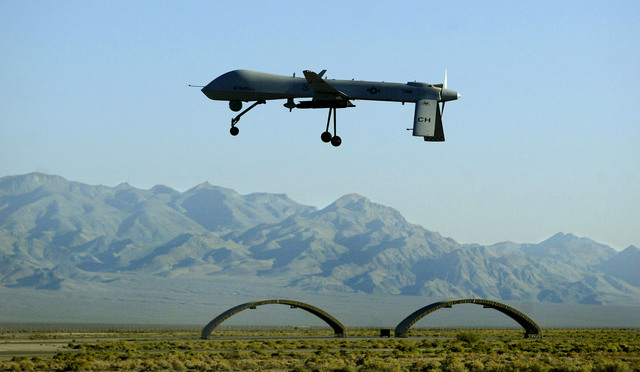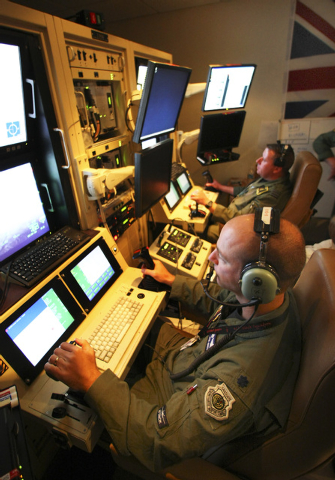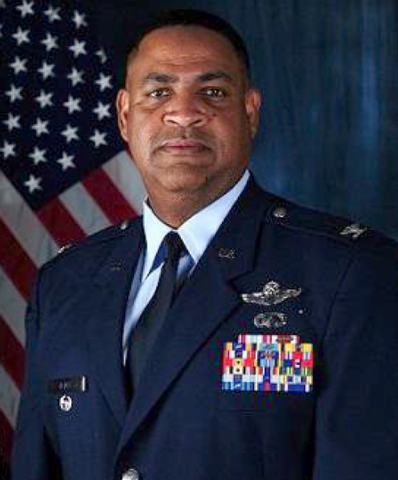 A former Creech Air Force Base drone pilot and commander who now advises air combat leaders on manning remotely piloted Predator and Reaper spy planes said Thursday the Air Force is aiming high to meet demands for around-the-clock surveillance of terrorist trouble spots while working on incentives to keep job-stressed pilots in the program.
Col. Ray "Raygun" Alves, who flew in F-16 cockpits during the Iraq War but switched to the computer console seat for armed drone operations at Creech from 2010 to 2012, spoke about the Air Force's intelligence, surveillance and reconnaissance effort then and now.
"Those long work hours, the stress of the job, unfortunately that's the cost of doing business," he said. "What we are trying to do is do the best we can to take care of our airmen. … Really it's about do we need more people in order to reduce those long work hours and the stress we're putting on our guys."
His comments came in the wake of a four-star general's concern that the program's future is vulnerable to safety and staffing problems as the demand for more armed drone patrols increases. The burden is carried on the backs of pilots whose leaves are canceled, career education is bypassed, and stints as training instructors is shortened to meet the demand.
That message surfaced in a memo from Air Combat Command Gen. Herbert "Hawk" Carlisle to Air Force Chief of Staff Gen. Mark Welsh. The memo, reported Sunday by The Daily Beast website, says leadership at the command's Joint Base Langley-Eustis, Va., headquarters "believes we are about to see a perfect storm of increased (combat commander) demand, accession reductions, and outflow increases that will damage the readiness and combat capability of the MQ-1/9 enterprise for years to come."
"MQ-1/9" is shorthand for the MQ-1 Predator and the larger, faster, higher-flying MQ-9 Reaper. Both are remotely piloted aircraft that are operated via satellite links from the Creech base, 45 miles northwest of Las Vegas — and other U.S. ground stations — over trouble spots in the Middle East and Afghanistan. Combat Air Patrols (CAPs), each involving four drones in a 24-hour span, hunt "high-value" terrorists and other militant targets and strongholds. Their goal is to kill or destroy them using laser-guided Hellfire missiles, or a mix of 500-pound smart-bombs and missiles in the case of the Reaper.
In a conference call with reporters early Thursday, Avles said, "The memo was just saying that as we look out into the future and as the demand continues that 65 (CAPs) right now is a number that is difficult to meet. We are above our program of record."
Two or three years ago when Alves worked at the Creech base, Combat Air Patrols numbered in the 40s and 50s. The Secretary of Defense has called for 65 CAPs after the Air Combat Command offered to provide 62, according to Carlisle's memo.
Pilots work in tandem with sensor operators who hold laser beams on targets and monitor high-tech video and infrared cameras. Pilots typically work 8-hour shifts, flying three to five hours per shift, for five or six days a week. They are currently staffed at 85 percent of the manning level, while sensor operators are at 100 percent, Alves said.
In addition, Alves said when he worked at Creech there was an "on-call pilot, who was that relief hitter for a pilot to take a break, go to lunch, go to the restroom" to swap in for an hour or so.
Alves acknowledged that many pilots are leaving active duty to continue as Predator and Reaper pilots in the Air National Guard and Reserve. To avert a shortage in the active-duty ranks, the Air Force is looking at all options, including pay and advancement incentives, to "grow RPA (remotely piloted aircraft) professionals" and develop a career path for them.
"We are actually at surge capacity right now," Alves said. "And surge by definition, we cannot maintain forever. So we need to start looking at how do we ensure that the enterprise is correctly manned to continue to meet the levels of demand that our combatant commanders are putting upon us."
On the table for consideration is offering pilots higher pay through retention bonuses. Extending active duty obligations involuntarily through a stop-loss policy also looms as a possibility among the options.
As for the challenge in providing support for battlefield commanders, Alves said there is not much difference in his frame of mind from performing in the cockpit of an F-16 or at the controls for a drone in a ground station at Creech.
"I got the same adrenaline rush sitting in a cockpit in Creech as I did sitting in a cockpit directly overhead when it came to support those guys on the ground," he said.
"What's going through my mind is no different than when I did the exact same thing sitting in a cockpit over Iraq in an F-16. So those stressers are no different," Alves said.
"What am I thinking about? It depends upon the situation. If I'm supporting a guy on the ground, it's what's the most efficiently, the quickest way I can provide that guy support be it ISR, (intelligence, surveillance, reconnaissance) by telling him where the adversary is, or putting a weapon down as quickly as possible."
Having been an RPA pilot and commander of the 15th Reconnaissance Squadron at Creech and a fighter jet pilot for operations in Iraq, Bosnia and Kosovo, Alves, 44, said he knows about combat stress and how to cope with it. The key is to "compartmentalize" duties at work and home.
Creech airmen face unique challenges with having to conduct combat operations only an hour's drive from their families and Las Vegas' civilian lifestyle.
"I am good at compartmentalizing. So when I walk out the door I can put that stuff behind me," he said.
"However it is a competing stresser that one day, or early in the afternoon you're flying a mission over Afghanistan and (later) that afternoon you're cheering for your son or daughter at a soccer game.
"And then there's the home stressers that you can just as easily go to work with. How do you compartmentalize? I'm not going to tell you it's not a difficult thing to do but it is part of what we need to do, and what we've come to do in the (RPA) community," Alves said.
Contact Keith Rogers at krogers@reviewjournal.com or 702-383-0308. Find him on Twitter: @KeithRogers2.