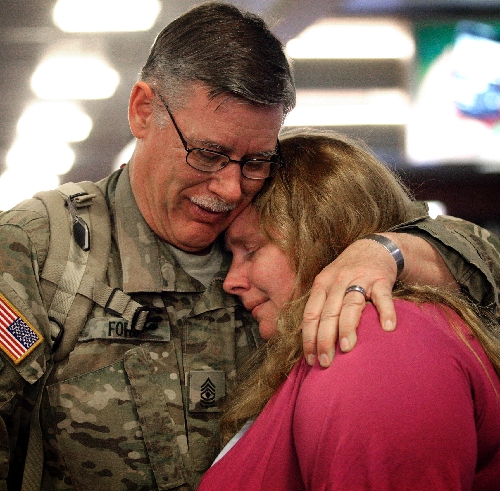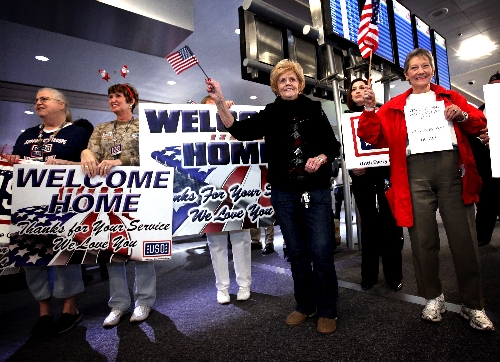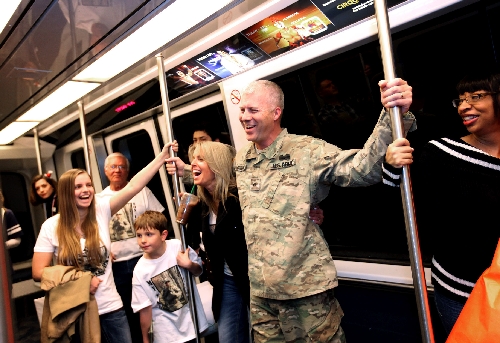 The D gates terminal at McCarran International Airport erupted with spontaneous cheers and applause from holiday travelers Sunday night as nine Army Reserve soldiers wearing camouflage uniforms walked down the corridor clutching the hands of their loved ones on the final leg of a journey that brought them home safely from Afghanistan.
It was a reception the Vegas Desert Rats, as they are known, will never forget, from the flags and "Welcome Home" posters held by children and USO volunteers to stories they shared of their nation-building missions while in the cross-hairs of the Taliban.
"It was a long tour. It was hard," said 1st Sgt. Randy Ford, reflecting on his third combat experience in the global war on terrorism.
"We got engaged a lot. We got hit hard," he said. "Everybody under fire performed valorously and brought pride to their unit and their country. And, we all made it home. That's the most important thing."
The unit broke up into nine teams that provided civil affairs support to regular soldiers from the 1st Armored Division's 3rd Brigade and the 173rd Airborne Brigade Combat Team.
Serving in two of most volatile provinces in eastern Afghanistan, Logar and Wardak, they were shot at or shelled almost everyday. At times were not allowed to return fire because of the rules of engagement.
Combined, they survived 320 firefights and indirect fire attacks involving rockets and mortars. They encountered roadside bombs and truck bombs and racked up five Purple Heart medals, 18 Army Commendation medals, and seven Bronze Star medals for meritorious service.
For Cpl. Derek Brady, 30, coming home Sunday night meant seeing his 2-month-old nephew, Brady Del Toro, said his sister, Jessica Del Toro, 26.
Her brother had come home in early October.
"It was nice not having to worry about him for a couple weeks," she said.
At D Gate 10, Tracy Roberson said she planned to watch Sunday night football with Cpl. Eric Roberson and their family although her mind wouldn't be on the Patriots or the 49ers.
"I just want to stare at him," she said, moments before his flight arrived and they embraced with smiles and tears.
Said Eric: "I'm just glad to be home."
Martha Wehrly, of Beatty, waited patiently for her husband, Sgt. 1st Class George Wehrly, who returned from his third overseas deployment.
"This has been the best unit because they're very family oriented," she said.
His mother, Sharon Wehrly, of Pahrump, acknowledged the dangerous places her son was in on this, his third deployment.
"I'm just relieved he's home," she said. "We're very, very lucky that everybody got home."
In all, 29 of the 32 citizen-soldiers from the North Las Vegas-based Delta Company, 405th Civil Affairs Battalion endured nine months in Afghanistan. Two returned early for emotional reasons, their commander said, and a third soldier came back at the beginning of the tour in March for medical reasons.
After demobilizing at Joint Base McGuire-Dix-Langhurst in New Jersey last week, the Delta Company soldiers returned to their families on commercial airline flights that took some to Utah and others to Las Vegas on an earlier flight Sunday.
Their commander, Lt. Col. Victor Ingram, remained at the New Jersey demobilization center with another soldier who is recuperating from an injury. They are expected to arrive at the McCarran airport early this week, said Ingram's wife, Opal.
First Lt. Xiao Sessler paused at the baggage claim area with her husband, Warren, a Korean War veteran, to reflect on her deployment.
"It was tough," she said, echoing most of the other soldiers.
"The main point is that we all came back and we learned that whatever doesn't kill you will make you stronger. We learned about ourselves and others," she said.
Besides Sessler, Ford, Brady, Roberson and Wehrly, the other soldiers who returned Sunday night were Sgt. Douglas Hite, Spc. Douglas Deal, Spc. Brian Archunde, and Spc. Scott Yi.
Contact reporter Keith Rogers at krogers@reviewjournal.com or 702-383-0308.