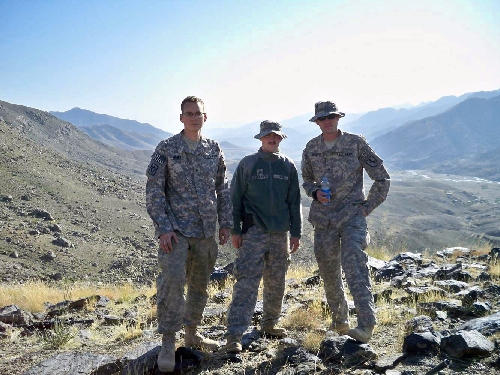 RENO — A former national guardsman received a warm homecoming in Reno after being jailed for about two months in the United Arab Emirates.
Dozens of family and friends greeted Nick Moody, 23, of Susanville, Calif., at Reno-Tahoe International Airport on Thursday night, the Reno Gazette-Journal reported.
"I'm glad to be back in the States, and I'm overwhelmed by the reception," Moody told them. "Thank you for supporting me and trying to get me home. Thanks to your help, I'm home now."
Moody served with the Nevada Army National Guard in Iraq and Afghanistan before taking a job with a private security firm in Iraq.
He was returning from Iraq to the United States on Sept. 29 when he was arrested at the Abu Dhabi airport on charges of possession of "accessories related to firearms": a gun-cleaning kit and a pistol grip.
He spent the next two months in a United Arab Emirates prison after becoming ensnared in bureaucratic red tape, said his mother, Lorina Moody of Susanville.
He was released on bail on Dec. 1 after the case against him was dropped. His passport was returned, but his visa had expired while he was in prison and it took a while before a new visa was issued.
Lorina Moody rallied support from the public to pressure the U.S. government to seek her son's release.
"That support really helped," Lorina Moody told the Gazette-Journal. "People called officials and the State Department and really put a spotlight on it. A lot of local people helped. People all over the world helped. I think they got results."
Mahmoud Azmeh, Moody's attorney in the UAE, helped him navigate that country's legal system. Possession of items such as a gun-cleaning kit and a pistol grip carries stiff penalties in the UAE.
Moody said he lost 20 pounds in jail and worried he would be sentenced to a long prison term.
"The days turned into weeks, and then a month, and I began to give up hope," he said. "When I got out and realized how many people were trying to help me, that was a boost."
Moody said he plans to catch up on his sleep and then enroll at the University of Nevada, Reno. He's undecided on a major.
"There's time for that," he said. "I have my life back now."