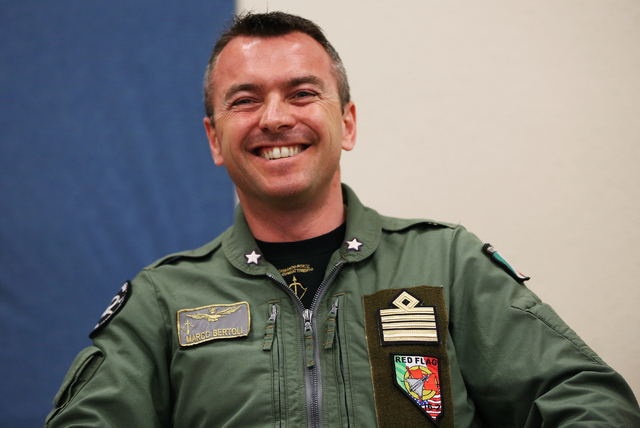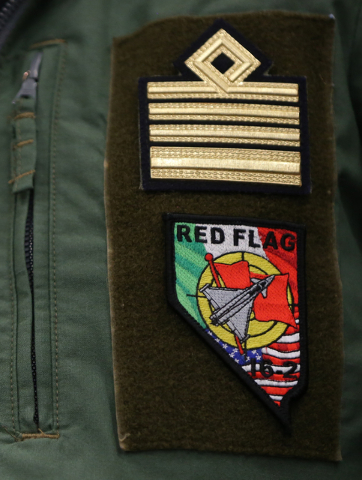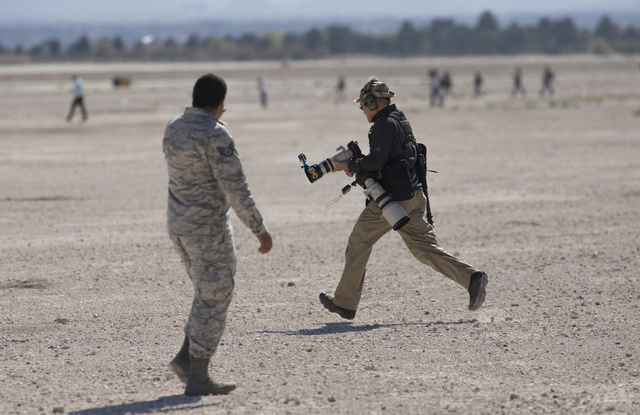 Flying in Eurofighter Typhoons and F-16 jets, pilots from the Italian and Turkish air forces joined their U.S. partners in a Red Flag air combat training exercise Tuesday, roaring into partially cloudy skies north of Nellis Air Force Base.
For the Italian Air Force, it's the first time its fighter pilots and aircraft have flown in Red Flag's 41-year history, officials said. It also marks the longest overseas deployment for the Typhoon detachment commanded by Col. Marco Bertoli.
"This is by far one of the best combat training environments our pilots can find all over the world," he said about the exercise that began Feb. 29 and runs through Friday.
Bertoli spoke during a panel discussion at Nellis before dozens of fighter jets, bombers, air-fueling tankers, air-traffic-control aircraft, and Marine helicopters launched for an afternoon session of finding and engaging would-be enemy aggressor aircraft.
The exercise takes place in 15,000 square miles of airspace with 1,900 possible targets at the Nevada Test and Training Range. In all, 76 aircraft from 16 U.S. and coalition units are participating in this the second Red Flag exercise this year.
"Participating in this operation we face many challenges. One, of course, is to bring here eight aircraft and almost 200 people, 6,000 miles away from home," Bertoli said.
He added that the Italian Air Force selected younger pilots for the journey so they can pass on their experience to the country's future aviators as well as be ready to participate in future operations with NATO allies.
The Turkish Air Force was more low-key about its participation although a source familiar with the effort who spoke on background said there are a half-dozen of that country's F-16s flying along with a couple air refueling tankers. This was the fourth time Turkey has participated in the exercises at Nellis. The last time was in 2008.
Red Flag's air expeditionary wing commander, Col. Andrew "Saint" Bernard, said one of the goals of this Red Flag like others that involve foreign pilots is to achieve clear communication skills.
With English being the language of aviation and also one of the two primary languages of NATO, "everybody comes with a different background on this," Bernard said.
"We have to work through that a little bit. But aviation itself is its own language, and the tactics that we use are our own," he said. "And we all come with a little bit, for lack of a better word, 'baggage,' of our own weapon system. And we sometimes need to use something like Red Flag to break that down."
This Red Flag doesn't include any F-22 Raptor air superiority jets or the newest stealth jet on the block, the F-35 joint strike fighter. Also absent from the lineup are A-10 Thunderbolt jets that have been providing ground support to friendly forces fighting Islamic State militants in the Middle East.
Bernard said "a great piece" of this Red Flag is its command-and-control element that features three players. Two are ground-based, including one from the Marine Corps. The third is the Airborne Warning and Control System, known as AWACS, where air traffic controllers fly in a Boeing E-3 Sentry near the mission area.
Contact Keith Rogers at krogers@reviewjournal.com or 702-383-0308. Find him on Twitter: @KeithRogers2