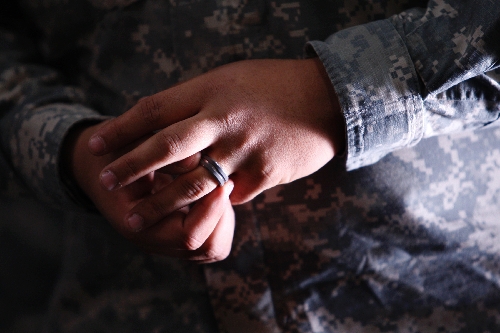 It's common to see soldiers kissing spouses goodbye before heading to a war zone.
Brian and Marie Kristle Aleman gave the parting scene a different twist Thursday.
Both wore light-green camouflage fatigues. Both gave emotional farewells to loved ones, and both walked to a bus-loading area where they shipped off together.
They've served three years in the same National Guard unit and were married in October. Now they're among the 400 soldiers in the 422nd Expeditionary Signal Battalion who will train for two months at Joint Base Lewis-McChord south of Seattle before going to Afghanistan. It will be the second-largest Army National Guard deployment in the state's history.
"We get to go together and experience it together," said the 20-year-old wife, who uses Kristle as her first name.
They attended a ceremony Thursday with a couple hundred soldiers at Mandalay Bay, where Gov. Brian Sandoval and U.S. Sen. John Ensign, R-Nev., paid tribute to the troops about to embark on a yearlong tour of duty. The unit will provide communications for various bases and combat outposts in Afghanistan.
The young newlyweds joke that they'll get to have a second honeymoon in an exotic country. In truth, they could be diverted to different missions and hardly see each other, if at all.
"It's hit or miss," said Spc. Brian Aleman, also 20. "We're not too sure what's going to happen."
Army officials made it clear they can't give special treatment to a married couple, Kristle Aleman said.
The scale of this deployment is surpassed only by the 1st Squadron, 221st Cavalry, a 700-soldier unit sent to Afghanistan in 2009.
Brian Aleman said he has been ready to fight for his country since the sixth grade, when he watched hijacked airliners crash into the World Trade Center on television on Sept. 11, 2001.
He talked of losing friends who went to war, and feels he will honor them by doing his part in the same region where they died.
"My goal finally came to fruition," he said.
Kristle Aleman said she's excited but also a little nervous because she doesn't know what to expect.
"It's a good nervous," she said.
Lt. Col. Jeffrey Hansen, the battalion commander, said rigging up equipment to transmit data won't require the soldiers to spend much time in combat zones, although they will travel to various sites. He noted some bases are "men only" because they're too small to be co-ed.
The Alemans both attended Valley High School, where they met and fell in love.
Brian Aleman's parents signed a waiver that enabled him to enlist when he turned 17. Kristle signed up shortly afterward.
Neither have steady jobs. They moved out of their rental house in November and stayed with his parents until deployment.
They placed their black Labrador at a temporary home they found through a military service that aids pet owners who are sent overseas.
Other soldiers in the unit must leave children behind.
Pfc. Tazy Woodhams, 29, smiled while her 8-year-old son, Caleb, showed off his "operation children" dog tags, given to departing soldiers' kids.
In April, she quit her job as an enforcement agent on the State Board of Osteopathic Medicine to prepare for her deployment. She plans to attend college full time when she returns.
Her son will stay with his father while she's gone.
She showed no hint of sorrow at their pending separation. The tears were shed earlier, and Thursday was for smiling, she said.
She knew when she joined the unit that she could go to a faraway hot spot.
"That's our oath — to protect and defend our nation against our enemies," Woodhams said.
Kristle Aleman said those in her unit were warned a year ago that they probably would be deployed.
She hugged family members and friends. Then she glanced around, looking sad. The reality was finally sinking in, she said.
A few minutes later, she and her husband waded into the sea of camouflage uniforms and prepared to venture together into the unknown.
Contact reporter Scott Wyland at swyland@reviewjournal.com or 702-455-4519.