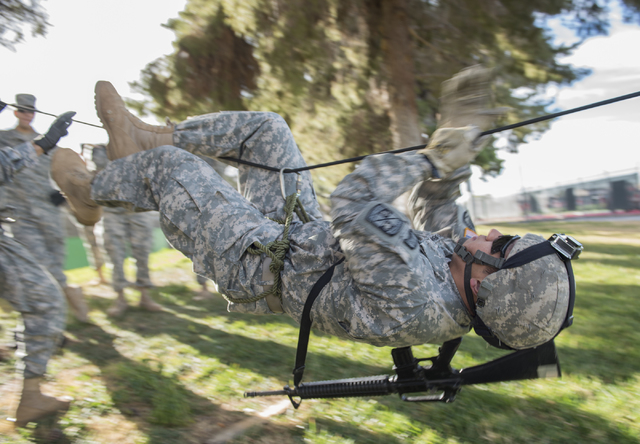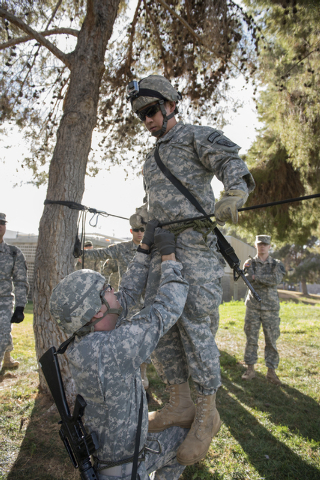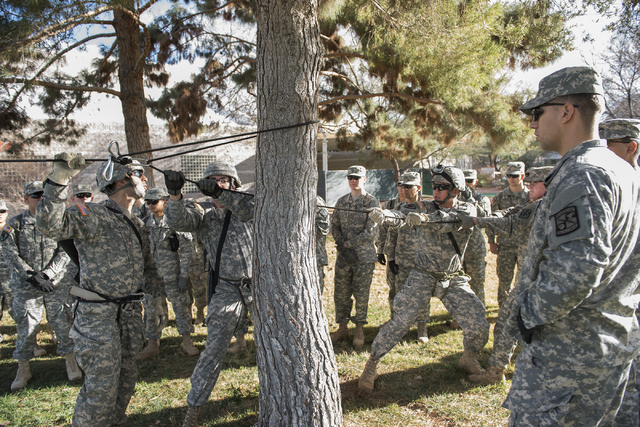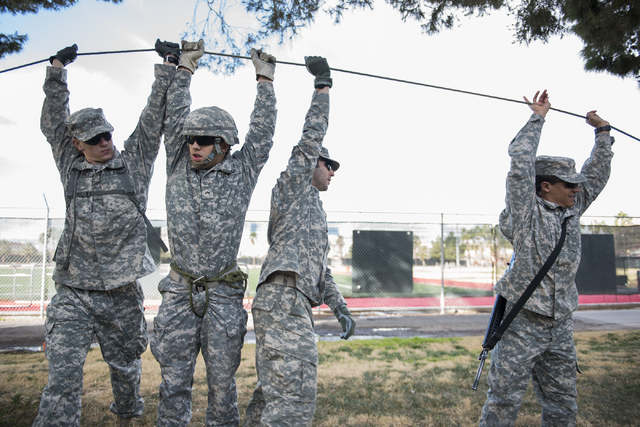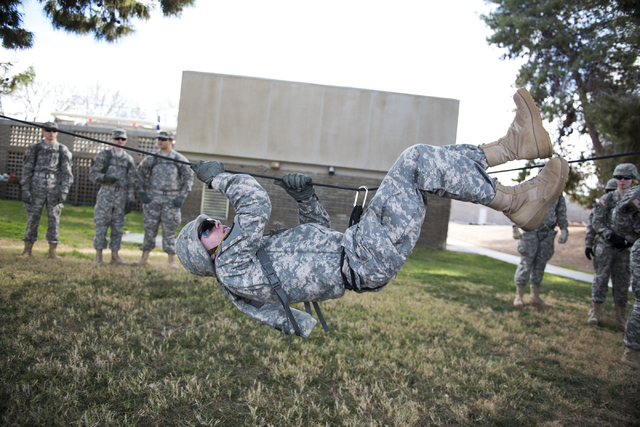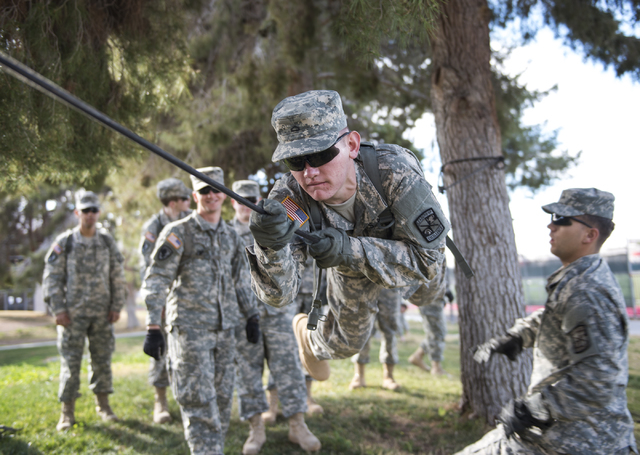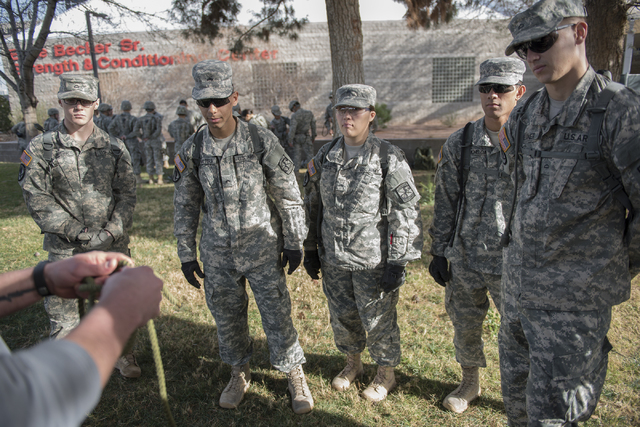 Sixty-five Army ROTC cadets turned UNLV's practice football field into a battleground Friday and strung ropes between nearby pine trees to cross an imaginary river with their gear and weapons.
It was an exercise to combine their math and science coursework with leadership skills to apply what they know about leverage, tensile strength, teamwork and trust — stuff that the cadets and their officer-in-charge, Maj. Derek Imig, said will make them a better fit for today's Army.
"Just like everything else, this knowledge in science, technology, engineering and math is going to be high in demand," Imig said while instructors showed the freshman and sophomore cadets how to tie knots that keep the ropes tight enough to cross a fast-moving stream.
While one group did that, another practiced infantry tactics, by aiming dummy M-16s from kneeling and prone positions as if to provide cover during an ambush.
The drill hardly raised eyebrows of students passing by, nor did it interrupt football practice while a coach barked instructions to a team of linemen performing calisthenics.
For Imig, his ROTC cadets and their fellow students it was just another Friday morning on campus. "We do it all the time," he said.
"This is a combination of applying new tactical skills, new fun stuff for these guys. They've got to know how to do rope bridges," he said.
"It's more about critical thinking, team-building, teamwork. It's always been that the guys with the more complex degrees, the better GPAs excel at stuff like this. And this is why the Army is seeking more of these out, particularly like in Clark County," Imig said. "I'm excited to get this opportunity out there for all those college-bound students in Clark County School District."
Apparently, he said, "The message isn't getting out because there are a ton of smart students out there and the opportunities are significant.
"There were only two ROTC scholarships for students in the Clark County School District yet there are 1,600 colleges and universities that award them," he said.
Of particular interest, Imig said the Army has recently instituted a new officer specialization branch in cybersecurity as a step to counter emerging threats of computer hacking and espionage from such countries as North Korea and China.
"The Army can't do enough to seek these student cadets in computer science and get them into officer school to be leaders," he said.
Friday afternoon, Imig found out that one of his freshman cadets, Brett Willis, 19, of Las Vegas, a mechanical engineering major, had just been awarded a $45,000 STEM (Science, Technology, Engineering and Math) scholarship from the Army ROTC Cadet Command.
"We learn about critical thinking in our core classes for mechanical engineering, and we have to do 10 steps of design for mechanical engineers," Willis said. "We can apply all those steps into making and utilizing our forces … to make a rope bridge to try (to) complete the mission."
On Thursday in Washington, Rep. Dina Titus, D-Nev., and Rep. David B. McKinley, R-W.V., re-introduced a bipartisan bill to help veterans in pursuit of science, technology, engineering and math degrees.
"As a country, we have a responsibility to help our servicemen and women when they leave the military and return home to civilian life," said Titus, a member of the House Committee on Veterans' Affairs. "This legislation honors that commitment by providing resources to help veterans pursue higher education and gain the skills and training they need to succeed in STEM careers."
Back at UNLV, Cadet Bridget Dorcey, 19, of Colorado Springs, Colo., said the hands-on experience of building a rope bridge is rewarding as are other ROTC endeavors.
"It's always about trying to learn new procedures and skills," said Dorcey, a sophomore anthropology major who chose UNLV because Las Vegas "is a city where a lot of cultures come together."
She said the rope-bridge exercise was "a little intimidating but it was fun."
It was her first time grasping the underside of the rope to pull herself hand-over-hand between trees. She had to believe that her fellow cadets had secured it tight enough with the proper knot.
"I trust all these guys," she said.
Contact Keith Rogers at krogers@reviewjournal.com or 702-383-0308. Follow @KeithRogers2 on Twitter.