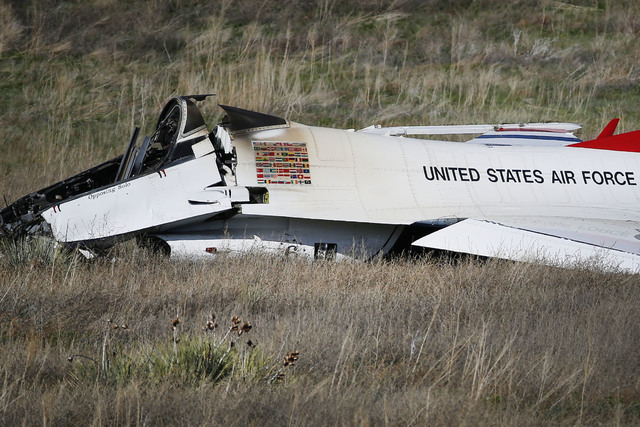 A sticky "throttle trigger" in an F-16 from the Thunderbirds demonstration team caused the pilot to inadvertently cut off the engine's power before the jet crashed June 2 in Colorado following a flyover at the U.S. Air Force Academy graduation ceremony.
A 32-page accident investigation report released Wednesday by Air Combat Command concluded that a malfunction of the the spring-loaded throttle trigger, which acts like the safety on a firearm, allowed the pilot to inadvertently rotate the throttle grip to the cutoff position as he was slowing down to land.
The pilot, Maj. Alex Turner, suffered a minor injury after he ejected from the F-16CJ Fighting Falcon jet near Colorado Springs, Colorado, following the team's six-jet flyover at the academy's graduation attended by President Barack Obama.
Unable to restart the engine at a low altitude, Turner contacted the tower at nearby Peterson Air Force Base to say that "he was steering it away from houses and 'getting out,'" the report reads.
He managed to put the aircraft on course to crash-land in an unoccupied grass field. The $29 million red-white-and-blue jet was destroyed on impact even though it came to a rest upright in the field, mostly intact. The Thunderbirds are based at Nellis Air Force Base.
Col. Brian J. Kamp, president of the Accident Investigation Board, wrote in his report that several factors — including debris in a lubricant — might have contributed to the friction that caused the throttle trigger to stick.
The crash of the Thunderbirds' jet occurred minutes before the crash of a Navy Blue Angels' F/A-18 Hornet that exploded during practice for an air show near Nashville, Tennessee, killing the pilot, Marine Capt. Jeff Kuss.
A report from a Navy investigation released in September determined that pilot error caused the fatal Blue Angels crash.
U.S. Air Force Aircraft Accident Investigation Board Report by Las Vegas Review-Journal on Scribd
Contact Keith Rogers at krogers@reviewjournal.com or 702-383-0308. Find @KeithRogers2 on Twitter.
RELATED
Thunderbird jet crashes after academy flyover in Colorado
Thunderbirds return to practice under solemn sky one week after crash
Thunderbird pilot aimed plane away from a home before ejecting