Vietnam veteran posthumously awarded Bronze Star
September 3, 2013 - 9:41 pm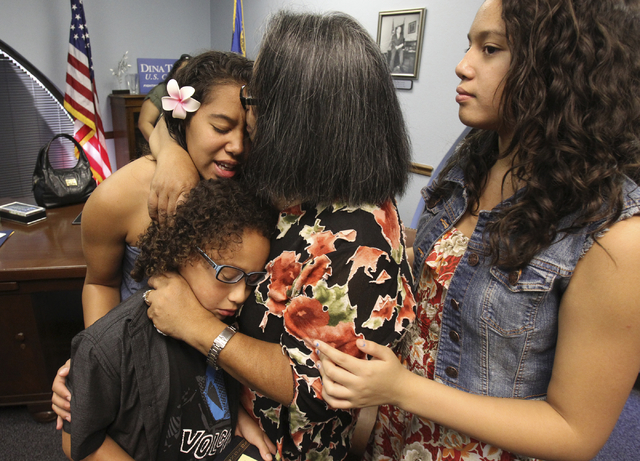 On the desk in a room in the back corner of a congresswoman's office Tuesday sat a series of medals and a folded U.S. flag.
Johnnette Fafard held those medals, a Bronze Star and a Purple Heart and others, and she passed them to her grandchildren.
What's it feel like? one of the TV reporters asked her. What's it like to finally have them after all this time?
Fafard smiled and said those medals would have meant more if her husband, the man to whom they should have been awarded, were still alive. But he is not, and so they would now be passed along to the children. The children smiled and held the medals as Fafard looked at them.
"Isn't that a wonderful thing for you to see?" she said to the TV cameras. "I think it is."
Johnnette met Raymond Fafard when they were children growing up in Hawaii.
In 1969, Raymond was drafted into the Army. He went to Vietnam, where he served as a light-weapons soldier. He was there for a year, from March 31, 1970, to April 9, 1971.
When he came back, the two married. Raymond worked as a tour bus driver. But only a few months later, symptoms of post-traumatic stress disorder kicked in. He suffered for years, and eventually sought help from the Veterans Administration in 1979.
Medications, a misdiagnosis and a series of rejections from the VA followed. He was finally declared 100 percent disabled in 2001 because of his PTSD claim. The couple moved to Las Vegas in 2005 to be closer to family.
But problems persisted. Heart trouble, vision trouble, Parkinson's disease and, in 2011, a stroke.
Over the years, Johnnette battled with the VA for her husband's benefits. She petitioned for the medals her husband deserved. She took care of Raymond and she taught her children, and later her grandchildren, to help care for him, too.
"They took care of their papa," she said.
She believed the government abandoned her husband. The medical treatment he did receive was inadequate, she and her son, Raymond, 39, said.
"They would have killed my dad off years ago if it wasn't for my mom," the younger Raymond Fafard said.
And then, this past February, the elder Raymond died. He never got the recognition he believed he deserved, and she never got the full benefits she believed she deserved.
Eventually, Rep. Dina Titus, D-Nev., heard about the case. She looked into it. She assigned a staff member to help Johnnette Fafard navigate the system.
It is working. Though the battle with the VA is far from over, Raymond's son said seeing the medals felt good. It wasn't enough, he said, but it was a start.
Titus called the event bittersweet.
"It's a very small thing we can do to try to right a wrong," she said, handing over the medals and a flag that had been flown over the Capitol.
Johnnette Fafard said her husband was a hardworking man. He fought for his country. He died, essentially, she said, from the trauma he suffered while doing it.
"To acknowledge my husband is a very important thing," she said.
She said she believed her husband was representative of a lot of people. There were more like him. Men who fought and who died and who never got the recognition they deserved. "There is no end to these people," she said. "There is no end."
The congresswoman promised that her staff would keep working on Fafard's case.
Contact reporter Richard Lake at rlake@reviewjournal.com or 702-383-0307.