Millionaire says he likes helping people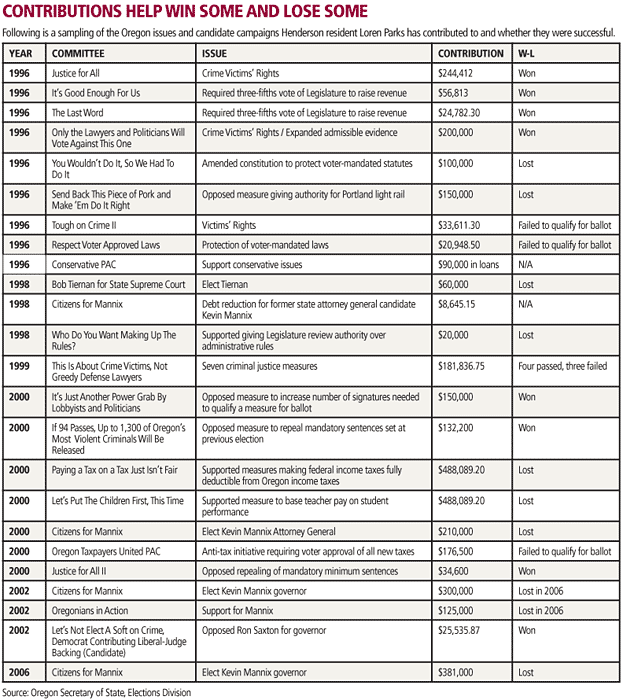 As he stands at a McDonald's counter ordering off the dollar menu, his gray pants are as wrinkled as his face.
The scuffs on his brown shoes are as ingrained as an abstract artist's etchings. Beneath the back of his tan, cotton jacket hangs the tail of a faded, blue madras shirt.
He orders a double cheeseburger and a milk. It's lunchtime for 80-year-old multimillionaire Loren Parks.
As the Henderson resident chews his burger near McCarran International Airport, you wouldn't know he's contributed millions of dollars to political causes in Oregon.
He's helped pass initiatives that include requiring mandatory minimum sentences for violent crimes. And he was a key figure in the passage of a measure allowing doctor-assisted suicide in Oregon.
And while he's at it, he claims he can cure you of a host of psychological maladies, everything from depression and fingernail biting to sexual dysfunction and fear of thunderstorms.
"No matter what I do, whether it's in politics or in therapy, I just want to help people," Parks says. "But people are just too damned stupid to realize that."
He's equally blunt when it comes to describing why he moved to Nevada in 2002.
"I got sick of people putting their hands in my pockets to fund stupid things."
In other words, he came here to avoid Oregon's income tax.
Parks, who grew up with a love of electronics and worked in the field while he was in the Navy, made his money through Oregon-based Parks Medical Electronics and its Las Vegas offspring, Parks Medical Electronics Sales.
Just how much he is worth is unclear. He refuses to disclose the earnings of his privately held companies. He also heads three tax-exempt foundations.
Founded in 1961, Parks Medical Electronics sells dozens of products, including a variety of Doppler flow meters used to measure blood-flow velocity in patients with heart ailments.
He also sells a device called the plethysmograph, which was developed in the 1950s and used in some law enforcement and psychological experiments to measure the arousal of sex offenders.
Even though he's moved to Southern Nevada, Parks still works at changing Oregon. He's described as the biggest individual financial contributor in the history of Oregon politics.
His financial backing for conservative politician Kevin Mannix and a long list of political initiatives has been so high profile in the Pacific Northwest that a columnist for the Portland Oregonian suggests Parks has been trying to turn a largely liberal state into his own conservative "Loregon."
"His (Parks) move to Las Vegas hasn't slowed down his sluice of money into Oregon politics," columnist David Sarasohn said. "I don't think he's good for Oregon. One person using so much money is wrong for the initiative system."
To date, Parks has flown under the publicity radar in Nevada. He has no interest, he said, in becoming politically involved in Nevada.
"I really don't know anything about Nevada, and I'm not really anxious to learn about it," he said.
What he would like to do here is help people "resolve their problems." Though he has an undergraduate degree in psychology, he does not have medical licenses. But he said voracious reading and consultations with experts in psychology and hypnosis, coupled with his own life experiences, have given him the background to offer valuable advice.
In Oregon, his advice on sexual matters has drawn negative media attention. Parks believes it's unwarranted.
"Somebody has to teach a man and a woman what to do," he said. "How did you learn?"
His Web site at www.psychresearch.com offers instruction.
"A woman who arouses quickly and climaxes intensely and repeatedly is a real joy to be in bed with," his sex therapy information page notes. "I have encountered few of them EXCEPT those I created using the sex techniques I'm about to tell you about."
At McDonald's, Parks was eating lunch with businessman Andrew J. Block, who said he was cured of depression by Parks' technique.
Parks gave a demonstration.
"It only takes a few seconds," Parks said as he directed Block to close his eyes and recall past sad feelings.
As Block closed his eyes, Parks squeezed his shoulder and barked a command: "Disconnect."
He repeated to Block: "Disconnect. Disconnect."
Block met Parks a few months ago at a meeting of Las Vegans interested in the power of psychology.
The 41-year-old loan specialist for Mortgage of Nevada believes he finally has gotten the answer to the depression that plagued him for years. Block said Parks had the necessary technique to disconnect him forever from feelings that depressed him.
"Loren was able to do what doctors and medicine couldn't do," Block said. "We need him to do more of this in Las Vegas."
Block's accolades are what Parks wants to hear: "I don't charge for helping people, but it makes me feel good."
It's unorthodox for sure, but Chris Heavey, president of the Nevada Board of Psychological Examiners, said it's not something the board would concern itself with.
"From what I can tell, what he proposes isn't consistent with prevailing scientific knowledge," Heavey said. "But as long as he doesn't hold himself out as a psychologist or charge for what he does, I see no reason to intervene."
While Parks has faced criticism for his therapeutic endeavors, he has received even more for his financial forays into Oregon politics.
By his own estimation, Parks has spent about $8 million since 1990 trying to get initiatives passed and to persuade the public to elect lawyer Kevin Mannix, whose positions on crime he agrees with.
Parks' success on initiatives has been mixed, but his support for Mannix for either state attorney general or governor has been unrewarded. Mannix has been defeated in four elections.
Bill Sizemore, head of Oregon Taxpayers United, and political consultant Gregg Clapper, who worked with Parks to get a doctor-assisted suicide measure passed in Oregon in the mid-1990s, see Parks as altruistic.
"Unlike most people who give money, he's not asking for political favors," Sizemore said. "He's not really benefiting."
"He's just a wonderful person who's giving back to the country that he believes gave him so much," Clapper said.
Parks, who rails against religion, said the assisted suicide measure may be something he can benefit from.
"I don't want to have to blow my head off if I get to the point that I want to die," said Parks, who estimated that he donated $300,000 to fight off a later attempt to repeal the law.
Parks said initiatives proposed by Mannix when he was in the Legislature helped reduce violent crime in Oregon.
"It's no secret why I supported him," Parks said. "He's tough on crime. Even though he's a Catholic and was against doctor-assisted suicide, I still thought he was best for the state. We almost won in 2002."
In such a public position, Mannix is often asked about his association with Parks and about Parks' interests outside of politics.
Mannix won't comment on Parks' expertise as a sex therapist, but is effusive about Parks' support of criminal justice measures.
"Tens of thousands of people have not been raped, robbed or assaulted because of his financial support of things put on the ballot," Mannix said.
Many other initiatives supported by Parks deal with taxes. He said growing up in the Great Depression in Kansas and seeing his architect father take any job to survive made him skeptical of government.
The committees he has given money to often have colorful names. One was "Send Back This Piece of Pork and Make 'Em do it Right," which opposed a light rail project. Another PAC he gave to, "Paying a Tax on a Tax Just Isn't Fair," sought to make federal income taxes fully deductible from Oregon income taxes.
Both measures lost.
His lifestyle rubs some people the wrong way. He admits he's been sued in Oregon a number of times "usually by women who don't want me to leave."
One female employee sued him, he said, even after she signed a contract that stipulated she would have sexual relations with him during business travels.
"She enjoyed our trips so much and then she turned around and said she didn't want to do it," Parks said. "Why would someone who signed a contract do that?"
The woman and Parks settled out of court for an undisclosed sum.
Parks takes the lawsuits and the occasional political losses in stride, repeating his mantra: "I just do what I think is right."
He said he donated $500,000 to the Red Cross after Hurricane Katrina. "How many people did that?"
Medical organizations, including Providence St. Vincent Medical Foundation in Portland, have received nearly a million dollars from Parks.
He also has given several hundred thousand dollars to improving fish habitats in Oregon.
"He cares about making sure people have good fishing," said Jerry Dove, a former Tillamook County Commissioner who often fishes with Parks. "But don't think he's going to buy you dinner."