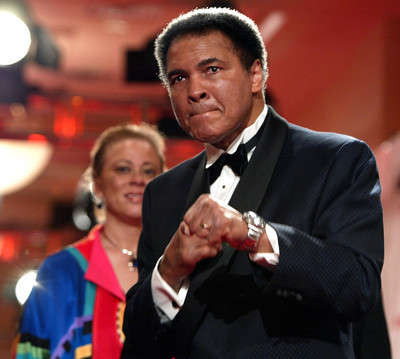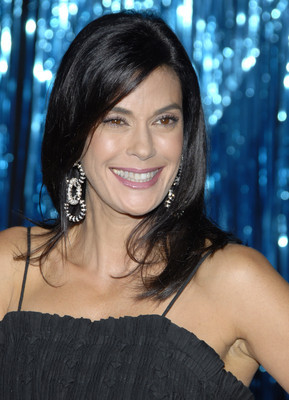 Look for an announcement today on the reopening of the Monte Carlo, which has been closed for two weeks since the hotel's Jan. 25 fire. Almost two dozen people were taken to hospitals with minor injuries.
No date has been announced, but a call to the ticket office on Thursday provided this hint: Tickets to the Feb. 15 Lance Burton magic show were available Thursday, for the first time since the fire.
The hotel is continuing to relocate guests through Feb. 14.
ALI RETURNS
Boxing icon Muhammad Ali returns to Las Vegas this weekend for the 12th annual "Keep Memory Alive" Foundation charity gala at the MGM Grand.
Ali, 66, will be among the celebrities who turn out for Larry Ruvo's Alzheimer's fundraiser to benefit the Lou Ruvo Brain Institute.
Ali will be joining Michael Buble, the featured entertainer; Teri Hatcher, Danny DeVito, Siegfried & Roy, Lorraine Bracco, Steve Schirripa, David Copperfield, Frank Gehry, and chefs Wolfgang Puck, Guy Savoy and Tom Colicchio, who are in charge of the dinner.
A live auction will feature a trip to Italy with star chef Mario Batali, dinner in New York City with Bracco and Schirripa of "The Sopranos," private tennis lessons with Andre Agassi and Steffi Graf, a Mercedes SLR McLaren Roadster, a walk-on role in the television series "24," and tickets to the 2008 Grammy Awards.
THE SCENE AND HEARD
"Clint Holmes and Friends" has been booked at the Suncoast for April 18-20, a date that is raising eyebrows since it is so close to Holmes' planned off-Broadway launch of "Just Another Man." We put in a call to Holmes but didn't hear back by deadline. …
Mirage headliner Danny Gans, who is playing in the AT&T Pro-Am at Pebble Beach this week, got a surprise invitation Wednesday after taking part in a show for the event's 2,000 volunteers. He was approached by film legend Clint Eastwood and invited to a private dinner party. Gans was part of a celebrity lineup that included Glen Frey, Kenny G, Ray Romano and Kevin James among others. …
Now that they're all booked to perform in the same venue, here's some old footage of Elton John, Bette Midler and Cher performing a medley on the same stage at an unidentified event: http://www.youtube.com/watch?v=3YnlFp4CtvI. … Taking the Chinese New Year experience to another level, the MGM Grand Las Vegas has flown in the Diaoyutai State Guesthouse culinary team for a weeklong festival. China's version of Camp David, the U.S. presidential retreat, the Diaoyutai State Guesthouse of Beijing has entertained more than 1,000 heads of state, presidents and prime ministers. Held around the world each year, the festival is being hosted by Pearl at MGM Grand through Tuesday. Reservations: 891-3701. Lunch prices run from $200-$250 and dinner $450-$650. … Miss America Kirsten Haglund makes an appearance on ABC's "Jimmy Kimmel Live" tonight, KTNV-TV Channel 13, 12:05 a.m.
Correction: Tina Walsh will be playing the Madame Giry role in "Phantom — The Las Vegas Spectacular" when she joins the cast Monday.
MAY I RECOMMEND…
Newcomer RUB BBQ at the Rio has been racking up raves for a menu perfected by Paul Kirk, the Kansas City barbecue guru. Owner Andrew Fischel, who launched the concept in New York City, said his goal was to mix the best of all barbecue worlds.
SIGHTINGS
Eddie Murphy, with a mystery date, among a group at LAX Nightclub (Luxor) on Wednesday that included former boxing champions Mike Tyson and Thomas "Hitman" Hearns and R&B singer Johnny Gill. Murphy's two-week marriage to Tracey Edmonds ended abruptly last month, before a ceremony was held to legally seal the union. … At "Love" (Mirage) on Tuesday: Beatles' family members Olivia Harrison, Dhani Harrison, Giles Martin and Paul Hicks with ELO's Jeff Lynne, at the 7 p.m. performance. … The cast of "X Burlesque," dining Thursday with Bracco, "The Sopranos" shrink, at Voga, the Flamingo's newest restaurant.
THE PUNCH LINE
"Britney Spears was released from the hospital psychiatric ward today. Authorities are warning all citizens in Los Angeles to remain in their homes." — Kimmel
Norm Clarke can be reached at (702) 383-0244 or norm@reviewjournal.com. Find additional sightings and more online at www.normclarke.com.