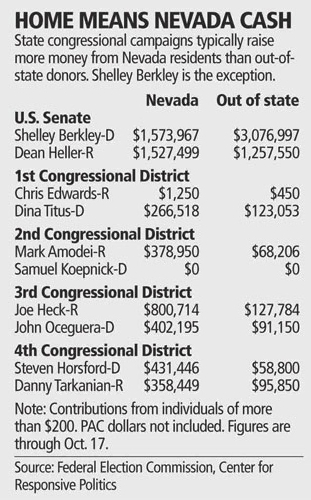 Even in Nevada's economic doldrums, one industry is alive and well in the Silver State – political advertising.
Thanks to loose campaign finance laws and Nevada's place as a key presidential battleground, more than $100 million has been spent on federal races in the Silver State, bringing mailboxes stuffed with mailers and televisions crowded with commercials.
"There's certainly no shortage of money," said Eric Herzik, a political science professor at the University of Nevada, Reno.
The campaigns of President Barack Obama and Republican challenger Mitt Romney have poured a combined $34 million into advertising in Nevada, according to figures compiled by the National Journal.
A handful of heavyweight political action committees and nonprofit groups, including the conservative Crossroads GPS and the liberal Priorities USA Action, have dumped another $24 million into the state for political ad buys, the publication reported.
And out-of-state campaign dollars trickled down the ballot to the state's most contested congressional races.
In the U.S. Senate race between incumbent Republican Dean Heller and Democrat Shelley Berkley, more than $27 million in third-party cash has been spent on ads, mailers and phone banks either opposing or supporting the candidates.
The outside spending continued in Southern Nevada's two tough House races, each of which has seen more than $5 million spent by outside groups. And the more than $37 million in outside spending in Nevada's congressional races easily outpaces the $26 million all the campaigns have raised for themselves.
To put it in perspective, $5.94 has been spent on political ads for every adult Nevadan, the most in the nation, according to an analysis by National Public Radio.
The next closest was New Hampshire at $5.35. Swing states Ohio and Florida were far behind at $3.21 and $2.63, respectively.
The mind-boggling chunks of campaign cash being spent in Nevada and across the country this year reflect the reality of modern politics, Herzik said.
"It's not the person with the most money who always wins, but you have to have enough money to be competitive," he said.
Nevada's campaign-on-steroids environment can be blamed on a confluence of factors, including the state's role as a swing state in the presidential and congressional races and the U.S. Supreme Court's Citizens United decision in 2010. The ruling opened the financial floodgates by eliminating restrictions on corporate and union campaign donations.
Super PACs were born in the wake of the ruling and, together with 501(c)(4) nonprofit groups, created the conduits for corporations, unions and associations to funnel an unlimited amount of money into politics, sometimes with complete anonymity.
Many of the country's richest residents and groups have taken advantage of the looser rules, contributing more than $1.2 billion in outside spending to federal races this election cycle compared to $276 million in 2010, according to the Center for Responsive Politics.
With no caps on individual donations, many of America's wealthiest people have given millions of dollars to super PACs and other groups to further their political aims.
Topping the list of individual donors is casino mogul Sheldon Adelson, owner of The Venetian and Palazzo. He and his wife, Miriam, have donated more than $52 million to super PACs in support of Romney and other Republicans, more than double the next-closest individual, according to Center for Responsive Politics figures.
Adelson was among the top 172 donors who accounted for 62 percent of the $661 million spent by super PACs, the center reported.
Super PACs and other outside spending groups have streamed millions of those dollars into Nevada.
Conservative groups, including Crossroads GPS, American Crossroads and Restore Our Future, have spent about $19 million on ads, while the liberal Priorities USA Action has spent $3.7 million on ads, according to the National Journal.
Many of those outside spending dollars have landed in the state's congressional races. Crossroads GPS, for example, has spent $5.6 million on anti-Berkley ads and $1.6 million opposing 4th Congressional District candidate Steven Horsford.
The money spent against Horsford appears to have paid off, said University of Nevada, Las Vegas political science professor David Damore.
Outside groups have spent more than $3.5 million opposing Horsford, more than doubling his campaign war chest of $1.4 million. On the other side, only about $1 million has been spent on anti-Tarkanian ads, according to the Federal Election Commission.
Those anti-Horsford ads ran through the summer and appeared to sway potential voters in the new district, Damore said.
Despite the district's Democratic voter registration advantage, Horsford trails Republican Danny Tarkanian by 5 percentage points, according to the most recent SurveyUSA poll commissioned by the Las Vegas Review-Journal and 8NewsNow.
The Senate and House races have also been pumped up by national political committees, which have doled out a combined $13 million in those contests.
The skyrocketing dollar figures will only grow in the final days of election season as campaigns, parties, PACs and other groups make their last-ditch efforts to win. Final campaign finance numbers won't be reported until well after Election Day.
"It's the nature of politics now," Herzik said of the money. "I don't see it going away immediately."
Especially in Nevada, where voters have accurately picked the president in every election but one for the past century. The state's population concentration also makes it attractive for political advertisers because they can reach 90 percent of the electorate in two markets.
But Herzik and Damore wonder if exorbitant campaign spending will continue if the election doesn't turn out as big-money donors had hoped.
"If Obama wins and the Democrats hold onto the Senate, then there's going to be a lot of angry rich people," Damore said.
High-dollar donors on the losing end will likely evaluate their spending and decide whether it was worth it, the professors said. But Herzik worries they might conclude they didn't spend enough, which would mean more of the same next election.
And in a TV market already inundated by the most political ads in the nation, Damore said, Las Vegans on both sides of the aisle finally have an issue they can agree on – political advertising.
"There's bipartisan agreement that people would like to see that go away," he said.
Contact reporter Brian Haynes at
bhaynes@reviewjournal.com or 702-383-0281.