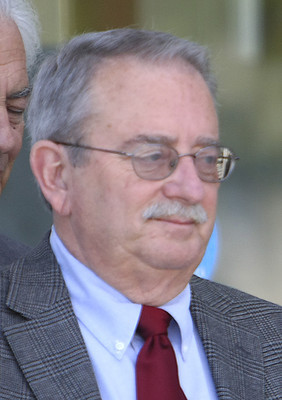 Once touted as a far-reaching investigation bound to take down high-profile doctors and lawyers, the federal government's case experienced another setback Friday when prosecutors agreed to dismiss their case against the alleged conspiracy's ringleader.
The move came after U.S. District Judge Justin Quackenbush said he was inclined to toss charges against Howard Awand, a self-proclaimed medical consultant, leaving the fate of the entire case in doubt.
Though the government agreed to withdraw the charges, it's only a temporary concession. Prosecutors are appealing the case of Awand and co-defendant Noel Gage, whose case Quackenbush dismissed earlier in the year. The issues are identical in both cases.
The federal government contends Awand and Gage, a personal injury attorney, conspired with doctors to cheat injured clients out of settlements and enrich themselves. The two were the only individuals to be indicted last year, but many more attorneys and doctors were under investigation.
Once Quackenbush issues his order in the Awand case, prosecutors will be banking on the 9th U.S. Circuit Court of Appeals to keep their case alive.
"We do feel very confident in the evidence; these cases are still alive," U.S. Attorney Gregory Brower said. "We expected to be in a different position today than we are, but we have to take it as it comes from the judge. It's not over."
Charges against Gage were dismissed three months after a jury weighed evidence presented at trial for a week and announced it could not reach a verdict. Gage's legal team then raised questions about the fairness of the government's immunity practices before he could be retried.
Quackenbush sided with the defense.
The government refused to grant use immunity to Dr. Mark Kabins, but two other physicians, Dr. John Thalgott and Dr. Benjamin Venger, were granted immunity and testified at Gage's trial.
Quackenbush ordered prosecutors to also grant immunity to Kabins, whose testimony would have contradicted that of the other physicians, defense attorneys said. When they refused, Quackenbush dismissed the charges.
Quackenbush told prosecutors it is unfair to grant immunity to the physicians whose testimony fits with the government's argument, but not the doctor whose statements might hurt the prosecution's case.
Prosecutors argued that Kabins is a target of their investigation. If granted immunity, the government feared it could not later prosecute the doctor.
"We believe the judge's ruling with respect to Dr. Kabins was erroneous and not supported by case law," Brower said. "We feel confident we may get a reversal from the 9th Circuit."
Circumstances surrounding the trial for Awand were no different; both Venger and Thalgott were expected to testify.
Awand's attorneys had filed a motion for dismissal following Quackenbush's ruling on Gage. Brower said he was not surprised by Quackenbush's inclination in court Friday to take the same path with Awand as he had with Gage.
So Brower stipulated to dismiss the Awand case.
"Now we have expedited, consolidated appeals and we can allow the 9th Circuit to sort the whole thing out," Brower said. "We can skip over the arguing and motion filing … and get it up to the appeals court."
If the appeals court upholds Quackenbush's ruling, all counts against Awand — including those that did not involve Kabins — will be permanently dismissed. If the judge's ruling is reversed, defense attorneys agreed to have Gage and Awand tried together.
"If the judge is reversed on this issue, we agreed not to oppose a joint trial," said Awand's attorney, Los Angeles-based Harland Braun. "If he is affirmed, that will be the end of it.
"It's one of those rare circumstances where each side wasn't emotional about it; we were very realistic. We are betting the judge will be affirmed."
Last month, the San Francisco-based appeals court ruled on a case involving similar arguments over immunity.
A defendant in a drug trial claimed his due process rights under the Fifth Amendment were violated when a key witness was not offered use immunity, which means testimony cannot be used against them but can be used to further an investigation.
The ruling, written by Judge Jay Bybee, acknowledges the dangers of a court intruding on the government's discretion, but noted that in some cases it is appropriate.
"In exceptional cases, the fact-finding process may be so distorted through the prosecution's decisions to grant immunity to its own witness while denying immunity to a witness with directly contradictory testimony that the defendants' due process right to a fair trial is violated," the Aug. 15 opinion stated.
In the indictment handed down last year, the government claims Awand was a self-proclaimed medical consultant who orchestrated a conspiracy scheme that included millions of dollars in kickbacks by inflating medical costs. The physicians involved were protected from medical malpractice suits.
During Gage's trial, Thalgott testified that he and Kabins performed routine back surgery on a patient, Melodie Simon. Thalgott left town the day after the operation and Simon began to feel numbness in her legs after surgery and notified the nursing staff.
According to prosecutors, it took nearly 12 hours for Kabins to perform emergency surgery. Internal bleeding that placed pressure on Simon's spine caused permanent paralysis.
Thalgott testified that he, Kabins and Gage, who represented Simon, had a secret meeting and decided to place the blame on the anesthesiologist.
Prosecutors said Gage initially told Simon that she could receive an $8 million to $10 million settlement. In the end, she received $2.3 million.
The government claims that Kabins and Thalgott were part of Awand's network of doctors. In exchange for backing off a medical malpractice lawsuit against the surgeons, Awand promised Gage more lucrative cases, according to the government.
Venger, a neurosurgeon, said that he referred medical malpractice cases to Awand. The reward was substantial. Venger testified that he received nearly a half-million dollars in kickbacks from Awand during a one-year period.
David Chesnoff, who represents Kabins, said his client's testimony will contradict the statements made by Thalgott and Venger.
Despite the setbacks, Brower said he has not lost faith in the case. He said Gage and Awand were the first to be indicted, but suggested many more indictments were on the way.
"This investigation is ongoing," Brower said.
Contact reporter Adrienne Packer at apacker@reviewjournal.com or 702-384-8710.