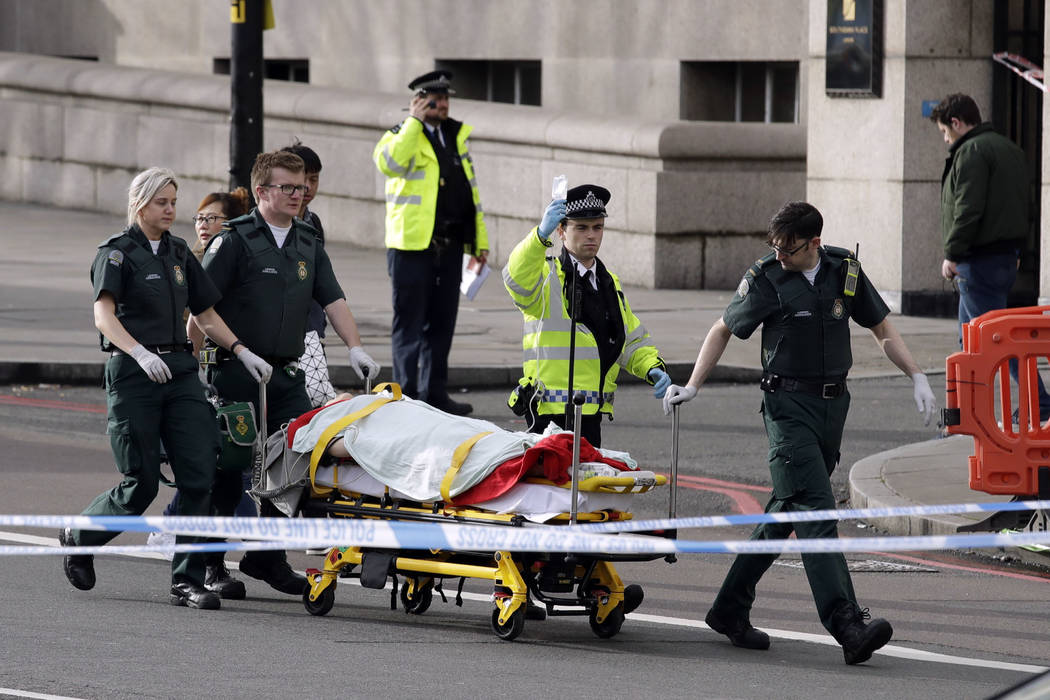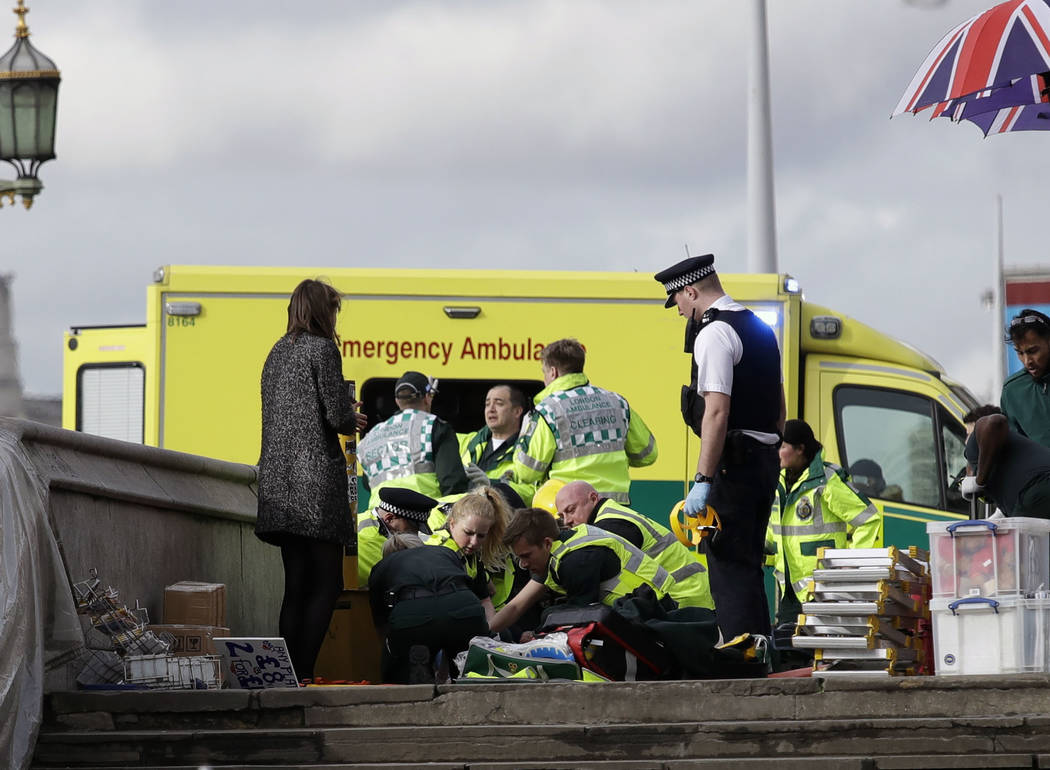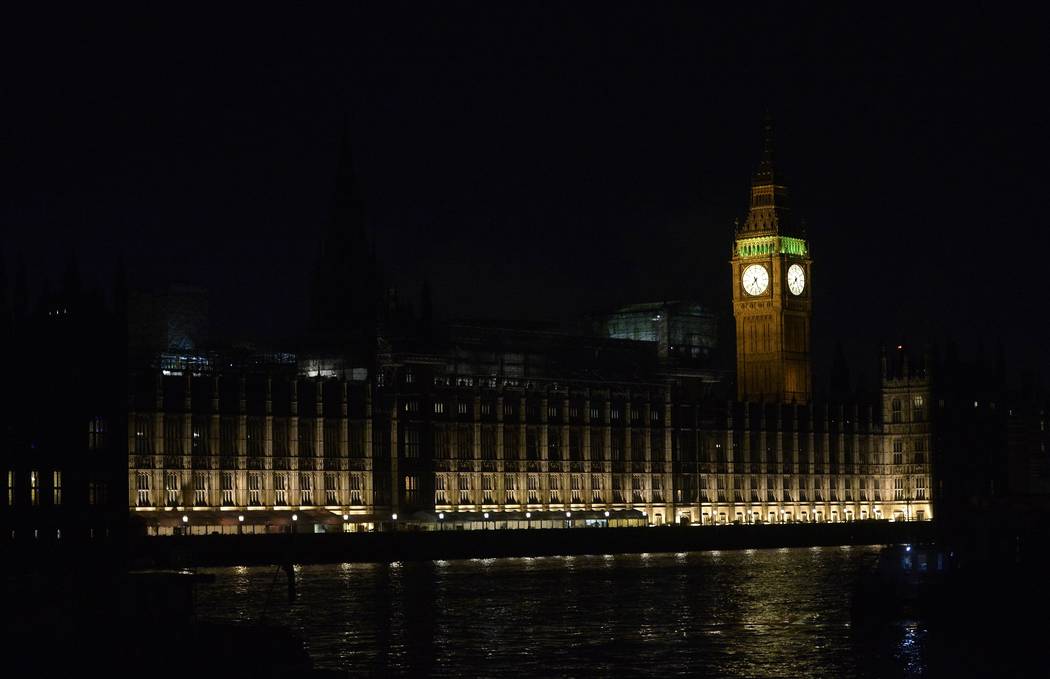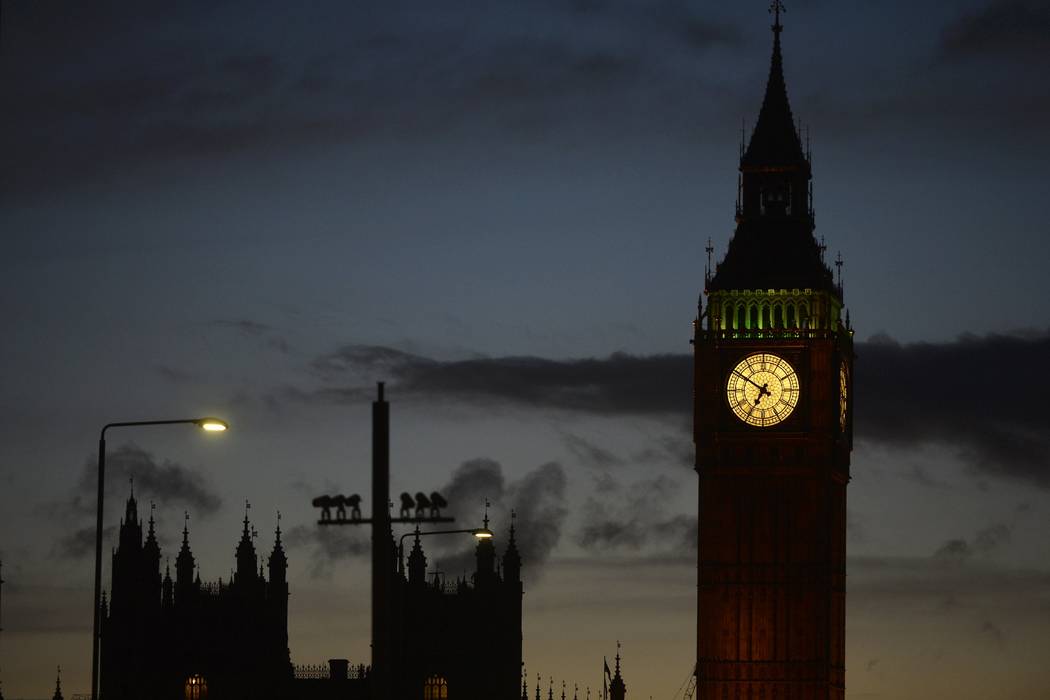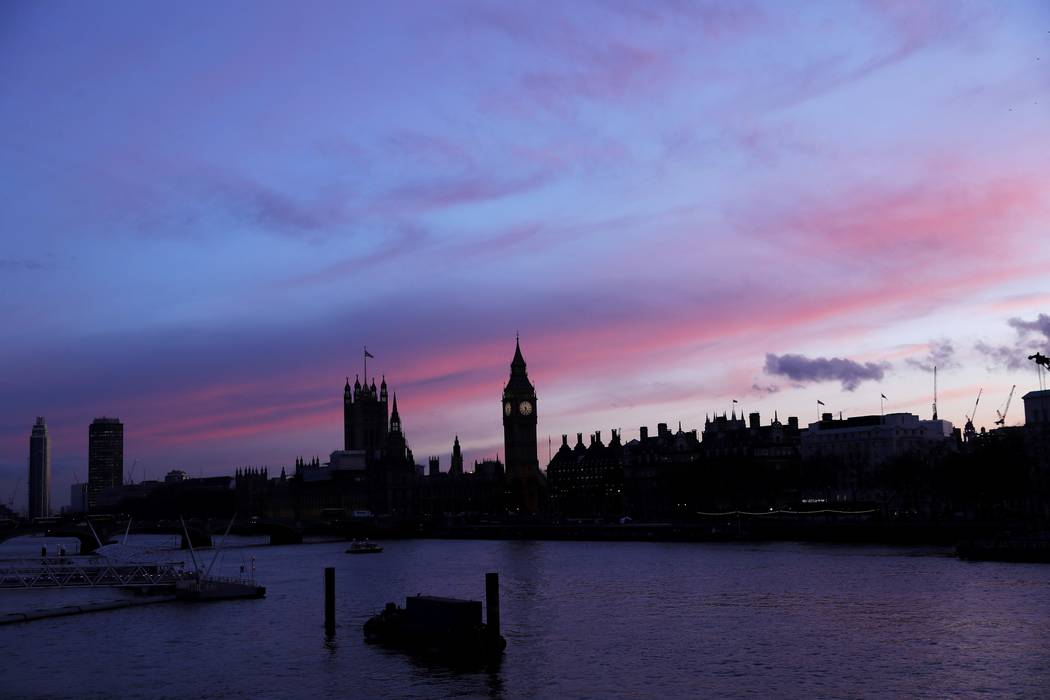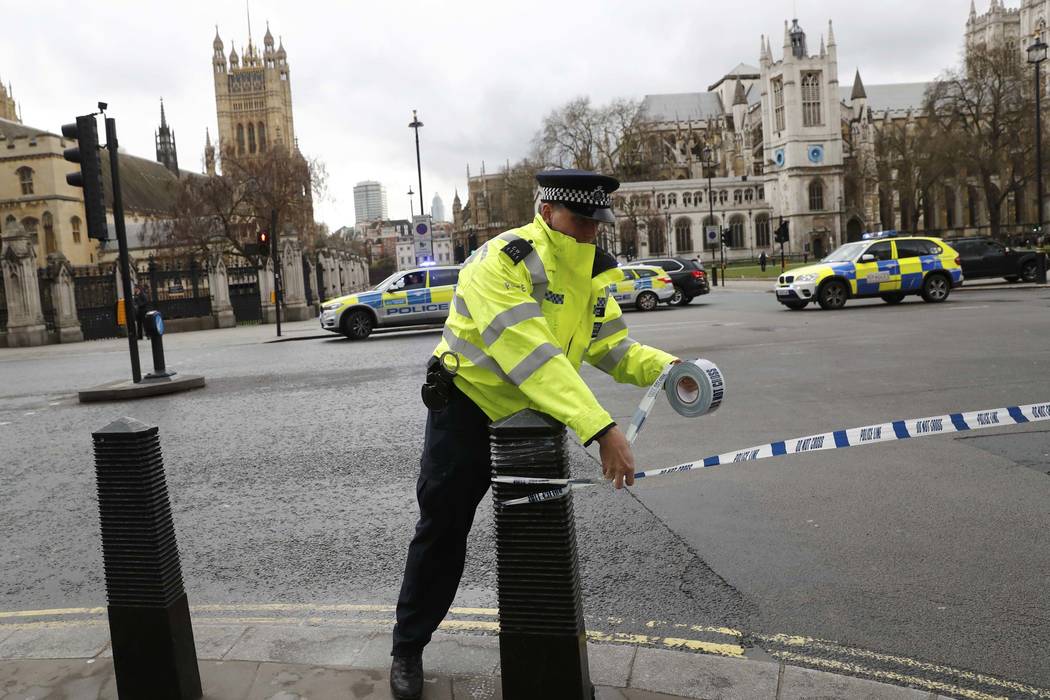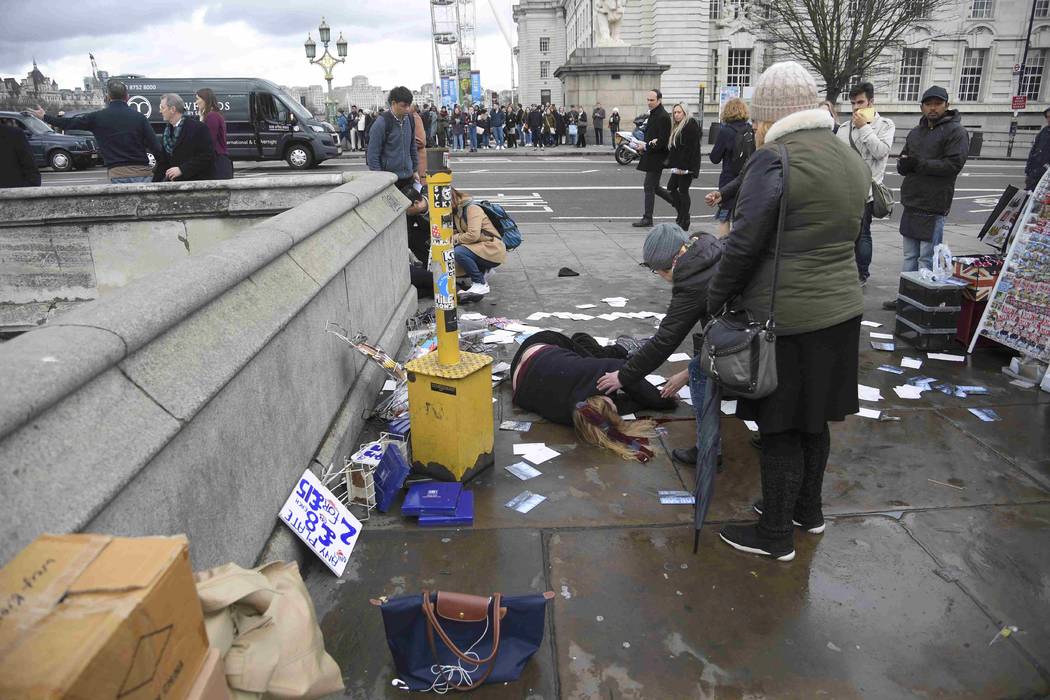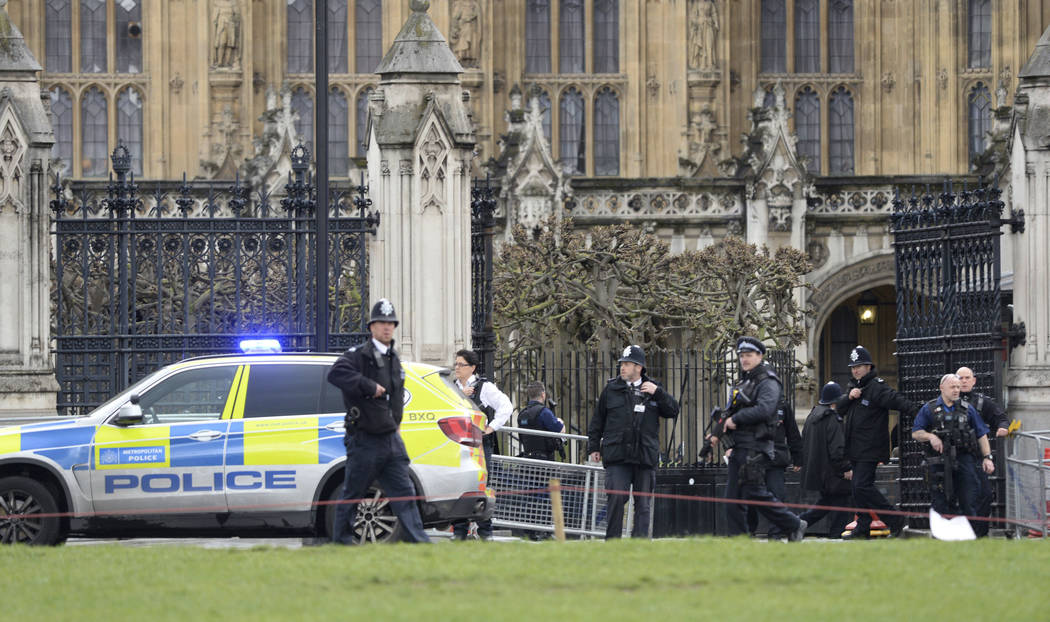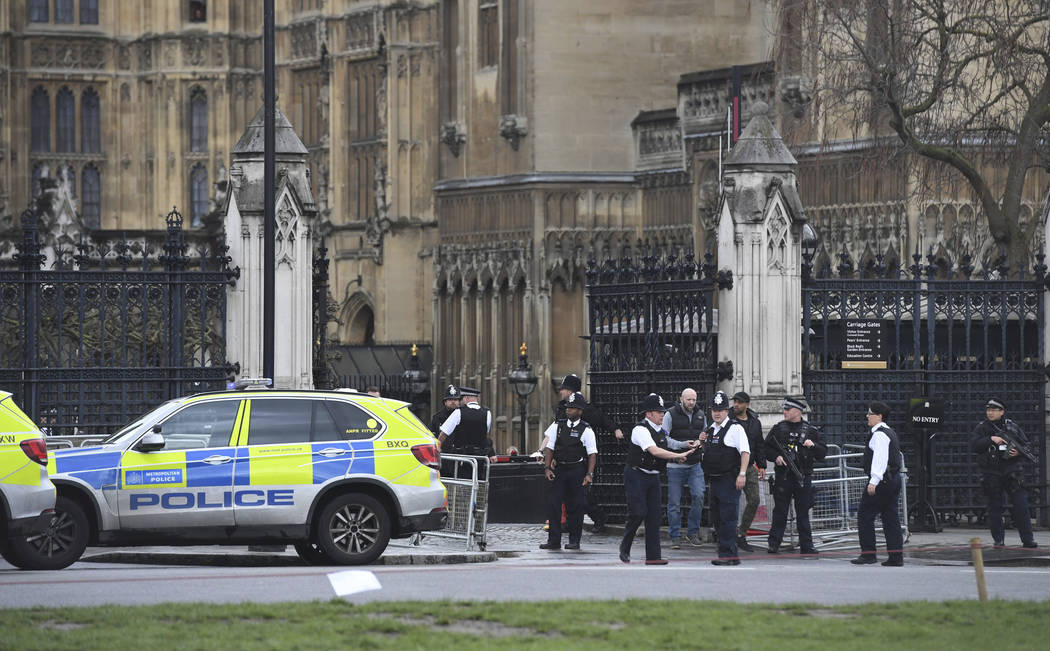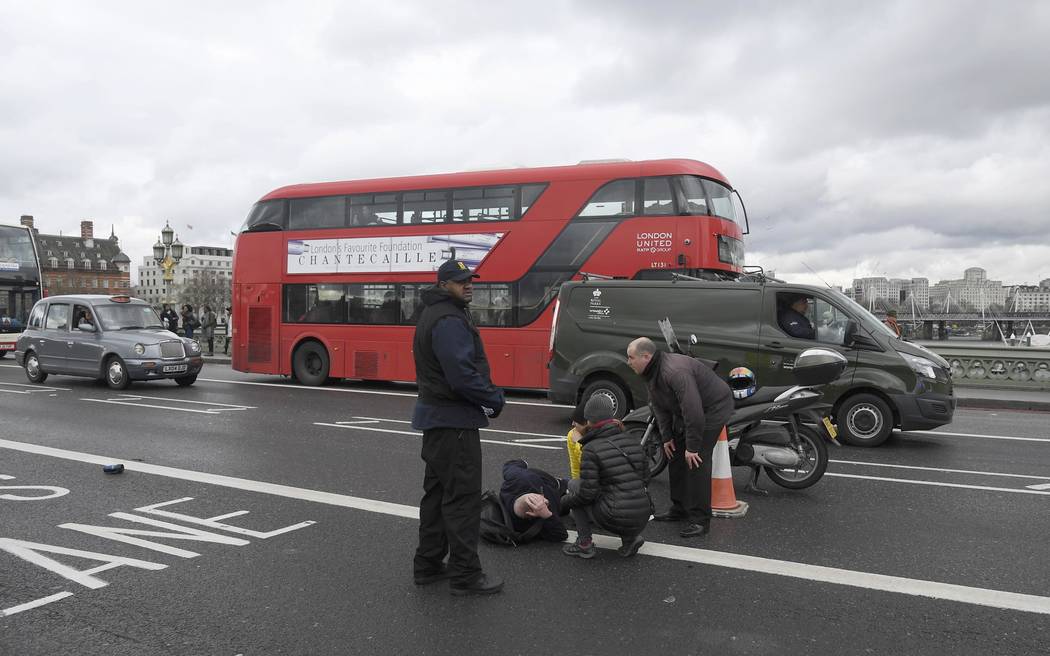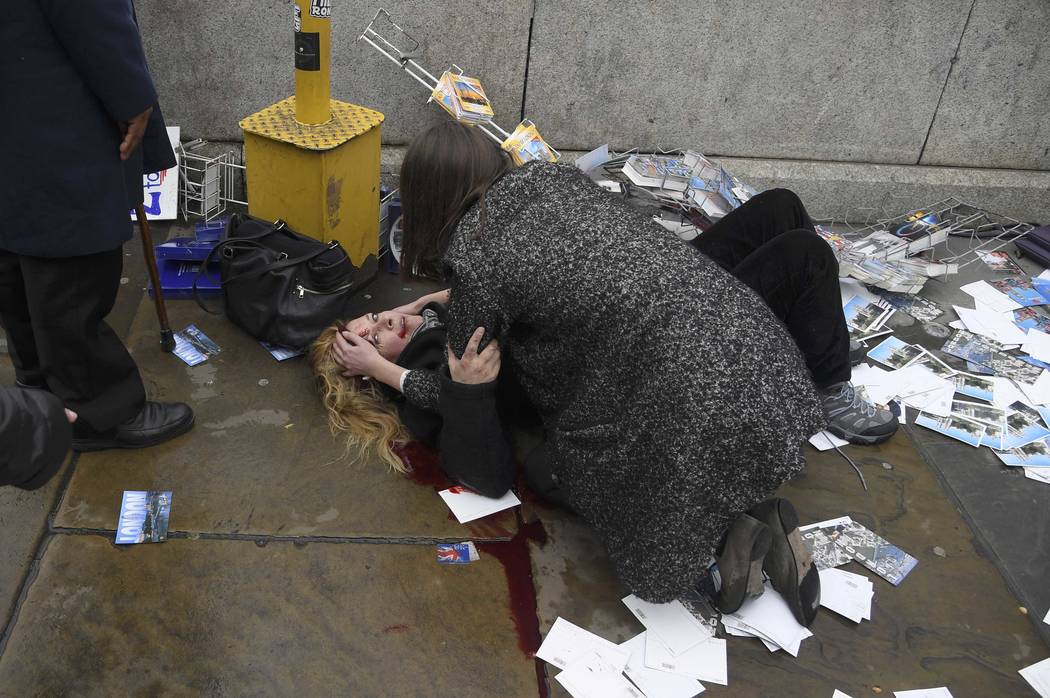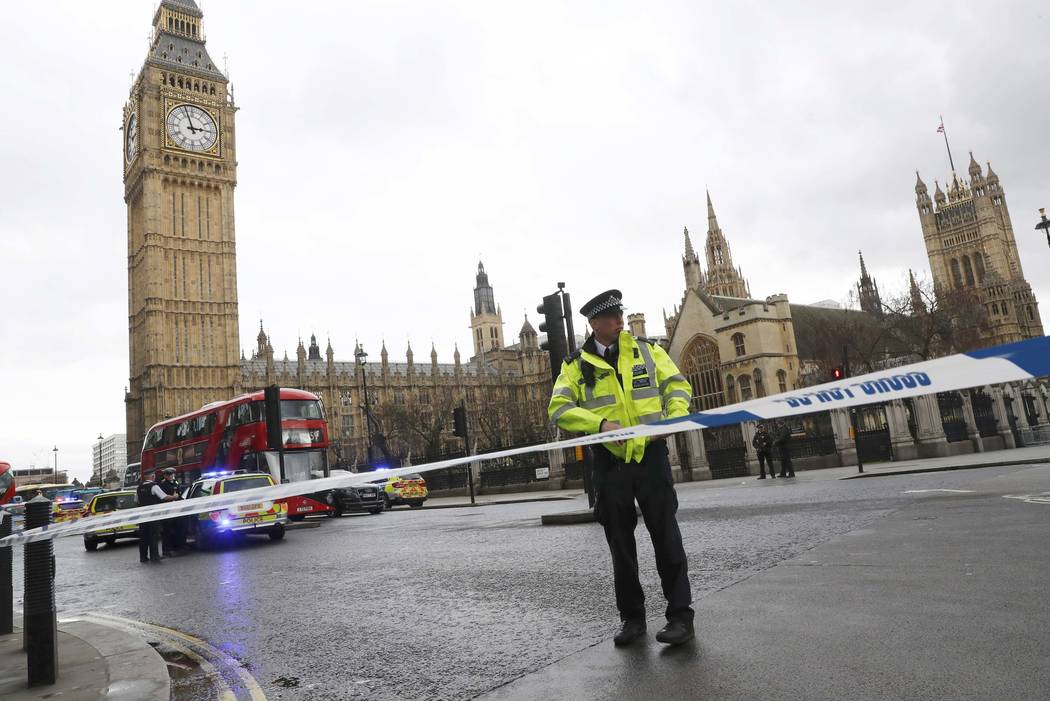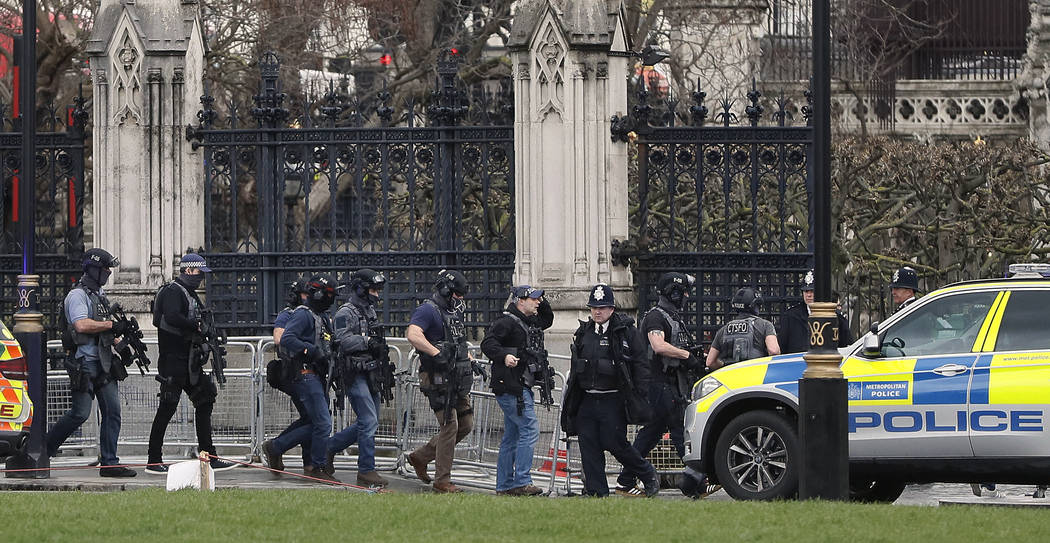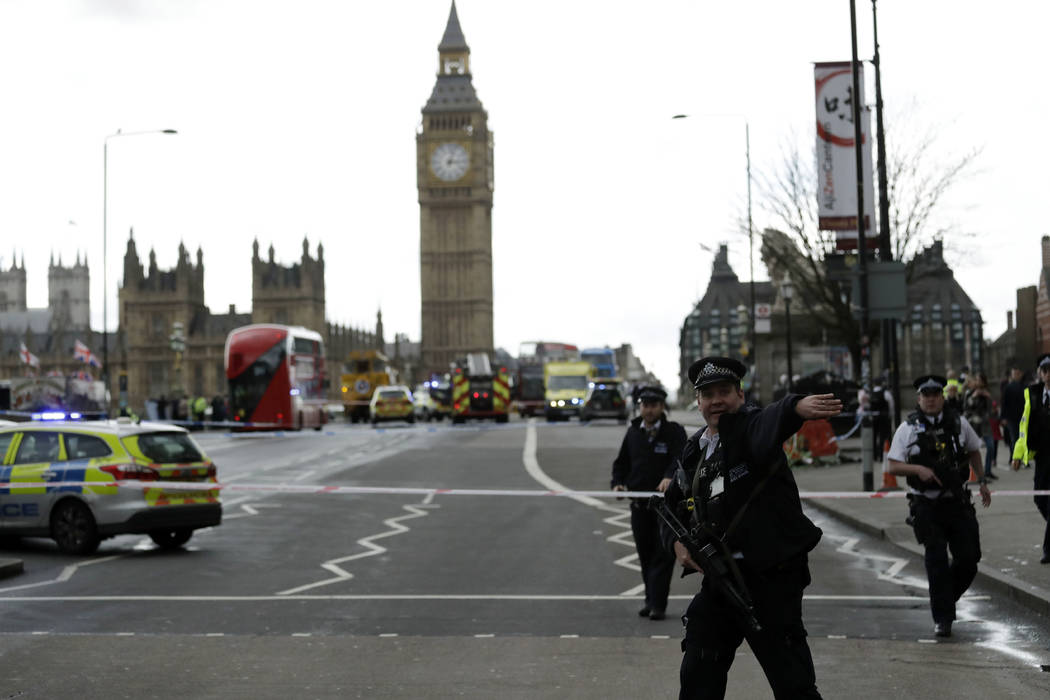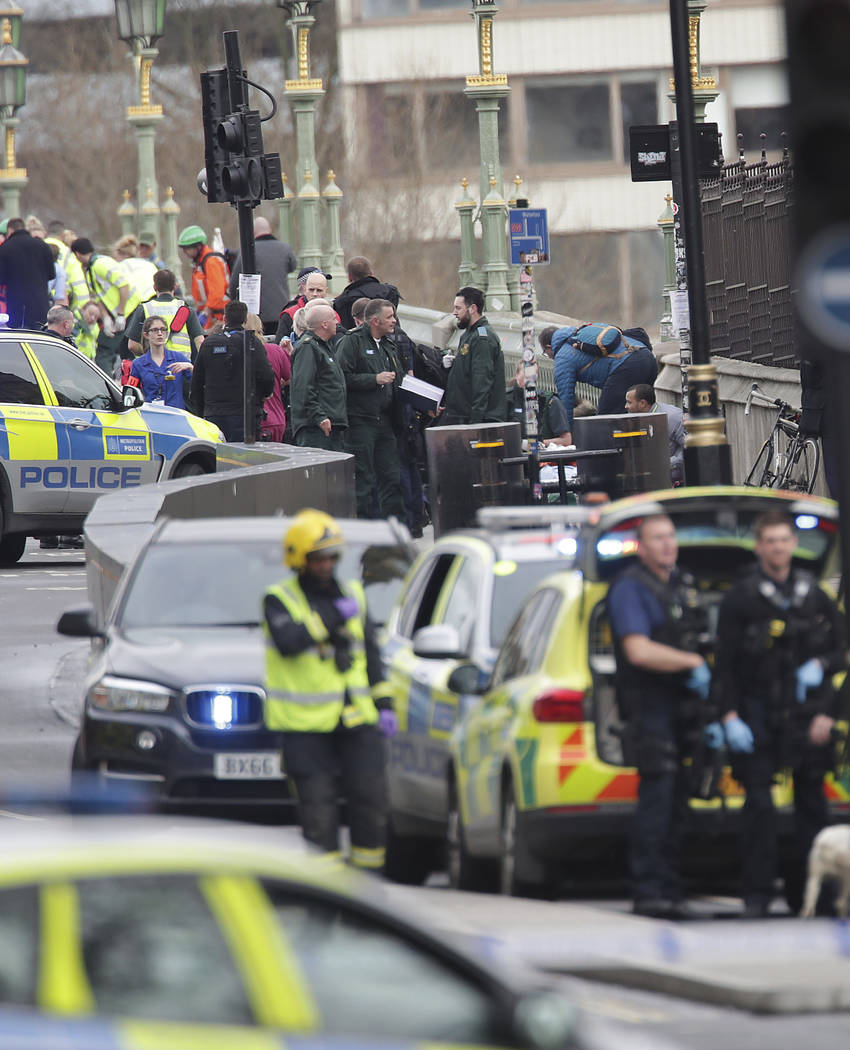 LONDON – The number or people who died in an attack close to Britain's parliament on Wednesday has risen to five after the death of a third member of the public, police said.
Britain's top counter-terrorism police officer Mark Rowley told reporters that police believed the attacker was inspired by Islamist-related terrorism. Rowley said police believed they knew the identity of the attacker but he declined to provide details.
Rowley said some 20 people were wounded and Parliament was locked down.
Rowley said the dead policeman was one of the armed officers who guard Parliament. The other victims were on Westminster Bridge.
Rowley says "We are satisfied at this stage that it looks like there was only one attacker. But it would be foolish to be overconfident early on."
The dead included the assailant and the policeman he stabbed, while the other two victims were among the pedestrians hit by the car as it tore along Westminster Bridge before crashing into railings just outside parliament.
"We've declared this as a terrorist incident and the counter-terrorism command are carrying out a full-scale investigation into the events today," Rowley said.
"The attack started when a car was driven over Westminster Bridge, hitting and injuring a number of members of the public, also including three police officers.
"A car then crashed near to parliament and at least one man, armed with a knife continued the attack and tried to enter parliament."
A policeman was stabbed, an assailant shot and several other people injured in what police said they were treating as a terrorist incident.
Another police officer was among the people killed in the attack just outside the parliament building, the BBC reported, quoting a lawmaker who provided medical assistance.
The officer died at the scene, the BBC said.
There were conflicting reports about the number of assailants involved.
Police were still searching for one of the two people believed to have launched Wednesday's attack outside the British parliament building, assistant editor of the Daily Telegraph newspaper Christopher Hope tweeted, citing senior government sources.
Senior Government sources say the police are still lookIng for an unaccounted for suspect in the Houses of Parliament.

— Christopher Hope (@christopherhope) March 22, 2017
A BBC journalist said two assailants were believed to have been in a vehicle involved in the attack.
"BBC understands from multiple sources two assailants in vehicle on Westminster Bridge," BBC correspondent Dominic Casciani said on Twitter.
A woman was been pulled from the River Thames alive after the attack on the Westminster Bridge, the Port of London Authority said, adding that she was being treated for serious injuries.
"A female member of the public was pulled from the water near Westminster Bridge, alive, with serious injuries," a PLA spokesman told Reuters.
"She's undergoing very urgent medical treatment now."
He added that the river had been closed to all non-emergency traffic in the immediate area.
#London terror attack: Two dead. Woman pulled alive from the Thames. Suspect shot "multiple times" by police. @KayBurley is in #Westminster pic.twitter.com/BxNITIKsaB

— Sky News (@SkyNews) March 22, 2017
A doctor says one woman died and about a dozen people were hurt after a vehicle apparently hit pedestrians on Westminster Bridge.
"There were people across the bridge," said Colleen Anderson of St. Thomas' Hospital. "There were some with minor injuries, some catastrophic. Some had injuries they could walk away from or who have life-changing injuries."
A Reuters photographer saw at least a dozen people injured on Westminster Bridge and photographs showed people lying on the ground, bleeding heavily. The number of casualties was unclear.
The incident unfolded within sight of some of the city's most famous tourist sites, including the LondonEye, a large Ferris wheel with pods that have views over the capital. It stopped rotating and footage showed the pods full as viewers watched police and medical crews on the bridge, which has at its north end Big Ben and Parliament, two iconic symbols. The LondonEye tweeted a while later that passengers were disembarking.
1/3 We can confirm that the London Eye is temporarily holding our guests on board following the incident on Westminster Bridge

— The London Eye (@TheLondonEye) March 22, 2017
Police say they are treating the incident as a terrorist incident until they know otherwise.
Cmdr Harrington "The events near Parliament Square #Westminster has been declared a terrorist incident"

— Metropolitan Police (@metpoliceuk) March 22, 2017
During a press conference at Scotland Yard, police Commander BJ Harrington said a full counterterrorism investigation is underway.
Full statement from Commander Harrington following the incident in #Westminster #London pic.twitter.com/vMPCXKq2Ft

— Metropolitan Police (@metpoliceuk) March 22, 2017
The House of Commons, which was in session at the time, was immediately suspended and lawmakers were asked to stay inside.
INTERNATIONAL SUPPORT
Scotland's parliament suspended its debate on authorizing the government to seek a new independence referendum after Wednesday's attack on Britain's Houses of Parliament which police said they were treating as a terrorist incident.
The suspension was announced by the speaker of Holyrood, Ken Macintosh.
Scottish lawmakers had been planning to vote after two days of debate on First Minister Nicola Sturgeon's call for another referendum on leaving the United Kingdom.
The debate was suspended after some members said it should be halted out of respect after a policeman was stabbed and his attacker shot in London.
Sturgeon tweeted that her thoughts were with everyone in Westminster "caught up in this dreadful incident."
Prime Minister Theresa May was safe after the incident, a spokesman for her office said. He declined to say where May was when the attack took place.
May chaired a meeting of the government's crisis response committee.
"The thoughts of the PM and the government are with those killed and injured in this appalling incident, and with their families," her office said in a statement.
"The location of this attack was no accident," she said in a statement outside her Downing Street office late in the evening.
"The terrorist chose to strike at the heart of our capital city, where people of all nationalities, religions and cultures come together to celebrate the values of liberty, democracy and freedom of speech."
Any attempt to defeat those values through violence was "doomed to failure," May said.
London Mayor Sadiq Khan said there would be additional police officers on the city streets to keep Londoners and visitors safe.
"We stand together in the face of those who seek to harm us and destroy our way of life. We always have, and we always will. Londoners will never be cowed by terrorism," he said.
Parliament's lower House of Commons, which was in session at the time, was suspended and lawmakers were asked to stay inside.
In a telephone call with May, President Donald Trump offered Britain the full cooperation and support of the United States, the White House said. U.S. Secretary of State Rex Tillerson condemned the attack as "horrific acts of violence."
German Chancellor Angela Merkel and NATO Secretary-General Jens Stoltenberg were among foreign leaders who expressed shock and solidarity.
French Prime Minister Bernard Cazeneuve said three French high school students are among the wounded in the attack in London. A French government plane is set to fly to London Wednesday evening to bring the families of the French students wounded in the attacks to their loved ones.
In a tweet Wednesday, Cazeneuve offered support to the British as well as to "the French students wounded, their families and their schoolmates."
London is a common destination for French school trips.
Five South Koreans were injured in the chaos that ensued when the attacker plowed into pedestrians, the foreign ministry said in a statement.
Three women and one man in their 50s and 60s suffered injuries including broken bones, the ministry said. Another woman in her 60s suffered a head injury while falling and was taken to a hospital and was receiving surgery.
The Big Ben illuminated in red in tribute to the victims of the attack! #BigBen #London #Londres #PrayForLondon #UKhttps://t.co/e637y05m23

— Charles Baudry (@CharlesBaudry) March 22, 2017
There was no word on the seriousness of the injuries.
The five were being treated at two hospitals, and South Korean consular officials were on site to assist them, the ministry said. A text message to South Korean nationals visiting Britain has been sent advising precaution following the attack, it said.
The U.S. State Department said it was closely monitoring the "concerning situation" near to Britain's Houses of Parliament and offered to assist in any way.
State Department spokesman Mark Toner urged Americans in London to contact their families to let them know they are safe.
"We stand ready to provide all possible consular assistance should we become aware of any affected U.S. citizens," he said in a statement.
The leader of the House, David Lidington, said in the chamber that an assailant who stabbed a policeman had been shot by police.
"It seems that a police officer has been stabbed, that the alleged assailant was shot by armed police," Lidington said.
"An air ambulance is currently attending the scene to remove the casualties.
"There are also reports of further violent incidents in the vicinity of the Palace of Westminster but I hope colleagues on all sides will appreciate that it'd be wrong of me to go into further details until we have confirmation from the police and from the House security authorities about what is going on."
WITNESS ACCOUNTS
Witness Rick Longley told the Press Association that he saw a man stab a policeman outside Parliament.
"We were just walking up to the station and there was a loud bang and a guy, someone, crashed a car and took some pedestrians out," he said.
"They were just laying there and then the whole crowd just surged around the corner by the gates just opposite Big Ben.
"A guy came past my right shoulder with a big knife and just started plunging it into the policeman.
"I have never seen anything like that. I just can't believe what I just saw."
Our latest statement on #Westminster, published at 3:40pm, is available on our website: https://t.co/I7fzygqVMo

— London Ambulance (@Ldn_Ambulance) March 22, 2017
London Ambulance Service released a statement saying it has sent "a number of resources to the scene including ambulance crews, London's Air Ambulance and our Hazardous Area Response Team."
George Eaton, a journalist with the New Statesman, said that from the window of Parliament's Press Gallery, he saw police shoot a man who charged at officers.
"A large crowd was seen fleeing the man before he entered the parliamentary estate," he wrote on the publication's website. "After several officers evaded him he was swiftly shot by armed police."
British lawmaker Grant Shapps said on Twitter that he was walking through the cloisters of the House of Commons to vote when he heard four gunshots. Police told lawmakers to get down on the ground and crawl to cover.
Walking thru Commons cloisters to vote, heard 4 gunshots. Police had MPs hit ground & crawl to cover.

— Grant Shapps (@grantshapps) March 22, 2017
Police response instant. Heard commotion, looked round. Police weapons drawn, 4 shots, police ordered us to hit ground & get back, get back.

— Grant Shapps (@grantshapps) March 22, 2017
"Police response instant. Heard commotion, looked round. Police weapons drawn, 4 shots, police ordered us to hit ground & get back, get back," he said.
My statement on the incident near Parliament Square this afternoon. Please visit https://t.co/NzFxlDdZ9N for the latest information. pic.twitter.com/T4s43cGzub

— Mayor of London (@MayorofLondon) March 22, 2017
Reuters reporters inside parliament said a large number of armed police, some carrying shields, were pouring into the building.
New York police ramped up security at British sites across the city on Wednesday after an assailant stabbed a policeman outside Britain's parliamentand was then shot by police.
Heavily armed officers and explosives-detecting dogs were deployed to locations including the British Consulate and the British Mission to the United Nations in Manhattan, senior New York Police Department officials said at a news conference.
"You'll see a larger presence of the dogs at these locations, as well as (officers) armed with the long guns," said James Waters, the police department's counterterrorism chief.
The incident took place on the first anniversary of attacks on Brussels in Belgium.
Britain is on its second-highest level of "severe" meaning an attack by militants is considered highly likely.
In May 2013, two British Islamists stabbed to death soldier Lee Rigby on a street in southeast London.
In July 2005, four British Islamists killed 52 commuters and themselves in suicide bombings on the British capital's transport system in what was London's worst peacetime attack.
This is a developing story. Check back for more information.
Eiffel Tower in Paris turns off its lights in mark of respect to #Westminster terror attack https://t.co/86W3BGGHr0 pic.twitter.com/KPI72eq4wM

— BBC Breaking News (@BBCBreaking) March 22, 2017
PREVIOUS LONDON ATTACKS
DEC. 5, 2015
An Islamic State-inspired taxi driver tried to behead a passenger in the east London Underground station of Leytonstone. Somali-born Muhiddin Mire was sent to a high-security mental hospital to serve a life sentence. The judge ruled that Mire had been motivated by events in Syria. The incident came days after Parliament approved British airstrikes on Islamic State group targets in Syria.
MAY 22, 2013
Two British-born, al-Qaida-inspired extremists stabbed off-duty soldier Lee Rigby to death on a busy south London street. The men ran Rigby down with their vehicle and then used a cleaver to hack him to death. Images of attacker Michael Adebolajo holding a butcher knife and cleaver with bloodied hands in the moments after killing shocked people around the world and sparked fears of Islamist extremism in Britain. Adebolajo and his accomplice were sentenced to life in prison.
JUNE 2007
Two men were arrested after they drove a Jeep Cherokee into Glasgow Airport's terminal in Scotland and set it ablaze. Authorities said the attack was linked to a failed car bombing a day before in London's West End, where an ambulance crew outside a nightclub spotted smoke coming from a Mercedes that turned out to be rigged with explosives. A second Mercedes also filled with explosives was found hours later in an impound lot.
JULY 7, 2005
In the worst peacetime attack on Britain this century, four Al-Qaida-inspired bombers blew themselves up on three subway trains and a bus in London, killing 52. Three of the bombers were British-born, all of Pakistani descent; the other emigrated from Jamaica.