Bundy bodyguard pleads guilty in Oregon wildlife refuge takeover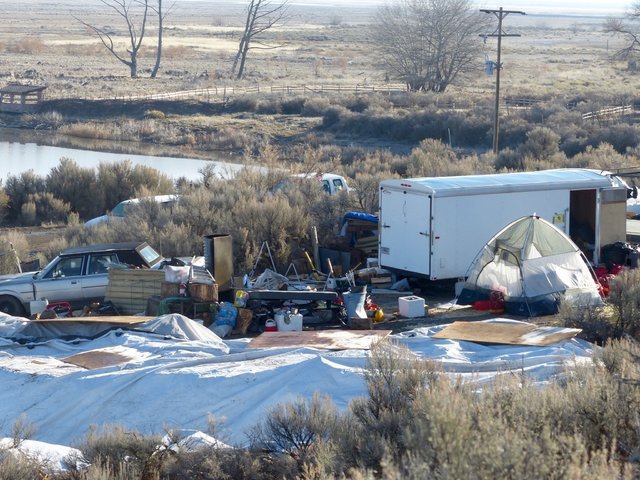 Blaine Cooper, a Bundy family bodyguard, pleaded guilty Thursday in Oregon in connection with his role in the armed takeover of a government wildlife refuge there.
Cooper, 37, of Arizona, pleaded guilty to a felony conspiracy charge stemming from the 41-day standoff at the Malheur National Wildlife Refuge in Eastern Oregon that ended in February.
As of late Thursday, no plea agreement had been publicly filed in the federal case in Portland, Ore. But the court docket said Cooper is to be sentenced Nov. 18 in Portland.
His lawyer there said Cooper was close to striking a plea agreement with Nevada prosecutors, according to The Oregonian in Portland.
If true, Cooper would be the first of 19 defendants to plead guilty in connection with the 2014 armed standoff with law enforcement near Bunkerville. Nevada rancher Cliven Bundy and four of his sons are among those charged in the case.
All of the Nevada defendants, who are in federal custody, are charged with conspiring to assault BLM agents on April 12, 2014, and take back impounded Bundy cattle that had been grazing on federal land.
A Feb. 6 trial date has been set in the high-profile case.
Federal prosecutors have alleged that Cooper was a "mid-level leader and organizer" of the Bunkerville standoff.
He is alleged to have recruited gunmen and followers to the Bundy ranch to confront law enforcement officers, gone on reconnaissance missions and provided protection for the Bundys and others involved in the conspiracy.
Natalie Collins, a spokeswoman for the Nevada U.S. attorney's office, declined comment late Thursday on a possible deal in Nevada between Cooper and prosecutors.
Cooper's Las Vegas lawyer, Matthew Lay, could not be reached for comment.
Contact Jeff German at jgerman@reviewjournal.com or 702-380-8135. Find @JGermanRJ on Twitter.
Previous coverage
See a timeline of events leading up Cliven Bundy's conflict with the Bureau of Land Management in 2014. Also, see the most recent reports involving Bundy and his family.