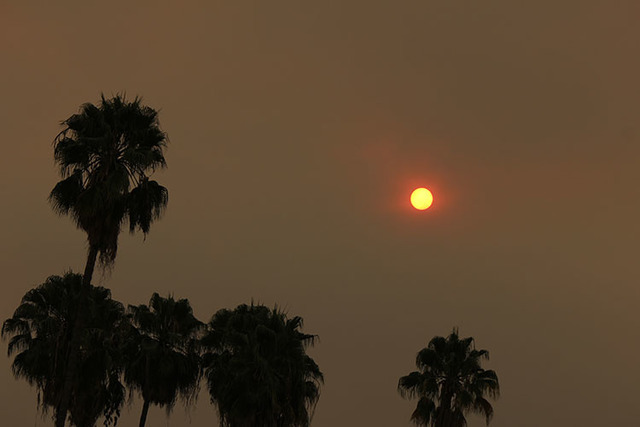 SANTA CLARITA, Calif. — Authorities say a burned body has been found at the scene of a wildfire that's threatening 1,500 homes north of Los Angeles.
Los Angeles County sheriff's Lt. Rob Hahnlein says the body was reported shortly after 7:30 p.m. Saturday outside a home on Iron Canyon Road in Santa Clarita.
He says the home also may have burned.
Detectives will try to determine whether the person died from the fire or from other causes.
The area is among those ordered evacuated because of a wildfire that has blackened more than 31 square miles of brush and continues to rage in canyons and ranchlands.
Fire officials say some buildings have burned, but it's not clear whether they were homes, garages or outbuildings.
The forest fire burning near Big Sur on California's scenic Central Coast has nearly doubled in size to almost 3 square miles.
The state forestry department says the blaze is a threat to 1,000 homes and the Monterey County community of Palo Colorado has been ordered evacuated.
The fire erupted Friday in almost inaccessible terrain 5 miles south of Garrapata State Park.
Another wildfire burning north of Los Angeles has grown to more than 8½ square miles and there's zero containment.
GRAND CANYON NATIONAL PARK, Ariz. — A wildfire that has been a potential threat to a highway serving the Grand Canyon's North Rim will likely smolder for the coming weeks, possibly even months.
Fire managers said Saturday that the lightning-caused fire may naturally help restore the forest until the next snowfall.
The area of the fire received more than an inch of rain Friday afternoon but drier conditions are expected, causing increased natural spreading of the fire.
Crews are working to remove any safety hazards along Cape Royal and Imperial Point roads for park visitors.
A lodge and other facilities at the North Rim's village as well as State Route 67 are open.
Since it began June 29, the blaze has charred 22 square miles.
It is currently 65 percent contained.
Grand Canyon Lodge, North Rim Campground & Visitor Center are OPEN. Point Imperial & Cape Royal Roads are still closed due to #FullerFire.

— Grand Canyon NPS (@GrandCanyonNPS) July 23, 2016
RELATED
Two North Rim viewpoints closed due to Grand Canyon wildfire