Father of slain Wash. girl says he forgives suspect
August 13, 2014 - 4:41 pm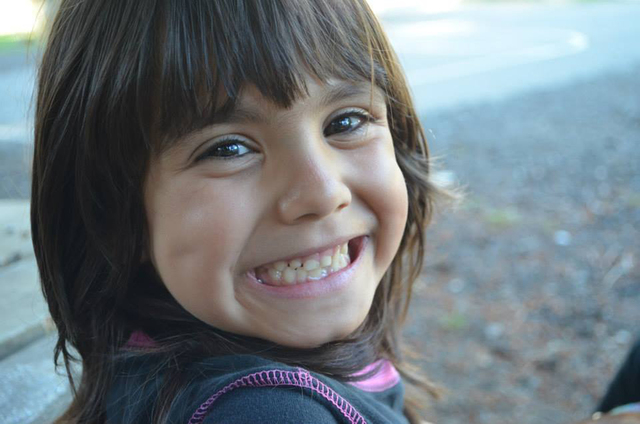 REMERTON, Wash. — The father of a slain 6-year-old Washington girl says he forgives the 17-year-old neighbor suspected of killing her, and he is leaning on his religion following her death.
Gabriel Gaeta "chose wrong," but "I've already forgiven him," James Wright told the Kitsap Sun. Gaeta is jailed on investigation of first-degree murder and rape in the case involving Jenise Wright.
Prosecutors are awaiting a competency review before charging the teen. They are pursuing the case in Kitsap County Superior Court, where Gaeta is expected to be tried as an adult.
Jenise's body was found Aug. 7 after an intensive search involving hundreds of law enforcement officers and others. An FBI team with search dogs discovered the girl's body covered by a wood pallet and submerged in a muddy bog in woods near her Bremerton home.
Court records show she suffered blunt-force trauma to the head and was strangled and sexually assaulted, and that her body appeared to have been moved between a half-hour and three hours after she died.
Authorities said they linked evidence found near the girl's body to the DNA of Gaeta, a high school wrestler with no criminal history. A search of his home found evidence, including a blood- and mud-covered shirt and a bloody towel in Gaeta's bedroom.
James Wright told the Kitsap Sun that Gaeta was "part of the family" and among the many friends and neighbors welcomed into their lively home in the Steele Creek Mobile Home in East Bremerton.
"How can I be in (God's) grace if I don't forgive?" said Wright, a member of the Church of Jesus Christ Latter Day Saints.
Denise Wright said she's aware of death threats being made toward the suspect's family, and "I just want everybody to stop."
"It's not their fault this happened. Just blame him, not his family," she said.
Meanwhile, James and Denise Wright are focusing on regaining custody of three children who were removed from their care Aug. 4, as authorities began investigating Jenise's disappearance. The state placed the children with two adult siblings in Bellingham.
Just hours before the Wrights appeared in court for Gaeta's bail hearing Monday, they had a hearing to regain custody of the other children, ages 8, 12 and 16. They have been allowed visitation, and have another court hearing next week, KING-TV reported.
James Wright told the Kitsap Sun he is taking steps to heal and leaning on his faith in Jesus. But without the other kids in the house, the healing can't begin.
"How can you put a puzzle back together if you don't have all the pieces?" he asked.