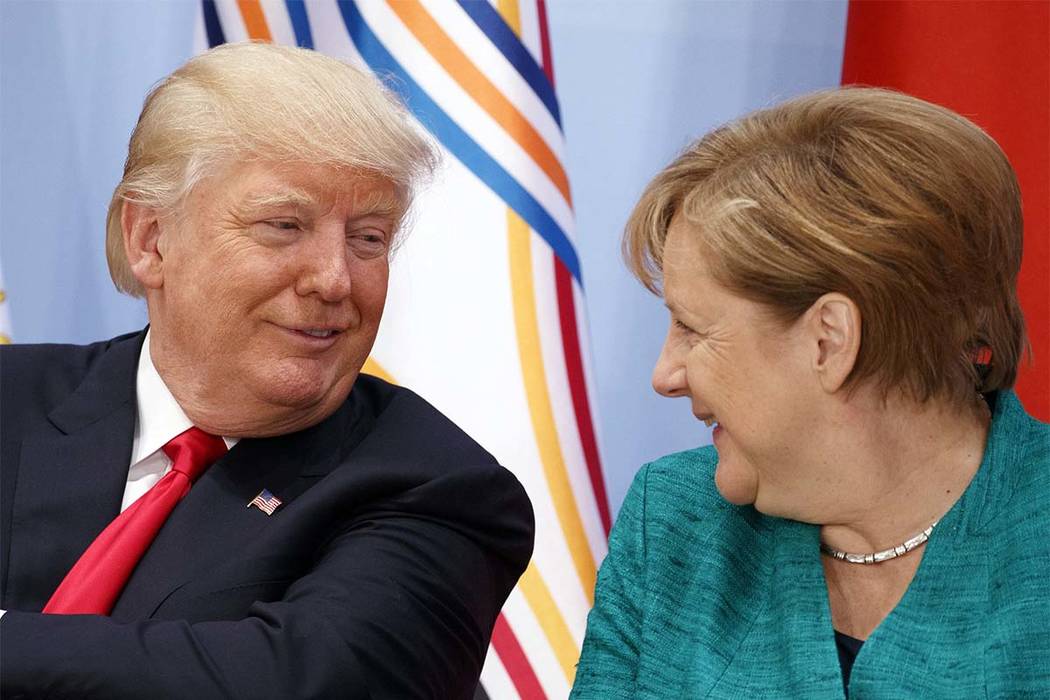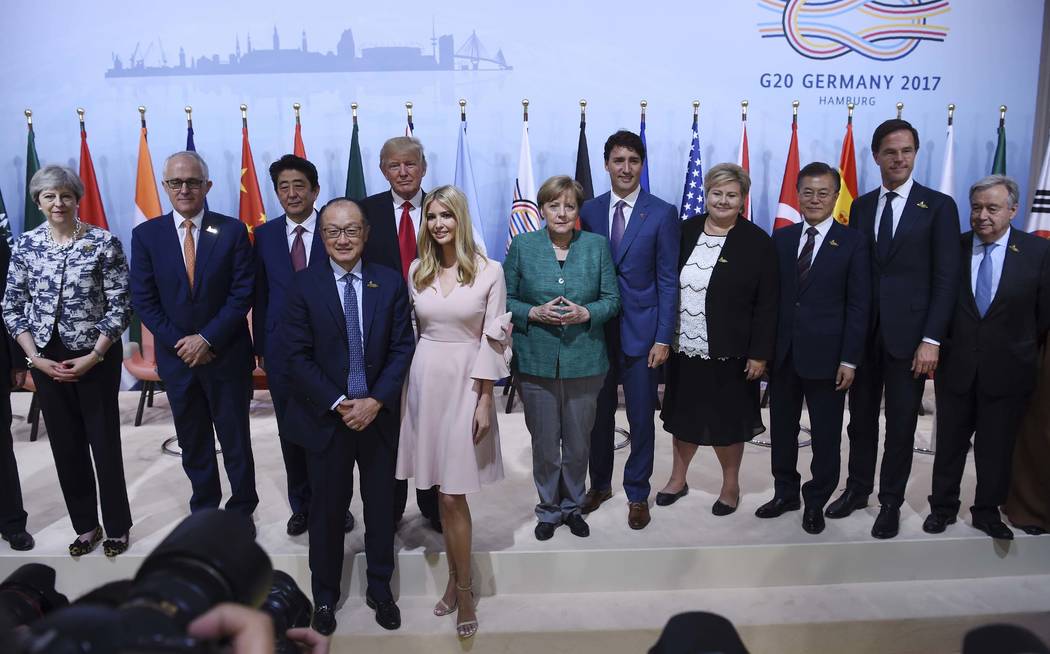 HAMBURG, Germany — The vast press filing center at the G-20 Summit has two prayer rooms — one for men and one for women. Inside the women's prayer room are three prayer rugs and an arrow pointing toward Mecca. There are no crosses, Bibles, or Stars of David.
If any of the expected 4,800 journalists who are not Muslim want to feel awe, they can take an escalator to the dining hall to feast on tasty main courses, fussy salads, showcase deserts, and adult beverages presented under the watchful eye of an attentive staff.
This is the cultural divide to which President Donald Trump alluded in his Warsaw speech Thursday — old-time religion versus modern comfort.
German Chancellor Angela Merkel stands on the other side. The problem with the prayer rooms is not that the G20 confab she hosted offers prayer rugs for Muslims, but that there's nothing for the majority of Germans who are Christians, or Jews, who have a special, if unwanted, claim on the nation's soul.
Trump instinctively sees Germany's German-Lite multiculturalism as proof that the Berlin-dominated European Union lacks will.
That's why he started his second trip abroad in Warsaw. Trump delivered a signal speech in Krasinski Square where he lauded Poles for gathering in 1979 to celebrate Mass with Pope John Paul II: "A million Polish men, women, and children suddenly raised their voices in a single prayer. A million Polish people did not ask for wealth. They did not ask for privilege. Instead, one million Poles sang three simple words: 'We Want God.'"
The high-living, thrice-married Trump is not many people's idea of a devout member of the flock. When he spoke to Liberty University last year, he called Second Corinthians, "Two Corinthians." He has said he never has asked God for forgiveness.
Nonetheless, many evangelical Christians are drawn to Trump because they believe he will lobby for their faith — and not try to impose the beliefs of others on them.
As he said at Liberty University, "We're going to protect Christianity. I can say that. I don't have to be politically correct."
Trump isn't hopping on board Merkel's theme for the summit, "Shaping an Interconnected World." Hence the world press has delivered stories about how Trump's views — especially his opposition to the Paris climate-change agreement — have further isolated him on the world stage.
But where is the world stage — in Warsaw, or in Hamburg?
In 2003, Donald Rumsfeld, defense secretary under President George W. Bush, angered internationalists when he labeled Germany and France "old Europe," and concluded, "Today, the center of gravity is shifting to the east."
In Trump's mind, modern Western Europe goes for gestures – think mostly empty prayer rooms. In Eastern Europe, he boasted that Poles, like Americans, "did not win freedom together, did not survive horrors together, did not face down evil together, only to lose our freedom to a lack of pride and confidence in our values."
Contact Debra J. Saunders at dsaunders@reviewjournal.com or at 202-662-7391. Follow @DebraJSaunders on Twitter.