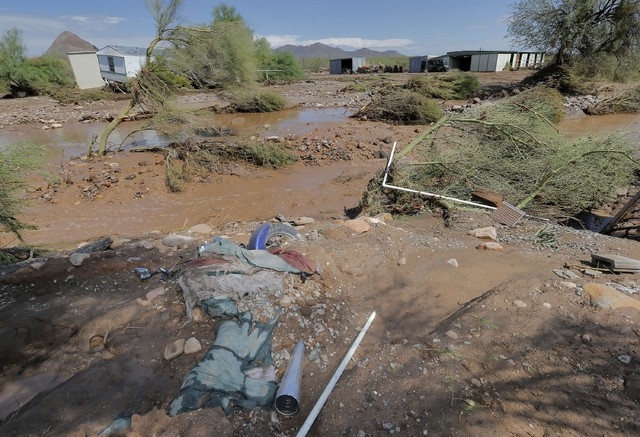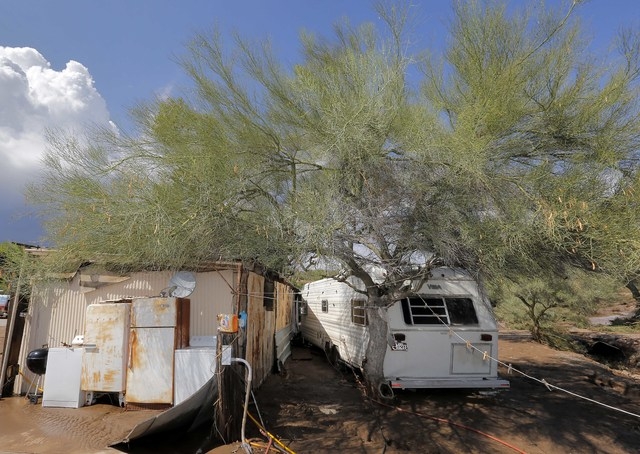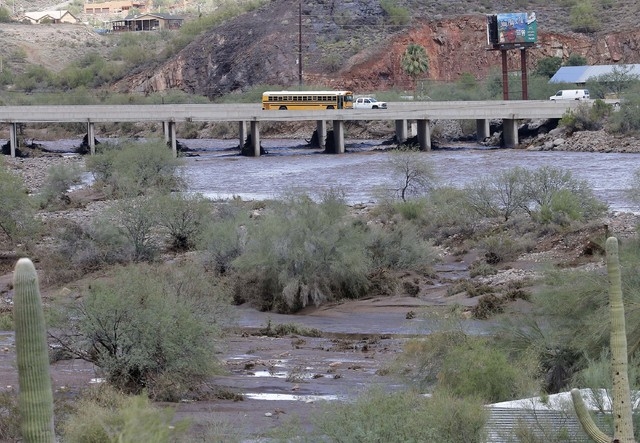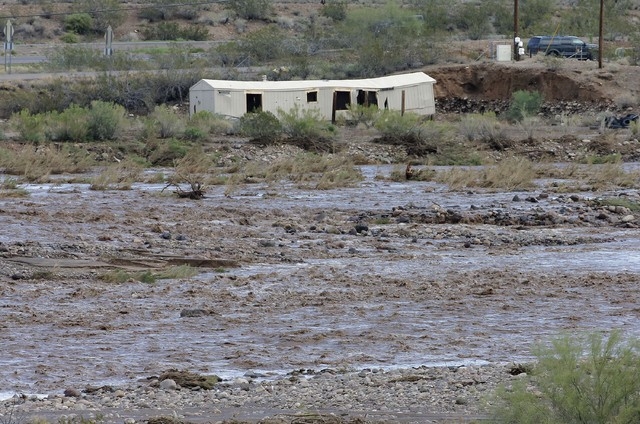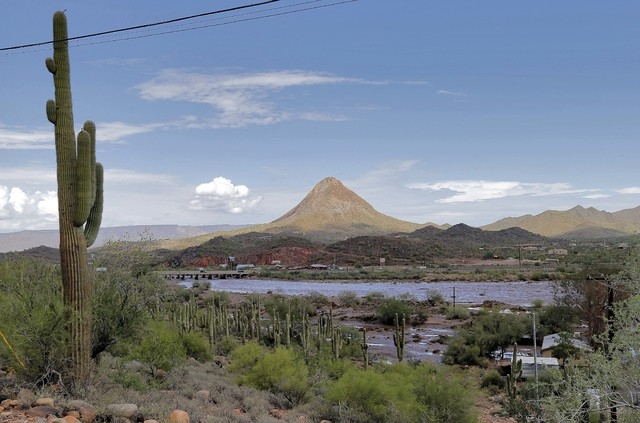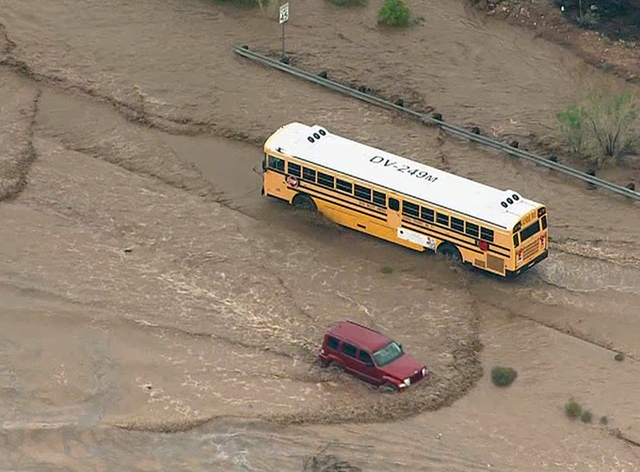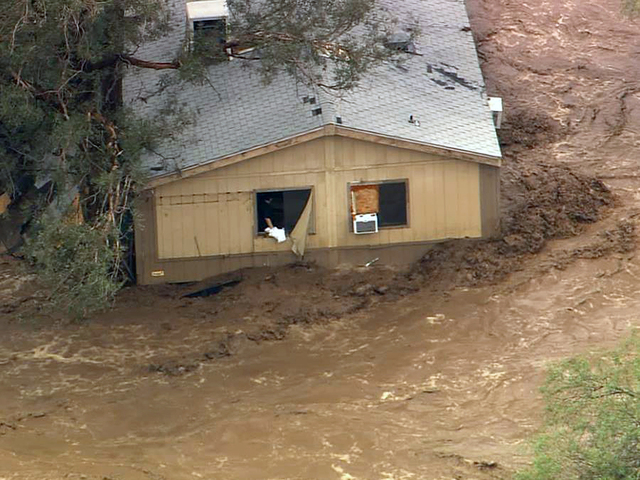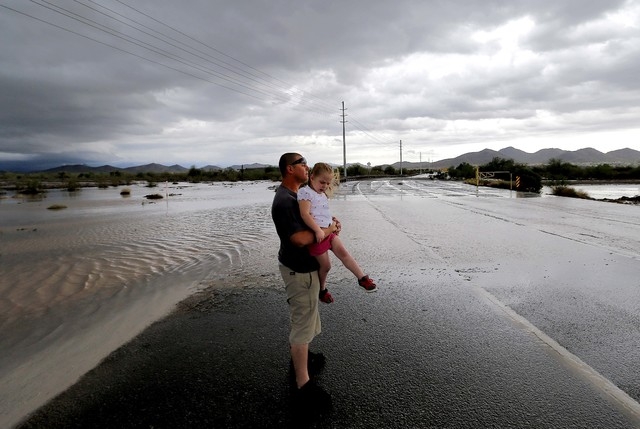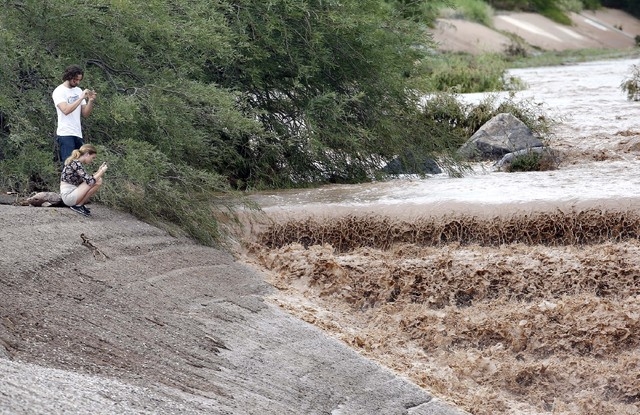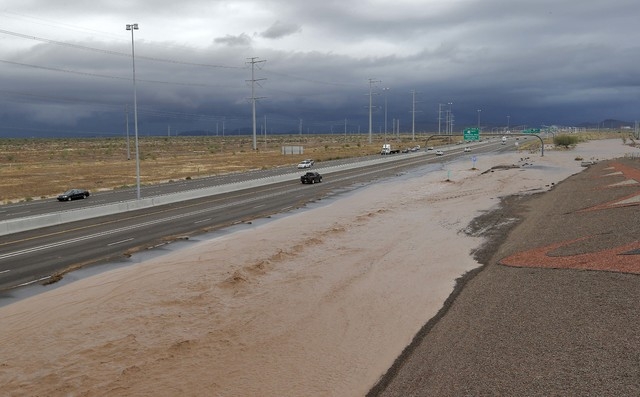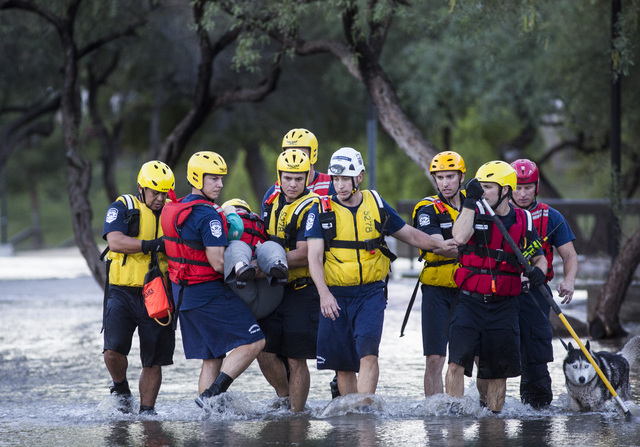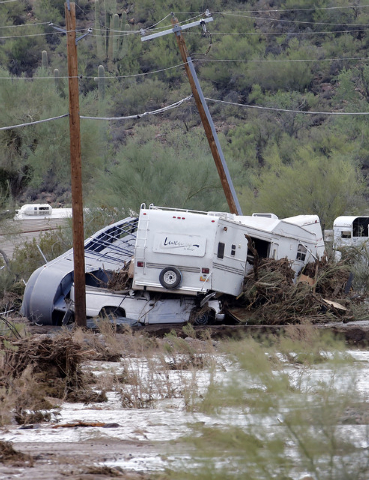 PHOENIX — Residents began cleaning up Wednesday from devastating flooding that slammed Arizona a day earlier, trapping people in vehicles and homes and washing away thousands of cactuses at a farm north of Phoenix.
The National Weather Service said some areas received more rain Tuesday than they had all last summer, and many residents were faced with a long recovery.
At Cox Cactus Farm, workers gathered and discarded flooded plants while tractors scooped up dirt at the nursery that caters to landscapers, resorts and golf courses.
Co-owner Jessica Cox said the farm lost between $1.5 million and $2 million worth of inventory and estimated it will take two years to fully recover from the storm. The owners basically have to rebuild and regrow their inventory from scratch, she said.
"It was a long road these past three years," she said. "We worked our tails off. We will do it again."
The floodwaters rose so quickly on Tuesday morning that Cox's husband had to climb on the roof of a greenhouse to escape. A worker retrieved him with a tractor.
In other chaotic scenes, a helicopter crew rescued two women and three dogs from a home surrounded by swift-moving water in a town about 30 miles north of Phoenix.
Elsewhere, a small trailer park was evacuated, a school was flooded and first-responders pulled motorists from partially submerged vehicles. There were no reports of deaths or serious injuries.
A river of muddy water rushed down I-17 about 25 miles north of Phoenix as motorists changed lanes to avoid the deluge. A stretch of freeway was shut down and reopened later in the day.
"It looked absolutely devastating," said Gov. Jan Brewer, who was glued to the TV all day watching the rescues. "For the last 10, 15 years, we've never seen anything the likes of this."
Parts of two other state highways that were closed because of flooding reopened Tuesday night, the Arizona Department of Transportation said.
In another dramatic rescue, authorities pulled an elderly woman from a van stuck in rushing floodwaters, a scene repeated across the region throughout the day as other motorists became trapped.
Officials said nearly 5 inches of rain fell around the town of New River. A helicopter dropped two rescuers onto the roof of a home where someone inside had been waving a white piece of fabric from a window to draw attention. The rescuers later walked the women and dogs to safety as the water receded.
Kathy Mascaro said her typical 15-minute commute from home to work in the Phoenix area more than doubled because of traffic caused by the flooding.
"It's crazy. You'd think, how could the desert flood, but it really does," Mascaro said. "I've been here over 20 years and it has never flooded this bad."
The desert around Phoenix sees little rain most of the year, so when storms roll through with such intensity as they did Tuesday, the water has nowhere to go.
"With so much rain falling so quickly, the water doesn't have a chance to soak into the hard-packed rocky soil," said meteorologist Gary Woodall of the National Weather Service.
Arizona's monsoon season runs roughly from June to September, when powerful storms form with heavy rain and whipping winds. It's a phenomenon that occurs each summer when the winds shift, bringing moisture north from the Pacific Ocean and Gulf of Mexico to produce radical and unpredictable changes in the weather.
Sporadic storms were expected to continue across the Phoenix area for the next few days, according to the weather service.
On Tuesday, rocks washed down a hillside onto I-17 about 60 miles north of Phoenix, causing several vehicle collisions, but no deaths or major injuries have been reported, said Bart Graves, a spokesman for the Arizona Department of Public Safety.
Firefighters from Phoenix and the Daisy Mountain Fire District on Phoenix's northern outskirts rescued at least six motorists in separate incidents, Phoenix Fire Capt. Benjamin Santillan said.
"We've got units jumping from one car to the next to the next," Santillan said.
———
Associated Press writers Emaun Kashfi and Bob Christie contributed to this report.