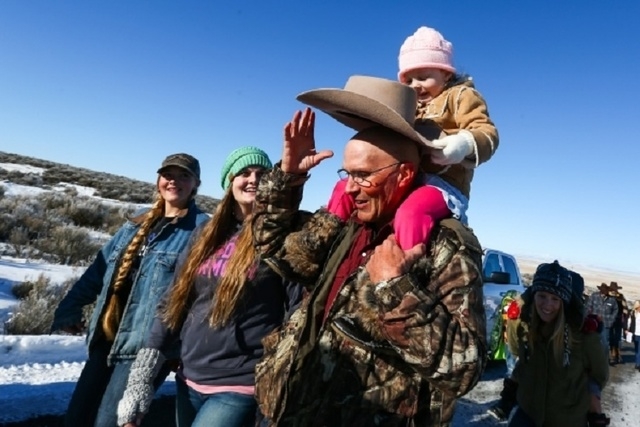 The inspector general for the U.S. Department of Justice is investigating shots fired by federal agents that apparently went unreported following a fatal confrontation in January between authorities and militiamen in Southeast Oregon.
The revelation came at a news conference in Oregon on Tuesday, as investigators revisited the final moments of LaVoy Finicum and offered new details on his shooting death.
The Arizona rancher and anti-government protester was the lone armed occupier of the Malheur National Wildlife Refuge to be killed during the 41-day standoff.
Five shots were fired at the pickup truck Finicum was driving, according to investigators. Three of those shots came from Oregon State Police troopers as Finicum sped away from the traffic stop toward an FBI roadblock.
Three more shots, all fired by state troopers, struck and killed Finicum after he got out of the vehicle, Deschutes County Sheriff Shane Nelson said Tuesday.
Malheur County District Attorney Dan Norris said all of the shots fired by state troopers during the traffic stop-turned-chase were justified "and, in fact, necessary."
But two shots, fired by unknown persons from the FBI's Hostage Rescue Team as Finicum exited the truck, were not disclosed to state and federal investigators in the wake of his death. At least one of those shots hit the truck but missed its occupants.
"The question of who fired those shots has not been resolved," Nelson said.
He led the joint news conference Tuesday in Bend, Ore., on the Jan. 26 shooting, releasing cellphone video footage shot inside the truck at the time of Finicum's death.
The Malheur National Wildlife Refuge takeover lasted for 41 days, from Jan. 2 to Feb. 11. The Ammon Bundy-led protesters demanded the release of two Oregon ranchers convicted of starting fires that spread onto federal land.
The armed protesters, Finicum among them, were outspoken about their cause and their willingness to fight and die for it.
Finicum was driving a pickup truck out of the refuge when it and another vehicle, with Bundy and others inside, were pulled over by authorities. While the other car surrendered, Finicum sped away, reaching speeds of more than 70 mph, according to the FBI.
The cellphone footage, shot by Shawna Cox, 59 of Utah, and released Tuesday, picks up as Finicum and the others are discussing what to do after they are initially stopped by law enforcement.
Finicum yells to the officers, who identify themselves at Oregon State Police, that they are going to meet with the sheriff to negotiate. He tells them they will have to shoot him to stop him.
After trying unsuccessfully to call for reinforcements — the militants didn't have cell service — Finicum speeds off as the others duck down.
Cox later alleged that officers fired hundreds of bullets at the truck, but her claim was not supported by the video evidence presented at Tuesday's conference.
Authorities did fire tear gas, flash grenades and less-lethal rounds at the truck, but only eight bullets were fired during the confrontation, investigators said.
After Finicum exits the vehicle, Cox's cellphone video captures the sound of officers telling him to get on the ground. In response, Finicum repeatedly says, "You're going to have to shoot me."
As an Oregon trooper crept closer to Finicum to attempt to subdue him with a Tazer, Finicum reached across his body under his jacket. Two officers behind Finicum opened fire, shooting him three times in the back.
All of the officers had been briefed that Finicum was seen in media reports and on social media carrying a sidearm in a shoulder holster on his left side.
None of the officers who fired will be named publicly, authorities said, citing 60 or 70 threats against them made by militants.
The Deschutes County Sheriff's Office conducted the investigation into the state troopers' use of deadly force and continue to investigate the two rounds fired by FBI agents. The Department of Justice has now joined that investigation.
News of the FBI's role in the shooting could change the tone of a rally slated for Thursday in Las Vegas, when Cliven Bundy, Ammon's father, is set to appear in federal court at 2 p.m. Cliven Bundy and more than a dozen others were indicted for their involvement in the Oregon occupation and an armed standoff with federal agents in 2014 at the Bundy's ranch in Bunkerville.
On its Facebook page, the Bundy Ranch says it's "planning on filling the sidewalks" outside the downtown courthouse from 10 a.m. to 2 p.m. and "then filling the courtroom."
On Saturday, about 29 people, some of them armed, protested Finicum's death in front the federal courthouse. A Las Vegas police supervisor described the protest as "uneventful."
Contact Wesley Juhl at wjuhl@reviewjournal.com or 702-383-0381. Find him on Twitter: @WesJuhl.