Water again flowing through damaged Oroville spillway
Updated April 16, 2017 - 11:06 pm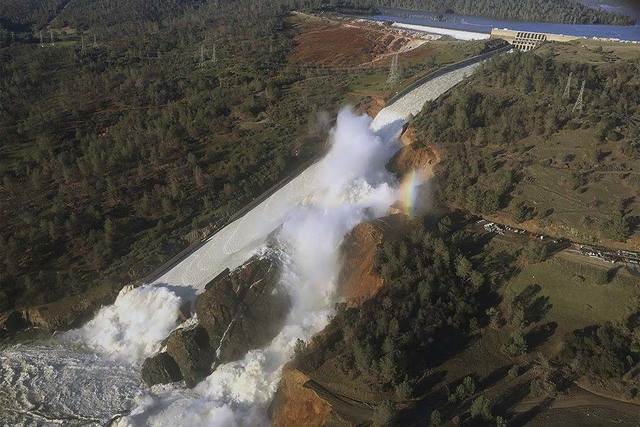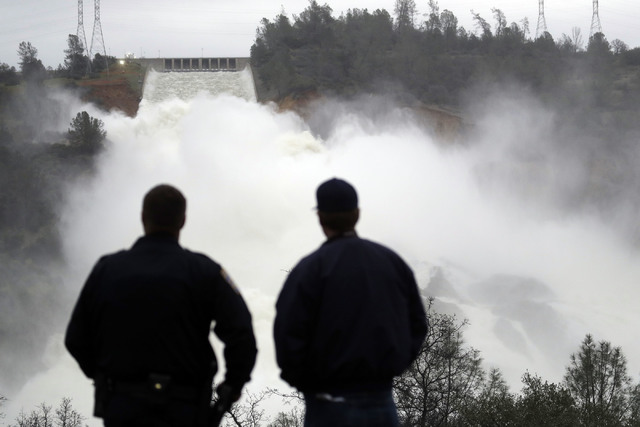 SACRAMENTO, Calif. — As construction bids came in to fix the damaged spillway at Oroville Dam, a new round of storms sent water out through the partly collapsed concrete chute over the weekend.
State officials expect water to pour through the spillway for up to two weeks, depending on rainfall levels.State officials have reopened the damaged spillway at Oroville Dam as another set of rainstorms began moving across Northern California.
Water resumed gushing through the partly collapsed concrete chute Friday morning. Kristyne Van Skike, who is on the California Department of Water Resources team that's managing the spillway, told the Los Angeles Times that rainfall on Sunday was not strong enough to match the amount of water that was flowing out of the reservoir and into the spillway.
In February, authorities ordered the evacuation of 188,000 people downstream after surging releases of water tore away big chunks of the main spillway and then the dam's second, emergency spillway. Residents were allowed to return home later that same week. Authorities said the dam itself suffered no damage.
Three construction contractors have submitted bids to fix Oroville Dam's two damaged spillways, California water officials said Saturday.
The Department of Water Resources said in a statement that the bids are higher than its estimate of $220 million.
Kiewit Corp. of Omaha, Neb., made the lowest bid of the three companies, at $275.4 million. Barnard Construction Co. of Bozeman, Mont., bid $277 million. The highest bid, at $344.1 million, was made by Oroville Dam Constructors, the department said.
Officials have said they want to have the work done by November 1, ahead of the winter season.
A notice to begin work will be issued after a contract is awarded but that design information won't be released because it could cause a security risk, the department said.
Oroville reservoir is the state's second-largest, and anchors the system of aqueducts, canals and pumps that moves water from Northern California to more arid Central and Southern California.