Wolves kill and waste 19 elk in Wyoming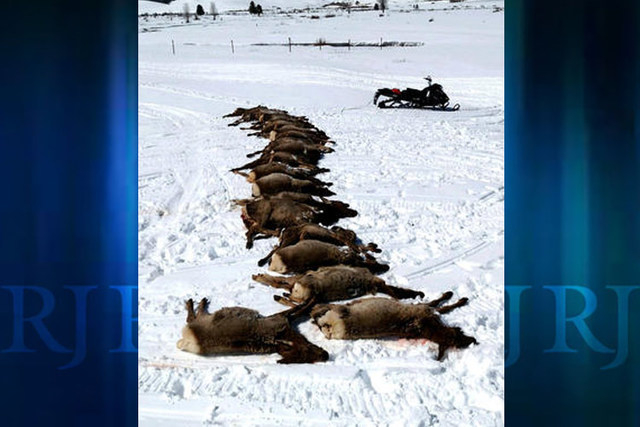 CHEYENNE, Wyoming — State wildlife officials said they've never seen anything like it: A pack of wolves killed 19 elk at a western Wyoming feeding ground and didn't even bother to eat.
They pointed to the kill as an example of the need to let the state rather than the federal government manage wolves.
The Wyoming Game and Fish Department can do little to prevent such kills as long as wolves remain federally protected and not under state control, Game and Fish Regional Director John Lund said Friday.
"With the management authority, that would allow us to address isolated issues like this or in other areas where wolves are having an impact on elk herds," Lund said.
Environmental groups that sued to restore endangered species protection for wolves in Wyoming in 2014 contend that if Game and Fish had control, wolves would be the species at risk. The groups believe Wyoming would allow wolves to be shot on sight in most of the state.
Representatives of Defenders of Wildlife and the Natural Resources Defense Council, two of the groups that sued, didn't return messages Friday.
The killing happened Tuesday night or early Wednesday at McNeel feedground near Bondurant, one of 22 western Wyoming feedgrounds where state wildlife managers put out grass and alfalfa hay to help elk survive the winter. Seventeen of the elk killed were calves born last year.
Wolves eat a lot of large prey, averaging as many as 22 ungulates — elk, antelope, deer or moose — a year. And wolves often kill without eating their prey. But Game and Fish has never documented wolves killing so many elk without eating the animals, Lund said.
"It's extremely rare in that severity," he said.
Game and Fish says wolves have killed as many as 75 elk at the McNeel feedground this winter — so many that agency division chief Brian Nesvik wrote to a top federal wolf management official on Feb. 1 asking what could be done.
The lawsuit by environmental groups doesn't permit many options, U.S. Fish and Wildlife Service regional wolf coordinator Mike Jimenez wrote back.
"Even if we had authority to move wolves, it is likely that translocated wolves would return to the area within a short time period," he wrote.
One western Wyoming hunting guide expressed anguish that wolves are taking such a toll on game after being reintroduced to the Yellowstone region in the mid-1990s.
"We are losing our minds. The feds have got our hands tied," said B.J. Hill of Swift Creek Outfitters. "This thing is going to turn into a chronic mess."
Wolves have remained off the endangered species list in Montana and Idaho since 2011. In Wyoming, wolves were delisted in 2012 and 2013 before being relisted in 2014.