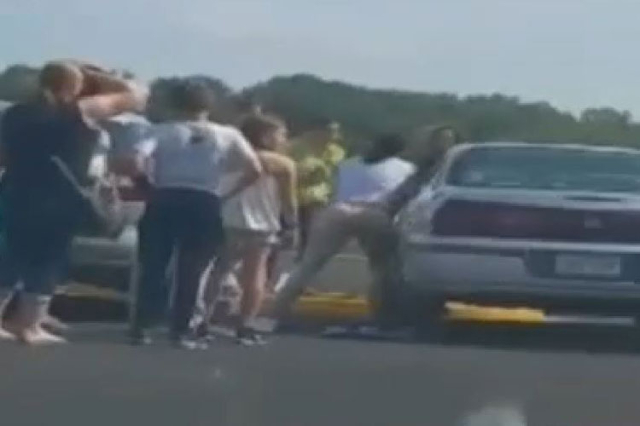 Merriam, Kans. — A Kansas City, Kansas, woman grabbed whatever she could find to break a window and save a toddler trapped in a sweltering car.
Investigators said the windows were shut and there was no parent or guardian in sight.
It happened about 4:15 p.m. Saturday as temperatures in Kansas City felt like 110 degrees.
Sarah Oropeza, the manager at Famous Footwear in Merriam, was ringing up a customer when one of her co-workers, who was leaving late because she stayed to help out, came running back inside the store screaming for help.
"The windows were totally rolled up, all the doors were locked. She was covered in sweat. When I looked in the back window, she was covered in sweat. She had pulled her hair back and sweat was just dripping" Oropeza said.
Oropeza said her employee opened her trunk to try and find something to break the driver's side window to get to the 2-year-old girl, but the window didn't crack.
"I'm screaming, "There is a baby in the car! There is a baby in the car! Somebody help!' " Oropeza recalled.
Oropeza said another woman came with a screw driver to see if that could help, but again, not a crack.
However, Oropeza was not giving up, as she began whacking the window with a tire iron. Every hit at the window felt like an eternity for the mother of two, trying to save the girl's life.
She got it to crack when another woman comes up with a truck hitch that was thrown at the window.
"I was just praying, 'Break the window. She is going to die,' " Oropeza said.
The entire ordeal only lasted about three minutes, but Oropeza said it felt like eternity. She believes the toddler may have been in the dangerously hot car for up to 10 minutes while the couple who drove her there were at a nearby cellphone store.
Oropeza said at least four women stepped up to try and help her get to the toddler drenched with sweat and crying in the hot car.
"She was crying, and she was drenched in sweat, like her shoes were wet, her socks were wet. She was so drenched in sweat. I just started crying," Oropeza said.
A nurse was also on scene and gave the child medical attention until an ambulance arrived. A police officer bought diapers for the toddler, because there was no diaper bag in the car. Paramedics checked the girl's vitals and was later picked up by her godmother.
Oropeza's tears turned to anger when the couple, claiming the toddler was their niece, came in the shoe store and asked to get her back.
"No emotion at all, whatsoever. The only question they had for police was if insurance was going to pay to cover the window that we broke," Oropeza said.
Oropeza and an officer told the couple to leave the store. Police ticketed the couple for child endangerment, and the case is going to the Johnson County District Attorney.
In just 10 minutes, the temperature inside a vehicle can soar 20 degrees.