Negotiators: Land deal was swift and substantial
December 3, 2014 - 7:52 pm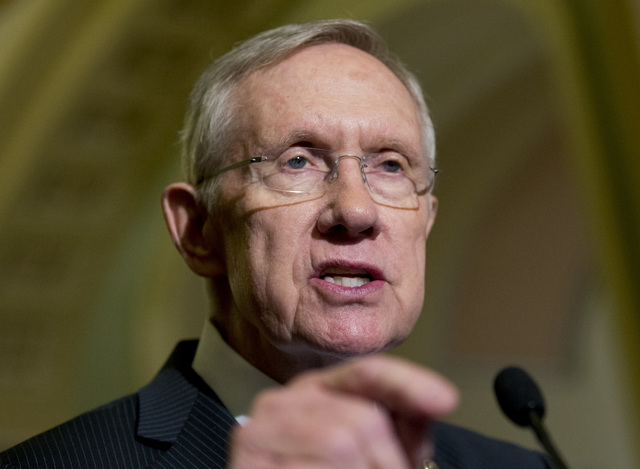 WASHINGTON — In his office off the Senate floor on Wednesday, Sen. Harry Reid briefed visitors from the Las Vegas Metro Chamber of Commerce on a public lands deal that solidified in a matter of days and contained a number of features prized back in Nevada.
Chamber members had flown into the capital late Tuesday to lobby for several of the components but by the time their planes landed around midnight, the deal had been done.
"I've done quite a bit of these," the Democratic leader told the group.
It might have been an understatement. The senior senator from Nevada has played a role developing most major natural resource bills in recent years, including every one affecting the Silver State.
"He does have some experience," said Kristin McMillan, chief executive of the chamber. "I guess the experience part comes with the territory."
The agreement hammered out by Reid and other senior lawmakers during the lame-duck session incorporated more than five dozen natural resources initiatives into a must-pass defense authorization bill headed to final votes in the coming days.
Reid and Sen Dean Heller, R-Nev., claimed eight of them, more than any other state. Their big-ticket item, a national monument designation for fossil beds over 22,650 acres at Tule Springs in the Las Vegas Valley, was considered one of the more significant parts of the package, according to congressional officials.
The package also included a key economic development push for Lyon County. It allows the city of Yerington to purchase 11,500 acres and parlay it into infrastructure to support the Pumpkin Hollow Mine, a project of Nevada Copper targeted to start producing minerals in the next year. The company projects it will create 1,000 to 1,100 jobs and more than 1,000 other jobs indirectly
It also creates two new wilderness areas in the state — a 49,000-acre Wovoka Wilderness in Lyon County and a 26,000-acre Pine Forest Range Wilderness in Humboldt County.
McMillan said Reid cautioned that the legislation is not done yet.
"There are no guarantees at this point," McMillan said. "We don't know ultimately what will happen but we have our fingers crossed."
But McMillan said passage would be a big boost for Southern Nevada.
Establishment of an officially recognized and government-protected natural landmark at Tule Springs would add a major prestige point to the map.
McMillan said, "It's really a pretty awesome thing that Tule Springs could get done this year, being Nevada's only national monument. But we are watching to see what happens."
Beyond the national monument, the legislation offered more than 600 acres apiece to city officials in Las Vegas and North Las Vegas for development.
House Republican leaders earlier this year objected to the land handovers to the Southern Nevada cities, contending they amounted to "earmarks" that the GOP had pledged to do away with.
That objection evidently melted away during negotiations. Heller said Wednesday that former House Majority Leader Eric Cantor, R-Va., had been adamant against earmarks. But Cantor was defeated for re-election in a Republican primary in June and when he left Congress a few months later that argument lost steam, Heller said.
"We may have gotten somewhat of a break, not that I wanted Cantor to lose," Heller said. After Cantor departed, "that argument was basically less strident. That's one of the reasons we were able to work around it."
"When it was time to negotiate this deal, there were some on the other side who realized it was not a valid issue," Horsford said, adding the deal closed fast. "Until yesterday afternoon there were questions about certain provisions," he said, though he declined to detail them.
Heller said he and Sen. Jeff Flake, R-Ariz., and other Western Republicans spoke up for the suite of land bills during the Senate Republican's weekly luncheon on Tuesday. In the end it contained projects for virtually every western state and even Rhode Island, Pennsylvania, Maryland, New York, New Jersey, Delaware and North Carolina.
"We tried to explain to the rest of the conference how important these bills are. They are job creators in the West where the government owns so much of our public land," Heller said, "The ability of companies, small businesses, mining, everybody else to expand, even towns and cities. It was a passionate plea"
Contact Stephens Washington Bureau Chief Steve Tetreault at stetreault@stephensmedia.com or 202-783-1760. Find him on Twitter: @STetreaultDC.