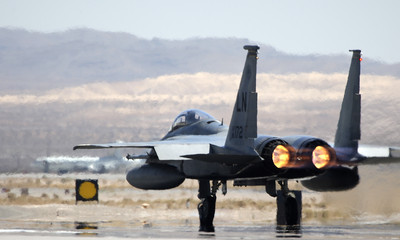 When an F-15D Eagle fighter jet crashed Wednesday in a remote swath of Nellis Air Force Range, the 65th Aggressor Squadron lost its commander, Lt. Col. Thomas A. Bouley, a "decorated warrior, an inspiring leader of airmen and a loving father and husband."
Those were the words Col. Russ Handy, commander of the 57th Wing at Nellis Air Force Base, used Thursday to describe Bouley, who was piloting the two-seater jet when it went down with a Royal Air Force exchange pilot observing from the back seat.
Bouley, of North Las Vegas, died during the ill-fated air combat training flight. The United Kingdom pilot, whose name was not released, managed to escape the crash. He spent the night in stable condition at the base hospital and is cooperating with investigators to determine what caused the mission to go haywire, Handy said at a news conference Thursday.
Handy said the Royal Air Force exchange pilot was riding in Bouley's F-15D to familiarize himself with the aggressor role even though he is an F-16 pilot assigned to the 65th's sister squadron, the 64th Aggressor Squadron. Pilots and planes from the 64th also portray enemy aircraft in the simulated air combat Red Flag exercise over the 15,000-square-mile Nellis range.
The multinational exercise, which ends today, includes crews and aircraft from Turkey, Sweden and Brazil and from U.S. bases within the country and overseas.
While flags at Red Flag headquarters flew at half-staff Thursday in honor of Bouley, U.S. Air Force F-15s from RAF Lakenheath, 70 miles northeast of London, flew in the exercise Thursday, an indication that investigators so far have not turned up any evidence of structural or mechanical flaws that would ground most of the nation's F-15 fleet. That's the course Air Combat Command leaders followed for a couple of months after an F-15C Eagle flown by a Missouri Air National Guard pilot broke apart at 18,000 feet and crashed Nov. 2. The pilot ejected safely.
When asked whether the fact that F-15s flying Thursday meant he wasn't concerned about a structural flaw surfacing in the aging jets that could ground the fleet again, Handy said, "As you might imagine, that was at the tip of our mind initially, as it would be with any mishap.
"But as I say with this investigation, as with any investigation, if we discover … anything that may make us concerned about the safety of the entire fleet, that information gets straight to our chain of command, who would consider that kind of decision gravely," Handy said.
He said Bouley and the RAF observer pilot departed the Nellis base at 10:05 a.m. Wednesday. The mishap, he said, began at 11:18 a.m., about 15 or 20 minutes before the fighter jet smashed into the high desert terrain 50 miles east of Goldfield.
Citing the ongoing investigation, Handy wouldn't say whether the pilots ejected or whether they were engaged in a simulated dog fight.
However, Alan Gudaitis, an aviation buff, was monitoring the exercise from a camp five miles east of Rachel and photographed smoke billowing from the wreckage. He wrote in an e-mail to the Review-Journal that "it was apparent from the radio transmissions that they were able to eject from their disabled jet."
Nellis officials released few details about Bouley's personal life and wouldn't reveal his age, citing a condition of the ongoing investigation.
His Air Force biography shows that he was born in Chateauroux, France, and that his 20-year career began with his 1988 commission from the U.S. Air Force Academy.
He was "a command pilot with over 4,200 total flying hours, including 265 combat hours in the F-15C and Tornado F-3 during Operations Northern Watch, Southern Watch and Iraqi Freedom," the biography reads.
From October 2006 until he took command of the 65th Aggressor Squadron in February 2008, he was the deputy commander of the Red Flag training squadron.
At Thursday's news conference outside the Nellis main gate, Handy said Bouley "served his country with distinction and will be greatly missed."
"Our thoughts and prayers are with Colonel Bouley's family, his Air Force family and all his friends during this difficult time," Handy said.
While F-15s from the 65th Aggressor Squadron didn't fly Thursday, Handy said, Air Force leaders decided to go forward with the Red Flag exercise because it "is crucial to our success, not only on the current global war on terror but in preparing for future combat challenges for both us and our allies."
"We know every day that when we put on this uniform that it comes with inherent risks. And we mitigate those risks as best we can," Handy said.
Plans for Bouley's memorial service weren't available Thursday.
Contact reporter Keith Rogers at krogers@reviewjournal.com or 702-383-0308.
ON THE WEB Video: Red flag 2008 introduces pilots from Sweden, Brazil and Turkey. Video: Nellis news conference for fighter crash near Goldfield.