Nevada budget director to leave post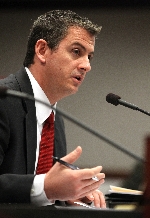 CARSON CITY — Andrew Clinger, budget director for Gov. Brian Sandoval, said Wednesday he plans to leave his job with the state to become city manager for Reno.
Clinger said Reno Mayor Bob Cashell started recruiting him for the job a few weeks ago.
A spokeswoman said the City Council could make the decision official at its May 11 meeting. Clinger said he would remain with the state until the end of the current legislative session, an important factor considering he is a respected number cruncher for Sandoval, who is trying to enact a contentious budget for 2011-13.
"I've talked to the governor and told him I would help him finish out this session," Clinger said.
Sandoval said in a statement: "I certainly understand the city of Reno's interest in hiring Andrew. Andrew has become a friend, and the city of Reno would be lucky to have him. I have appreciated Andrew's leadership and his steady hand through what is arguably the most difficult budget process in Nevada's history. I know Andrew will continue to work hard on behalf of the people of Nevada through the legislative session."
Clinger's state salary is $115,323, according to the Nevada Department of Personnel. As city manager, Clinger would be in charge of day-to-day operations for the Reno city government.