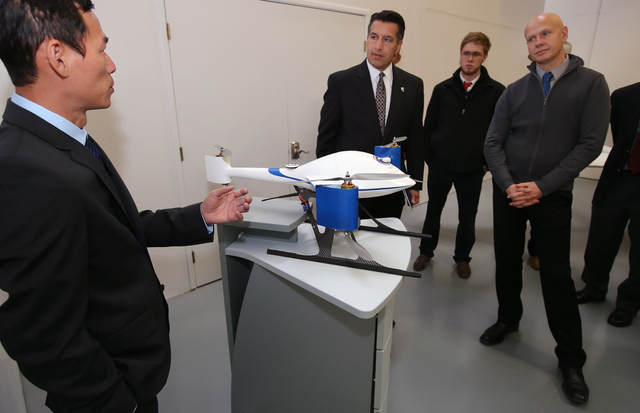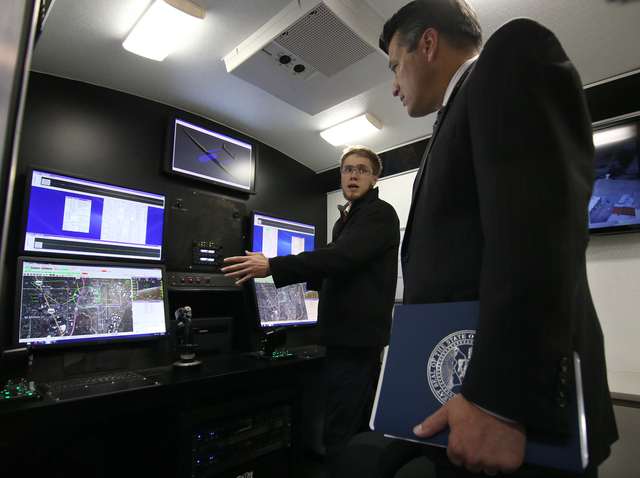 WASHINGTON — Nevada was chosen on Monday as a coveted base for research and development for the emerging drone aircraft industry.
The Federal Aviation Administration named the Silver State one of a half-dozen authorized test sites for the commercial development of unmanned aerial vehicles, or UAVs.
Other states picked were Alaska, New York, North Dakota, Texas and Virginia.
The winners now get an early start — along with the federal government's lucrative seal of approval — to cash in on the vision of drones in U.S. skies alongside piloted aircraft.
"This is a new and emerging industry where the state of Nevada is going to be an anchor tenant," Gov. Brian Sandoval said after the announcement. "It gives our citizens a tremendous opportunity to be on the ground floor of something that is going to be part of the future of the aviation industry."
State officials say the new industry could provide well-paying jobs for 15,000 Nevadans, plus thousands more in feeder industries, and help diversify the state's struggling economy.
The selection represents an imminent economic impact of $2.5 billion to $8 billion annually, said Steve Hill, executive director of the Governor's Office of Economic Development. Within a decade, the industry could generate $100 billion per year, he said.
"There is virtually unlimited capacity for this industry in Nevada," Hill wrote in a November budget memo to members of the state Legislature's Interim Finance Committee.
The FAA's designation does not come with money attached, meaning state officials must act quickly to recruit clients to conduct research. During its 2013 session, theLegislature authorized $4 million for drones. In early December, the state Board of Examiners approved $1.46 million for testing.
One challenge for Nevada will be developing a workforce that can feed the industry, though Hill said Monday that schools down to the middle school level will incorporate UAV issues and training into their curriculum.
"This is a real opportunity but it is just an opportunity," Hill said. "How do we proceed to capitalize on this? The jobs are very good jobs. The supply chain the industry needs for support can be in Nevada, but we have to earn that. It will be a competitive process with the other sites as well as other states."
RIGHT PLACE, RIGHT TIME
Sen. Harry Reid, D-Nev., said the state now is poised to "basically control the West" when it comes to attracting clients for UAV research and development.
"We have all this airspace," Reid said. "You look at these other states: You have Alaska, but they don't have the infrastructure we have," in the form of companies supporting major UAV operations at Creech Air Force Base in Indian Springs, north of Las Vegas.
"Remember, Nevada has been the leader," Reid said. "There is no one else."
U.S. Sen. Dean Heller, R-Nev., called the FAA's decision "welcome and well-timed" in light of Nevada's high unemployment.
U.S. Rep. Dina Titus, D-Nev., said Nevada "is a perfect fit" as the state where advanced aircraft such as the U-2 spy plane have been developed, and where the MQ-1 Predator and MQ-9 Reaper drones are operated from Creech.
Sandoval said it is too early to predict if the FAA's designation will rank as an economic milestone of the magnitude of the creation of the Nevada Test Site or the major military bases in the state.
But he said, it is possible that "10 years from now, 20 years from now, we will look back and see that it really changed the trajectory of our economic development efforts."
In Washington, FAA Administrator Michael Huerta said the six sites were picked for geographic and climate diversity, and for their planned focus on various aspects of UAV development, such as pilot training, the use of a variety of aircraft and the integration of drones into air traffic control systems. The work is expected to form the base for commercial drone operating and licensing standards the FAA is expected to issue by the end of September 2015.
Huerta said Nevada was selected because researchers here can access airspace near population centers, and offers the opportunity to study how civilian unmanned aircraft might operate adjacent to military airspace controlled by the Navy and Air Force to support operations at Creech, the Fallon Naval Air Station and Nellis Air Force Base.
"Nevada gives us a good test-bed to look at how unmanned aircraft operate across a variety of different airspace configuration," Huerta said.
The bulk of UAV testing is expected to be based at Stead Airport north of Reno; Fallon's municipal airport; the Boulder City Municipal Airport; and Desert Rock, a private-use airfield near Mercury associated with the Nevada National Security Site.
It's unlikely that Nevadans will see drones near their neighborhoods, said Tom Wilczek, industry specialist for aerospace and defense at the Governor's Office of Economic Development. Work will be concentrated around the airports, and will include developing technology and software as well as addressing policy issues.
The competition for a test site was robust, with 25 entities in 24 states submitting proposals. In choosing Alaska, the FAA cited a diverse set of test site locations in seven climatic zones. New York's site at Griffiss International Airport near Rome will look into integrating drones into the congested northeast airspace.
NEW CIVILIAN USES
The use of remotely piloted aircraft was pioneered by the military, but the potential economic impact from commercializing drone technology is said to be staggering. The Association for Unmanned Vehicle Systems International has estimated the industry could generate more than $13.6 billion in activity in the first two years after the FAA sets ground rules for their use. The same study projects an average salary range for a drone pilot between $85,000 and $115,000.
Amazon founder Jeff Bezos recently captured headlines with his plan to deliver Internet-purchased items via drone, but proposed uses expand well beyond that, from monitoring pipelines in remote areas to tracking the spread of wildfires to spraying pesticides over cornfields to search-and-rescue missions.
Nevada's bid was spearheaded by the Governor's Office of Economic Development, which assembled a team of about 30 organizations, including the presidents of the state's two universities, managers of the Nevada National Security Site, giant Lockheed Martin and small companies, to advise on drone possibilities in the state.
Hill said Nevada was a strong applicant because of its expansive airspace, clear and favorable weather, as well as unmanned aerial vehicle education curriculum already established at the University of Nevada, Reno and the University of Nevada, Las Vegas.
Reid said he had talks with officials from the White House, Department of Transportation and Department of Defense as applications were being reviewed.
Reid said at one point it was suggested that Nevada partner with other states on its application, "but I said, 'nah, we are going to do this alone,' and we did it alone and it was the right thing."
The next step is to create a report, due within 20 days of the announcement, that outlines intended activities based on Nevada's unique offerings compared to the five other sites. Huerta said the FAA plans to have at least one test site up and running within 180 days, most likely in Alaska.
Hill said Nevada will work with the FAA to finalize a contract and get the state's action plan certified in coming weeks.
Some companies have already asked about testing drone-related technology in Nevada, Hill said, and the state plans to recruit others.
Sandoval said he discussed drone testing in Nevada during his recent trade mission to Israel.
Contact Stephens Washington Bureau Chief Steve Tetreault at stetreault@stephensmedia.com or 202-783-1760. Follow him on Twitter @STetreaultDC. Contact Capital Bureau reporter Sean Whaley at swhaley@reviewjournal.com or 775-687-3900. Follow him on Twitter @seanw801. Contact reporter Kristy Totten at ktotten@reviewjournal.com or 702-477-3809. Follow her on Twitter @kristy_tea.
The Associated Press contributed to this report.