Nevada GOP panel recommends candidates for pre-primary endorsements
February 14, 2014 - 8:00 am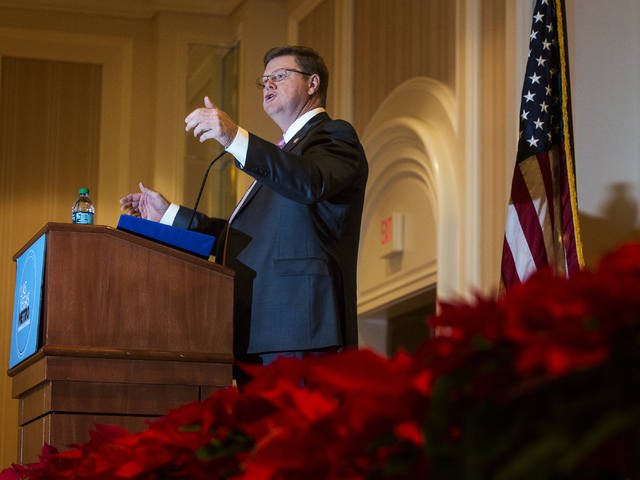 A Nevada Republican Party nominating committee on Thursday recommended at least half a dozen GOP candidates for preprimary endorsements, starting a process that Gov. Brian Sandoval and other major politicians are boycotting.
The 16-member panel recommended endorsing U.S. Rep. Mark Amodei, R-Nev., for re-election, state Sen. Barbara Cegavske, R-Las Vegas, for secretary of state, businessman Dan Schwartz for state treasurer and three members of the Assembly for re-election, according to committee member Tom Grover.
The three GOP Assembly members are John Hambrick and Michele Fiore, both of Las Vegas, and Elko's John Ellison.
Grover said more endorsement recommendations are likely before Saturday's scheduled meeting of the GOP Central Committee in Fallon. The central committee, which has several hundred members statewide, must approve any endorsements by a majority vote, or at least 50 percent of those voting.
Grover said 36 candidates have requested endorsements from the state party. He said it's possible for the committee to recommend more than one candidate in the same race and for the central committee to approve more than one candidate.
The goal of the endorsements, Grover said, is to ensure grass-roots party members approve of the candidates, who must answer a questionnaire and be interviewed by the nominating committee about their views.
"The endorsement process is not an expression of preference," Grover said. "This is not about picking winners or losers. It's about some of the people on the central committee having a more central role" in recruitment and vetting.
The party, in a news release announcing the choices, emphasized that voters will have the last word.
"Ultimately, as always, Republican primary voters will decide which candidates receive the nomination of the Nevada Republican Party," the release said.
The primary is June 10. The general election is Nov. 4.
This past week, Sandoval said he would not participate in the new preprimary endorsement process by the state party, which has strained relations with the Republican leader. He said the nominating committee could look at his record "and be able to answer any question with regard to my position as governor." Sandoval has not requested an endorsement.
State Senate Minority Leader Michael Roberson, R-Las Vegas, also said GOP senators will boycott the endorsement procedure. Assembly Minority Leader Pat Hickey, R-Reno, joined the effort to spurn the state party but said he would leave it up to individual members of the Assembly to decide for themselves whether to participate.
The party expects to complete the endorsement process at its April 12-13 state convention in Las Vegas.
Typically, political parties in Nevada stay out of the primaries, although some mainstream candidates often get an unofficial anointment from party leaders and help from high-paid political consultants.