Nevada unemployment hits 13.2 percent, sets record
September 18, 2009 - 5:07 am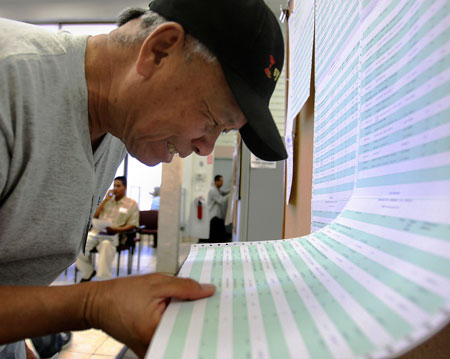 Unemployment continues to set records in Nevada and Las Vegas, and experts forecast higher joblessness in coming months even as the city's biggest resort begins hiring Monday.
Unemployment has spiked nearly a percentage point statewide, jumping from 12.5 percent in July to 13.2 percent in August, the state Department of Employment, Training and Rehabilitation said today. August's statewide unemployment rate was nearly triple the level at the recession's beginning in December 2007, when joblessness clocked in at 5.2 percent.
Unemployment in Las Vegas rose from 13.1 percent to 13.4 percent from July to August. The nation's unemployment went from 9.4 percent to 9.7 percent.
"The economic climate in Nevada continues to be challenged," said Brian Gordon, a principal in local research firm Applied Analysis. "The latest lagging indicator suggests that conditions are eroding further rather than experiencing any stabilization."
That's because consumers nationwide continue to hoard their cash, said Keith Schwer, director of the Center for Business and Economic Research at the University of Nevada-Las Vegas. Though Federal Reserve Chairman Ben Bernanke said Tuesday that the national recession is "very likely over," consumers remain concerned about their personal finances. Saving and paying down debt have supplanted the free-spending habits of yore, as Americans prepare for sustained hard times.
"This is a deep recession nationally, and we're dependent on people spending their money here," Schwer said. "Generally, people are taking a more conservative view in terms of their money."
The employment department's published rate isn't a complete accounting of joblessness. The numbers come mostly from surveys of households and businesses. They don't include discouraged residents who've quit seeking work, nor do they account for underemployed workers who can find only part-time jobs. In the second quarter, those statistics showed a 12-month average of 15.2 percent joblessness in Nevada. A state economist said in August that current overall numbers likely run close to 20 percent, and Schwer agreed with that analysis.
Officially, 183,000 Nevadans were out of work and actively hunting for jobs in August. In Las Vegas, 135,100 residents were unemployed. The state has lost 84,400 jobs in the last year, including 31,000 construction jobs — more than a quarter of the sector's work force — and 24,000 jobs in leisure and hospitality. Government employment dropped by 3,500.
Only the combined category of education and health services managed to add workers, with 1,400 new jobs on the payroll year-over-year in August.
Las Vegas employers slashed 60,400 jobs in the year, with two-thirds of those losses coming in construction and leisure. The loss of hospitality jobs could moderate soon.
MGM Mirage plans to extend its first job offers Monday to applicants seeking positions at the company's CityCenter. The Strip resort, which begins opening in December, will employ about 12,000 workers, though 9,000 construction workers will lose their jobs as building wraps up.
"The net impact will be somewhat modest in the big picture, but it's very important for those who are able to obtain employment as a result of that project," Gordon said.
Don't count on stabilized job losses overall in 2009, because layoffs are a lagging indicator that take a year on average to turn around after a recession ends, Schwer said.
The employment department put together a peak-jobless estimate of 13.7 percent to plan for replenishing the nearly empty unemployment trust fund that pays for workers' jobless benefits. Anderson said the department continues to revise that number and will have a firmer figure in October.
Schwer said joblesses could reach 14 percent, while Gordon said a high of 15 percent is possible. Joblessness should stabilize in 2010, and growth should return to the Silver State in 2011, Anderson said. But don't expect the 6 percent annual job growth Nevada enjoyed from 2004 to 2006. State economists forecast an expansion rate of about half that number, at 3 percent a year.
"Once we do emerge into recovery, Nevada will once again perform at a rate quite respectable relative to the nation as a whole," Anderson said.
Contact reporter Jennifer Robison at jrobison@reviewjournal.com or 702-380-4512.