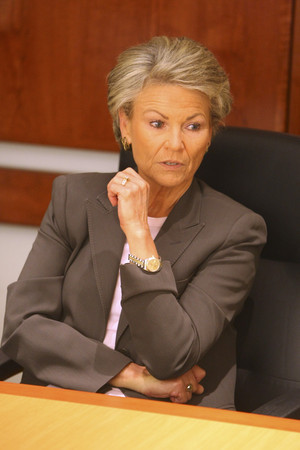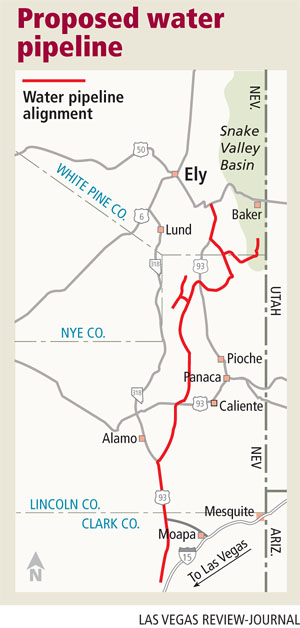 To shore up support for a controversial project, Southern Nevada Water Authority chief Pat Mulroy will ask her board for an "up-or-down vote" on plans to pipe groundwater to Las Vegas from across rural eastern Nevada.
In a surprise announcement Thursday, Mulroy said she wants the vote held later this month "in order to show that the political will is still there to move forward with the project."
The move comes in response to a recent surge in opposition to the multibillion-dollar pipeline, she said.
"The level of noise has reached the point that we have to begin to push back," Mulroy said. "They're trying to create an erosion of will to build the project. It becomes death by a thousand cuts."
Water authority board members will be asked whether the agency should continue to seek federal permits and environmental clearances for the pipeline network, which is expected to stretch about 300 miles north and supply enough water for almost 270,000 homes.
The pivotal vote will take place Aug. 20.
North Las Vegas Mayor Shari Buck, who chairs the water authority board, said she has little doubt about the outcome.
"I don't know if it will be unanimous, but I think the majority of the board realizes the gravity of the situation," Buck said. "It comes down to sustaining our lives here, not just (water) for new growth."
Mulroy said the authority's current strategy is to obtain all the necessary permits and rights of way so "this project can sit ready to design and construct when we need it."
That day could come in three years or less if Lake Mead continues to shrink at its present rate, said Kay Brothers, deputy general manager for the water authority.
Roughly 90 percent of the valley's drinking water comes from the Colorado River by way of Lake Mead, which has seen its water level plunge more than 100 feet since drought took hold of the region a decade ago.
If the lake level falls another 20 feet, it will trigger another vote by the water authority board, this time to green-light construction of the pipeline project. Brothers said that could happen by 2012.
Should Lake Mead fall another 50 feet from its current level, Hoover Dam will stop generating power and the authority will start to lose the ability to draw water from the reservoir.
Mulroy said she sees "no other alternative," at least none that can be rolled out in time, to protect the community from a "catastrophic" loss of Colorado River water.
"It is high risk to assume that the worst is not going to happen," she said.
In other words, water authority board members will not be given much of a choice when they vote later this month.
The seven-member board includes three county commissioners and one council member each from Las Vegas, Henderson, North Las Vegas and Boulder City.
"We have some new board members who have never had to vote on it (the pipeline) one way or another," Mulroy said.
County Commissioner Steve Sisolak is one of them. Asked which way he is leaning, Sisolak said, "I know that I don't know."
That's why he is doing his own research on the issue, he said.
"I want to know if there are other options. The water authority is telling us there aren't. I don't know if I buy that," he said.
On the other hand, he is worried about the sharp decline of Lake Mead and what it could mean for the valley's water supply.
"I don't want there to come a day when you turn on your faucet and nothing comes out," Sisolak said.
Mulroy expects her call for an "up-or-down vote" to cause a stir among the project's opponents, who will undoubtedly show up on Aug. 20 and try to sway board members to shut down the project.
One opposition group, the Progressive Leadership Alliance of Nevada, a liberal advocacy group, said Mulroy can count on it.
PLAN officials said they have collected 16,000 signatures in the last month alone from Southern Nevada residents who don't think the pipeline should be built.
"What Pat (Mulroy) is doing is a response to opposition which is building statewide," said alliance member Launce Rake.
If board members do the unexpected and vote to halt the project, the authority's water resource plan will have to be amended to show what Mulroy called "an absolute hole" in the valley's water supply starting in about 2020.
Mulroy warned that such uncertainty about the community's water supply would "spill over into our ability to recover economically. The banks will go crazy."
The worst-case scenario involves a drop in Lake Mead so severe that it cuts the valley off from most of its present water supply.
Without some sort of safety net like the in-state pipeline, you don't have water in hydrants," Mulroy said. "You can't put out a major fire.
"You're going to live like Amman, Jordan. You're going to get water once a week."
But Rake dismissed that as "fear mongering."
He accused the authority of changing its rationale for the pipeline. First officials said it was needed to supply water for growth; now they say it's needed to protect the community from drought, he said.
"It's their last card. It's all they have left," Rake said.
Contact reporter Henry Brean at hbrean@reviewjournal.com or 702-383-0350.