Nevada's divorce rate exceeds national average
August 25, 2011 - 8:20 am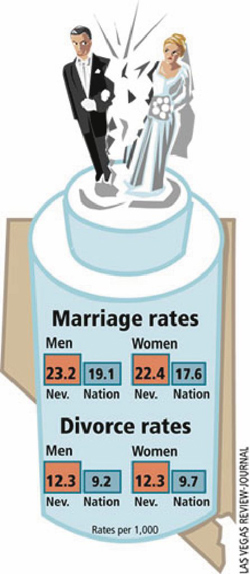 Nevadans are more likely to say "I Do" and then "I Don't" than most other Americans, and their time together in between tends to be brief, according to census data on marriage released Thursday.
Nevada's marriage and divorce rates exceeded the national average in 2009, according to an analysis of relationships for people 15 and older. Nevadans also tended to be married for fewer years than the national median of 20.8 years.
The statistics do not reflect Nevada's reputation as a wedding and divorce destination because the data represents where people were living at the time of the survey, not where the marriage or divorce took place. The numbers suggest Nevadans are somewhat flippant about matrimony, family counselors and divorce lawyers said.
"It may just be the culture of Las Vegas that has people getting married quickly and not thinking about the probability of long-term success," said Stephen Fife, a marriage counselor in Southern Nevada. "They are not taking divorce seriously, either."
There were 23.2 weddings performed for every 1,000 men in Nevada in 2009, the 10th highest rate in the nation. The national average was 19.1. Wyoming had the highest marriage rate for men at 30.7, and Maine had the lowest rate at 13.5.
In 2009, women were less likely to get married in Nevada than men. There were 22.4 marriages for every 1,000 women in Nevada that year, compared with the national rate of 17.6. Nevada shared the seventh highest ranking with Oklahoma. Wyoming had the highest rate at 28.7, and New Jersey had the lowest rate at 13.3.
Census researchers said that men nationwide remarry more than women do, so men's marriage rates were higher than women's rates.
Katherine Hertlein, a licensed marriage and family therapist with the University of Nevada, Las Vegas, said Nevada's large migratory population migth first push couples together and then pull them apart. Men and women without family or close friends nearby might pursue marriage to feel less alone, she said. But once the marriage is tested, the couples could turn to divorce because they don't have loved ones encouraging them to stick it out, Hertlein said.
"It's pretty much just you and your partner, and when that starts to become difficult there really isn't a community to turn to," she said.
The divorce rate for men in Nevada was 12.3 compared with the national average of 9.2 per every 1,000 men. That's the seventh highest rate in the nation.
The divorce rate for women in Nevada also was 12.3, which is higher than the national rate of 9.7. It was the sixth highest rate in the nation.
Arkansas topped the nation in male divorce rates at 13.5, while Alaska led the nation in female divorce rates at 16.2. New Jersey had the lowest divorce rates for men and women.
Most higher than average divorce rates for both genders occurred in low-wage Southern states.
The census analysis is based on 2009 data from the American Community Survey, which samples 3 million households.
Divorce lawyers in Nevada expressed surprise that the state, with its no-fault divorce process, didn't rank higher nationally. Uncontested divorces sought in Nevada can be finalized within 10 days in some cases.
"It's very easy. We don't have any waiting periods at all," said John Kelleher, who has practiced family law in Las Vegas with his wife since 1996.
Nevada, with its legalized brothels and 24-hour casinos and bars, can test marriages, he said.
"Right on top of the list I would put infidelity," he said of the reasons why his clients seek divorces. "And No. 2 — I would put these in a cluster — alcohol or gambling or drug abuse."
Cash woes and cheating are common divorce triggers, and Nevada's culture of fast spending and sexual opportunities might contribute to its high divorce rate, Fife said.
"I don't think the town is very marriage-friendly," he said.
It's unclear whether Nevada's stalled economy contributed to the marriage and divorce rates. The state tops the nation in unemployment and foreclosures.
Limited incomes have persuaded couples who would otherwise file for divorce to stay married, Kelleher said. It's easier for cash-starved adults to pay their bills when they combine their resources, he said.
"I've turned people away," he said. "I've told them, 'Look, you just can't afford to be divorced.' "
But Kimberly Surratt, a divorce lawyer in Reno, said money concerns won't keep an unhappy couple under the same roof for long.
"They blame each other, not the economy. They are angry and they are also at the point of looking at it as, 'What else do I have to lose? Might as well get divorced.' "
She added, "If you want away from somebody bad enough, you are going to find a way."
RELATED STORY
Census: South, West lead US in marriages, divorces