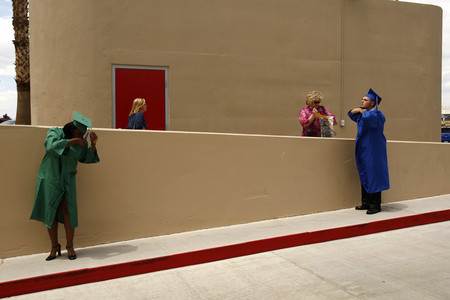 The news in Education Week could spoil any graduation celebration.
In a repeat of last year, Nevada was the lowest-ranking state in the nation with a graduation rate of 47.3 percent.
Clark County's graduation rate is even lower at 46.8 percent, which places it at 43 among the nation's 50 biggest school districts, according to Education Week's annual Diplomas Count study.
The graduation rate in Nevada declined by 23 percentage points between 1996 and 2006 while the national graduation rate improved by 2 percentage points to 69 percent.
"Among the nation's leaders, Iowa, New Jersey, and Wisconsin each graduates more than 80 percent of all high school students," said the study, which was released Tuesday. "At the opposite end of the spectrum, just under half of students finish high school in the District of Columbia and Nevada. A gap of 35 percentage points divides the top and bottom states."
Local educators fault the study's methodology but agree that the state has reason to be embarrassed.
"The citizens in Nevada should be up in arms about being at the bottom of the list for education, health care and other social services for their children," said Clark County School District Superintendent Walt Rulffes.
Rulffes also made a personal plea to parents, noting that if children are not succeeding in middle school, their chances of graduating from high school diminish.
While agreeing with the need for improvement, Gloria Dopf, the deputy superintendent for the Nevada Department of Education, does not think that the Diplomas Count analysis tells the whole story.
The report does not adjust for Nevada's high student turnover or distinguish between dropouts and students who leave one school to attend another.
In figuring its graduation rates, Diplomas Count calculates the likelihood of graduation rather than the percentage of students who will graduate in four years. It multiplies the percentages of high school students who advance each year to the next grade level and graduation to come up with an overall percentage of how many students probably would graduate in four years.
The Diplomas Count study is based on 2005-06 school district census data from the U.S. Department of Education, which was the most recent available information.
Nevada calculates its graduation rate by taking the total number of diplomas for a year, dividing that number by the total number of estimated dropouts from the senior class's last four years plus the number of seniors who completed course work but did not graduate. The result is multiplied by 100 to get a percentage.
Under this formula, if a state undercounts its dropouts, its percentage of graduates improves.
In 2005-06, the same year used by Diplomas Count, Nevada had a graduation rate of 67 percent and Clark County 63.5 percent.
Adding to the confusion is that states use different formulas to calculate graduation rates.
Because of the No Child Left Behind Act, the federal school accountability act, all school districts must adopt a uniform standard by 2010-11.
"The bottom line is (that) we want credit for all our students but we are still losing too many along the way," Rulffes said. "Students who don't graduate barely have a fighting chance to earn a supportable wage later. Most dropouts are soon to regret it."
Contact reporter James Haug at jhaug@reviewjournal.com or 702-374-7917.