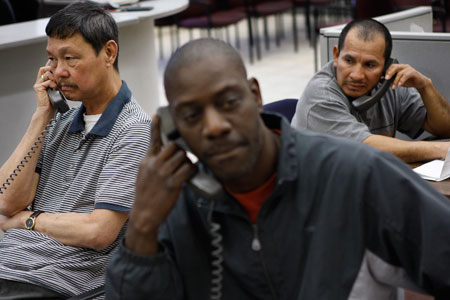 Sure, December's jobless numbers look bleak. But today's official unemployment numbers seem positively rosy once you factor in discouraged workers who've surrendered the job hunt and part-timers who want full-time positions.
• RELATED STORY: Experts say state will have $580 million less in tax revenue
Nevada's unemployment rate surged from 12.3 percent in November to 13 percent in December, the state Department of Employment, Training & Rehabilitation said today. In Las Vegas, joblessness jumped from 12.1 percent to 13.1 percent.
Include discouraged workers and part-timers, though, and broader joblessness could be approaching 25 percent, said Bob Potts, assistant director of the Center for Business and Economic Research at the University of Nevada, Las Vegas.
"Workers who have lost their benefits, workers who are on furlough days, someone who was in construction making $25 or $30 an hour and now helps in a school kitchen making $8 an hour — they're all distressed workers," Potts said. "A quarter of our employment base is distressed."
And many of those workers have faced distress for a while. The ongoing jobs recession now exceeds all modern-era recessions in Nevada for its length and depth. Before today, the worst downturn came in the early 1980s. That slump lasted 18 months, and job losses totaled 4.5 percent at their depth. The current recession has passed the two-year mark, and the state's jobs base has fallen more than 6 percent.
Since employment in Nevada peaked in May 2007, job losses have visited every category save one: the combined education and health services grouping. Construction has felt the biggest pinch, with 71,600 jobs gone. The leisure and hospitality industry is a distant second, with 44,100 positions lost. In December, 176,000 Nevadans were out of work, including 128,200 Las Vegans.
December's unemployment spike came after two months of declines, but economists say it's normal in uncertain economic times for the jobless rate to fluctuate, with strong months following weak months. That's partly because of the way labor bureaus compile the data, which they base on models using household and employer surveys.
"You do see some noise from month to month," said Bill Anderson, chief economist for the state's employment department. "As the economy emerges from this weakness, it's not going to be a straight line forward. We're going to have some months of good news and some months of bad news. It was a quick process getting into this recession, but it's going to be a slow process getting out of it."
Variations also come from seasonal changes in the labor force. If discouraged workers who stopped job-hunting return to the market in winter to look for seasonal holiday work, unemployment can begin to rise again.
Blame the December doldrums in particular on slower-than-average retail hiring and sizable cuts in resort employment. Nevada's retailers hired 3,000 seasonal workers from October to December, just half of the 6,000 holiday staffers they normally retain. And even with the December opening of the 12,000-employee CityCenter, the leisure and hospitality sector cut 3,900 jobs, most of them in Las Vegas.
"The opening of CityCenter, though very welcome and positive, just doesn't offset all the negative forces that are in play in terms of consumer spending, in terms of foreclosure activity and in terms of job losses," Anderson said. "Those kinds of forces are still in play."
In fact, resorts have slashed tens of thousands of jobs in recent years despite long-term growth. Since resort employment peaked at 276,100 in June 2007, several major hotel-casinos have come online, including Encore, Palazzo, Aliante Station, M Resort and CityCenter. Yet, employment in the leisure and hospitality sector, which also includes arts, entertainment and restaurants, has fallen to 242,600 workers.
Brian Gordon, a principal in local research firm Applied Analysis, said hotel-casinos pared work forces as visitor volume and discretionary spending slid. Properties have become more efficient, and the employees left behind handle bigger work loads. That new operating paradigm isn't likely to reverse until managers see at least a few quarters of increased demand, and even then, they'll be cautious about adding too many employees, Gordon said.
Anderson doesn't expect a quick turnaround in the state's employment situation, either.
"Despite the length and depth of the downturn, Nevada's job market will likely worsen in the months ahead," he said.
Anderson told the Economic Forum, a group of business leaders who met today to discuss state revenue forecasts, that Nevada would lose nearly 90,000 more jobs in 2010 and 2011. Observers also say joblessness in 2010 could exceed September's record of 13.3 percent statewide and 13.9 percent in Las Vegas.
Potts said he expects the "biggest shock" in jobless numbers to come in March, when the Bureau of Labor Statistics reconfigures its numbers based on quarterly Census data (current numbers come from sampling and surveys).
"When they rebase those numbers, we will see numbers more dramatic than we've seen," Potts said.
Gordon added that it's difficult to forecast records, because major shifts in people leaving or moving to Nevada could affect jobless percentages. But through the first half of 2010, at least, unemployment could tick upward.
"The fundamentals of the market continue to suggest that we have yet to see the bottom," Gordon said.
Still, experts said they believe Nevada will get back the jobs it's lost since the state hit peak employment in May 2007. No one the Review-Journal spoke with would estimate a timeframe on a return to those job levels, but Gordon said it'll be measured in years, not months.
Nevada is well-positioned to capture its fair share of growth, Gordon said. Some sectors of the economy, such as leisure and hospitality, have overcorrected, so they're ripe for stabilization and even some growth in coming years. The state should also be able to take advantage of emerging industries such as renewable energy, and health-care jobs should proliferate as retirees move here.
Plus, the city's existing economic core — its 140,000 hotel rooms — will yield new concepts that don't yet exist here, much like the World Market Center furniture mart rose up in 2005 to challenge existing furniture-trade centers in North Carolina and California.
Recovery in the near term will be uneven, with some industries faring better than others. Construction should struggle through 2010, while leisure and hospitality will probably stabilize as room prices firm up and occupancy levels off, Gordon said.
Nor is Nevada likely to return to the heady days of 2006 and 2007, when the jobs base grew 6 percent a year. Rather, residents should expect a more modest and moderate — but more sustainable — growth rate once the recession ends, Anderson said.
The employment department also released data today showing that Nevada's population and job-formation rates slackened considerably in the last decade.
Nevada's employment gains averaged 76 percent per decade from the 1940s to the 1990s. From December 1999 to December 2009, though, Nevada's jobs base expanded by 15 percent — the slowest growth rate for any 10-year period. Population growth fell from 70 percent in the 1990s to 30 percent in the 2000s, though population has nearly doubled since the mid-1990s, which could be at least partly behind the smaller percentage spikes.
State Demographer Jeff Hardcastle told the Economic Forum that Nevada's population fell 1 percent in fiscal 2009, which ended June 30. Population in the Silver State could drop another 100,000 to 2.6 million by 2015, depending on the availability of jobs. If the state can offer more jobs, then population could grow by 115,000, to 2.8 million, through 2015.
Contact reporter Jennifer Robison at jrobison@reviewjournal.com or 702-380-4512. Review-Journal Capital Bureau Chief Ed Vogel contributed to this report.