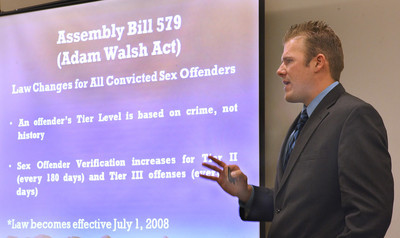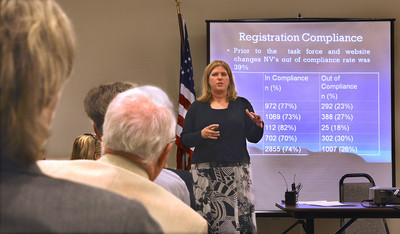 A new state law that takes effect July 1 will dictate sex offenders be reclassified, boosting the number of Tier 3 offenders in Southern Nevada to estimates reaching as high as 2,000, up from 127.
The number of sex offenders who will be prohibited from being near areas where children gather such as parks and schools is estimated to increase also, to 150, from seven.
But that doesn't mean there will be more serious sex offenders prowling the streets, said Lt. Adam Page of the Nevada Division of Parole and Probation. Under current state law, Tier 3 is the group deemed most likely to re-offend, but that will change come July, Page said.
"The perception of what the tier levels mean is going to have to change," Page said. "Tier 3 no longer means highest risk to re-offend. Tier 3 is now crimes against children and sexual-assault based crimes."
The reclassification will result in a larger number of offenders for police to track. There are 4,200 registered sex offenders in Clark County.
The complexities and challenges of implementing Assembly Bill 579, a law that was intended to make sure Nevada followed a federal law unifying how states classify sex offenders, was one topic discussed Monday by members of the Southern Nevada Sex Offender Management Task Force at the Sawyer Building.
The task force, created in 2006 with a $250,000 grant awarded to the Metropolitan Police Department, brought together officials from several agencies who studied Nevada's sex offender and how agencies deal with sex offenders and their victims.
"We want to lock them up and throw away the key," said Alexis Kennedy, an assistant professor at UNLV's Department of Criminal Justice and a member of the task force. "But the reality is 95 percent of sex offenders go back to the community. Whether or not we want them back, they are returning."
To help rehabilitate and find employment for sex offenders, the task force recommended the state manage a halfway house exclusively for sex offenders. The house would offer counselors and work-program aid. Three halfway houses in Clark County currently allow sex offenders, but other types of offenders may be housed in those too.
Kennedy and other members of the task force said sex offenders must be employed and get professional rehabilitation; otherwise, they are more likely to re-offend.
Some of the task force's other recommendations included abolishing good-time credits for sex offenders in prison and increasing to 10 years, from five, the mandatory probationary period for sex offenders.
Pumping more money into local law enforcement to shorten backlogs in the DNA national database used by agencies to solve crimes was another recommendation.
Members of the task force hope some of their recommendations will become law during the 2009 Legislature.
Kennedy sought to dispel a sex offender myth. She said the belief that sex offenders are hiding behind bushes ready to ambush children could not be more wrong.
Twelve percent of adult sex offenders victimize strangers, she said. That figure decreases to 3 percent for juvenile sex offenders, Kennedy said. Most sex offenders are acquaintances and family members of victims, Kennedy said.
As for the reclassifying of sex offenders, Maggie McLetchie, staff attorney with the American Civil Liberties Union of Nevada, said the new law has unintended consequences.
The public will be endangered because law enforcement will have to track a larger bulk of offenders, taking the focus off people who are most likely to re-offend.
Under current Nevada law, sex offenders are categorized under several factors, including the type of crime, the number of convictions, how old the victim is and whether the offender has been convicted for other crimes.
Under the new law, certain crimes automatically will be classified as Tier 3.
McLetchie said the law also will boost certain offenders to Tier 1 and Tier 2.
"Nobody is clear on how to apply the law," McLetchie said. "But it is clear that a huge number of people are going to go back into the system, people deemed by the state who are not likely to re-offend."
Contact reporter Antonio Planas at aplanas@reviewjournal.com or (702) 383-4638.