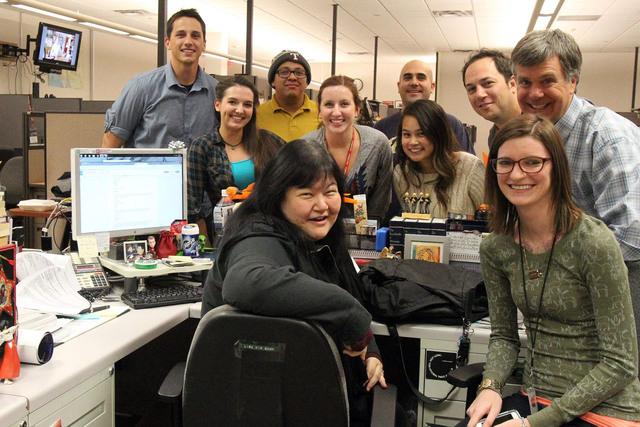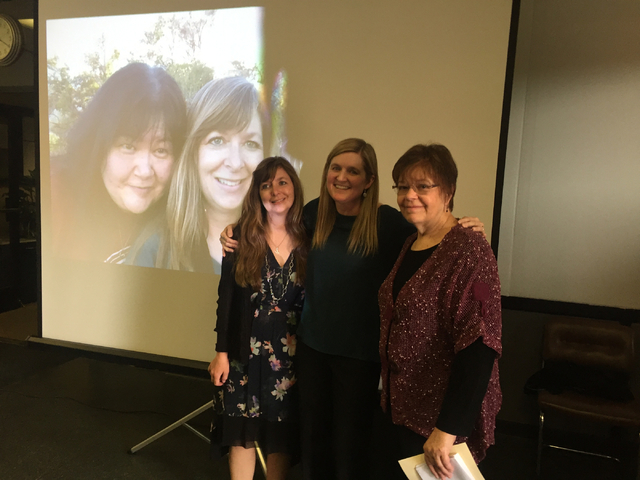 Lisa Kim Bach made everything better.
As a Review-Journal assistant city editor, she improved news coverage. She worked with young journalists, improving their work not by scolding or demeaning them, but through laughter and reasoning.
She enriched the lives of her friends, including me, by subconsciously challenging them to be as smart as she was. Mention a poem or a song and she could accurately quote words or lyrics because of her photographic memory.
Her death at age 49 on April 20 from the evil that is cancer was a shock to many, because she kept her condition largely secret. She was diagnosed nearly six months ago and never returned to work.
Reading was her joy, along with movies, concerts and friends from every realm. She loved her job. But most of all, she loved her family.
Born in Korea to an Army father and his petite Korean wife, Nam, Lisa grew up on a farm in Kentucky, then came West with her family for college. The middle child, she was always bragging about her wonderful brothers, Danny and Mike, especially after their father died and Lisa and her mother remained in their home near Nellis Air Force Base.
On Sunday, she was remembered by friends at the Review-Journal. Almost everyone there, about 100, considered Lisa their friend because she was smart, kind and generous.
Natalie Burt had shared a bureau office for about five years with Lisa when Lisa covered the Clark County School District and Burt covered higher education for the Review-Journal.
They became like sisters. "Lisa was my muse, a constant source of inspiration," Burt read, her voice shaking. "She allowed me to see the art in the everyday, the extraordinary in the ordinary. She helped me connect historical and literary allusions to the present — Odysseus' sky in our Las Vegas sunrises, Shakespeare's birds and flowers, the constantly shifting looks of the moon, Da Vinci's enduring designs, old poems cropping up in new songs."
Burt, now a teacher, continued, "She changed how I viewed the world, and her balancing influences will remain a part of me always."
Carri Geer Thevenot, recently promoted at the Review-Journal from reporter to assistant city editor, was another close friend. "Lisa had a magical way of lifting up the people she cared about, even when she was down herself. If you made it into Lisa's inner circle, which had a large circumference, you experienced this," Thevenot read in her tribute. "She also had a gift for offering words of encouragement. This, combined with her savvy and wisdom, made her a great mentor to the younger reporters she helped guide."
Thevenot read a thank you card Lisa sent her in 2013. "Dear Carri, Good times are better and burdens are easier to bear when you're around. To me, those are signs a quality person is raising the quality of life in my vicinity. How fortunate does that make me?"
Lisa's nearly 28-year journalism career started in 1988 at the Modesto Bee, followed by the Clovis Independent, then the Fresno Bee, all in California, before moving to Fort Wayne, Indiana, to work for the News Sentinel in 1992.
She arrived in Las Vegas in 1997, spending many years as a bulldog of an education reporter. In 2008, she was promoted to an assistant city editor.
Suddenly the newsroom was filled with laughter on her shift. Loud, hearty laughter, which if bottled could lighten any office. And there was chocolate in a jar on her desk. Everyone was welcome to grab some. Laughter and chocolate were her cures.
Lisa and I became friends over books, movies and a Margaret Cho concert. She was my lending library, introducing me to new authors she deemed worthy of sharing. She would buy a hardback book and it would change hands among many of us.
People gravitated to her to tell her the latest happenings, and nearly every time I told her some tidbit, she had already heard it. If you told her something private, she didn't spread it, but anything else was fair game. Some call it gossip. I call it news.
Her love of words was beautifully covered in the news obituary written by another friend, Bethany Barnes. The two voracious readers would head downtown to eat at PublicUs and shop at the Writer's Block bookstore.
Lisa wanted to share that experience with me, but we never made it.
Instead, I shared time with her by taking her to chemo treatments, where I tried to distract her with conversation, including tidbits that somehow she mostly knew. She lost interest in reading books because she couldn't concentrate. She could barely watch a movie because of her uncontrolled pain.
In the hospital, my last words to my friend were, "I love you."
She smiled and said, "I love you, too."
The next time I saw her, Lisa was unconscious.
In different ways, Burt, Thevenot and I all drew similar conclusions about the essence of Lisa.
She made us better people just by being herself.
Jane Ann Morrison's column runs Thursdays.
Leave messages for her at 702-383-0275 or email jmorrison@reviewjournal.com. Find her on Twitter: @janeannmorrison