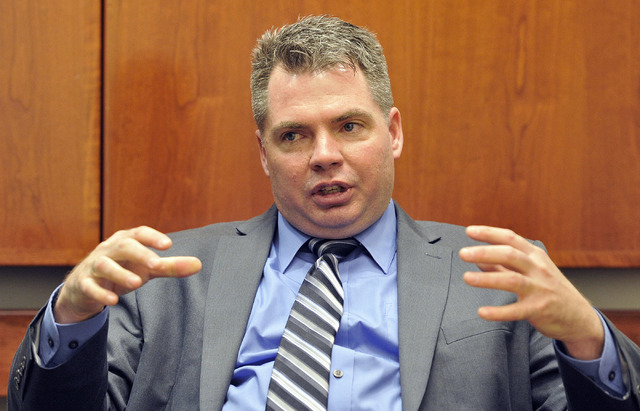 Political consultant David Thomas retained his nickname as "judge maker" on election night despite one judicial candidate's claim that Thomas had offered a bribe to protect incumbent Judge Rob Bare.
Thomas, who denied the bribe allegation, had 12 judicial wins and only three losses. Assembly Majority Leader William Horne, Cliff Marcek and District Judge Bill Gonzalez lost Tuesday. Horne was defeated by District Judge Carolyn Ellsworth, Marcek lost to Bill Kephart and Gonzalez lost to Denise Gentile.
Thomas' victory numbers increase if the incumbents he protected by talking challengers out of running against his clients are counted. No one ran against his wife, District Judge Nancy Allf. With Thomas' encouragement, candidates who filed against Jessie Walsh, Gloria Sturman and Betsy Gonzalez decided to withdraw.
Thomas clients who became ultimate winners were Richard Scotti, Adriana Escobar, Jim Crockett, Ron Israel, Linda Marquis, Jerry Wiese, Vincent Ochoa, Rebecca Burton, Diana Sullivan, Jerry Tao, Sandra Pomrenze and Rob Bare.
Las Vegas attorney Randall Tindall said he believed he was being offered a bribe when on the last day of judicial filing Jan. 17, Thomas approached him and tried to persuade him to file against Judge Valerie Adair, who is not a Thomas client, instead of Bare.
Thomas of Policy Communications disputed Tindall's allegation that he said wealthy personal injury attorney Robert Eglet would fund Tindall's race if he switched from Bare to Adair.
Tindall tried to get Thomas to text Eglet and show the attorney a return text to prove his bribery allegation, but Thomas did not provide any written evidence. Thomas also denied such an offer was made.
Political consultants routinely try to clear the way for their clients so they can be elected without opposition. It's also routine for attorneys to promise to raise money for judicial candidates.
But in a sworn affidavit, Tindall said as he was approached by Thomas, who gave the impression he was reading from his cellphone. According to Tindall, Thomas said, "Hey, Bob Eglet just texted me and says he doesn't want anybody running against Rob Bare. So if you'll get out of the race against Bare and into the one against Valerie Adair, he says he'll foot the bill for your campaign."
Tindall believed he was offered a bribe and contacted the Las Vegas Review-Journal, which published a story April 6 detailing how candidates were jumping in and out of judicial races after talking to the political consultant.
Eglet or some variation of his companies ended up making 71 donations totaling nearly $117,000 in this election cycle, according to the secretary of state's website. Many of those donations were to Thomas' clients, although not all.
Meanwhile, the secretary of state's website showed that in 2014, Policy Communications was paid $3.3 million by candidates.
Bare ended up spending $243,000 to defend his seat. Tindall spent almost $3,000. The final percentage tally was 61-39.
Thomas also had a victorious and lucrative nonjudicial candidate, District Attorney Steve Wolfson.
Wolfson spent $380,000, fending off Libertarian and Jim Duensing Jr., now on trial for charges related to a 2009 incident involving resisting a police officer, carrying a concealed weapon and unlawful possession of a firearm.
Wolfson won, but Duensing took 28 percent of the votes. His expense reports are overdue, but his first report said he spent $100.
Tindall said Wednesday he thought it made a difference that he went public to disclose how judicial candidates are encouraged and discouraged from running. People told him they thought it was happening but now it has been exposed and perhaps will change in the next election.
Sadly, because the judges are all on a six-year cycle, the sport of shaping judicial races may well be forgotten by 2020.
Even worse, the choices of judicial candidates are pared down and certain weak judges are protected when no one dares challenge them, fearing the wrath of protective consultants and powerful attorneys.
Jane Ann Morrison's column appears Thursdays. Email her at jmorrison@reviewjournal.com or leave a message at 702-383-0275. Follow her on Twitter @janeannmorrison.